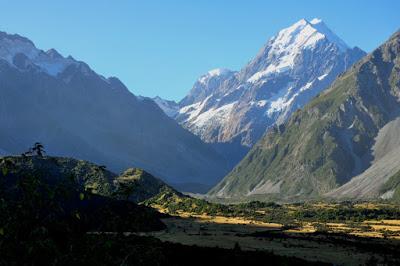 Aoraki/Mount Cook, the highest peak in New Zealand (12,218 ft or 3,754 m)
My friend and fellow children's book author Caroline Hatton visited New Zealand in March 2020 (late summer in the Southern Hemisphere), arriving before the World Health Organization declared the spread of coronavirus a pandemic. She took all the photos in this post.This is the second of three posts. Part 3 will appear next Monday.
On our way from Paparoa National Park
to Mount Cook National Park
, we stayed one night at the Jacksons Retreat Alpine Holiday Park
sparkling clean camping and cabin facilities. Like everywhere we checked in, we used disinfecting wipes to scrub everything we might touch in our cabin, to minimize coronavirus contagion risk for ourselves and others. But I couldn't make myself go in the community kitchen while others used it without physically distancing themselves, so we stayed in our cabin for a dinner of cold groceries. For breakfast, we went to microwave water in mugs before anyone else stirred awake. For complete peace of mind, I chose a sponge bath in the cabin over a shower in the shared building.
Before dinner, we clambered through dense, dark rainforest up to a waterfall. At sunset, noisy, bickering, flightless Wekas
, as known by their indigenous Māori name, or Woodhens (Gallirallus a. australis) chased one another around the lawn. That night, we couldn't pass up the chance to see glow worms, but we agreed not to go back up the waterfall track and risk twisting ankles. Instead we crawled under more civilized bushes and declared success as soon as we spotted two uncertain, dim, bluish dots.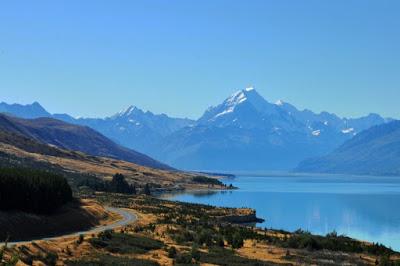 Lake Pukaki and Aoraki/Mount Cook
The next day, we drove to Mount Cook National Park past the milky turquoise blue Lakes Tekapo and Pukaki. We couldn't believe our luck with the sunny weather, because much of the time, mountains hide in clouds!
At Mount Cook Village, we checked into the YHA Aoraki Mount Cook youth hostel private room we had reserved back when it was the only vacancy. We found the wood-paneled interior attractive, but the shared bathrooms in need of cleaning, not so much. We also learned from our twice-daily coronavirus online news check that, beginning the next day, New Zealand was going to require all arriving overseas visitors to self-isolate for 14 days. We were lucky to have arrived before that!
In the morning, hoping for a clean private bathroom, we searched online for a vacancy at any other Mount Cook Village lodging. We found openings, probably from cancellations due to the coronavirus. We promptly moved to the Aoraki Court Motel, where our room with its own bathroom and kitchenette didn't cost very much more than the hostel room.
We never cooked. Instead, we ate dinner early (5 p.m., to avoid crowds), at the pub next door, Chamois. We used 70% isopropanol, two-square-inch wipes to disinfect utensils and glasses—every one of the few times we ate out in New Zealand. My salmon, flavorful and melt-in-the-mouth tender, and my husband's lamb burger were the best ever. The pub is named after Chamois
(Rupicapra rupicapra) the European wild mountain antelope, because in 1907, Austrian Emperor Franz Joseph I donated some in exchange for New Zealand ferns and lizards, and the chamois multiplied all over the Southern Alps.
Another wildlife species also introduced near Mount Cook, as game for hunters, is the HimalayanTahr
(Hemitragus jemlahicus) or lion goat. We saw chamois and tahr only as stuffed specimens at the Visitor Centre. But we saw an army of live Rabbits
(Oryctolagus cuniculus cuniculus) mowing lawns in Mount Cook Village, the descendants of ancestors introduced in the 1800s as game and food. Rabbits are now considered pests because they compete with livestock for pasture.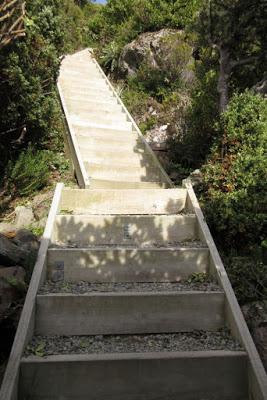 Sealy Tarns Track
In the morning, we tramped up 2,200 steep steps to the Sealy Tarns, a pair of small lakes perched high. The relentless climb kept shifting our perspective and revealing new features in the landscape, making us eager to discover more. Green Keas
(Nestor notabilis), the only mountain parrots in the world, squawked and flapped overhead.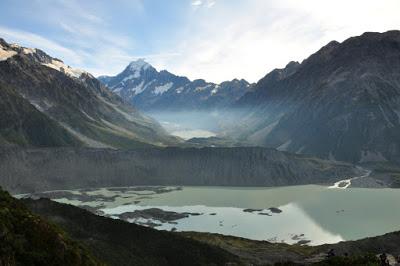 Aoraki/Mount Cook from the Sealy Tarns Track
At our destination, we shared a large picnic table, but with only one person seated at the other end. Aoraki/Mount Cook, as known by its Māori and English names, the highest peak in New Zealand, rose in hazy sunshine beyond milky bluish-gray glacial lakes and a dark moraine wall. We basked in the grandeur, giving it time to fill us up.
That night, online news reported that Australia, our next destination, was also going to require visitors to self-isolate for 14 days, beginning the next day. If true, it would make our visit impractical. In the morning, a government web page provided official confirmation, so we worked breathlessly as a team to cancel all our Australian reservations for rental cars, ferry crossings, domestic flights, and rooms. When done, we couldn't wait to head outside for the rest of the day.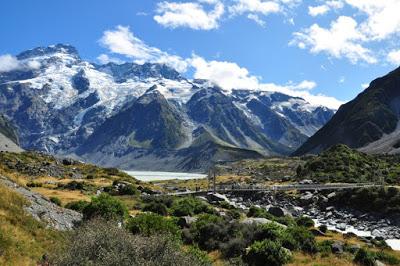 Maukatua/Mount Sefton (3,151 m or 10,338 ft)Snow dirty beige with ash from the 2019 Australia wildfiresAs seen from the Hooker Valley Track
We were not alone on the Hooker Valley Track, but physical distancing was easy. At the end point, the closest we could get to Mount Cook, the clouds never lifted enough to see the peak.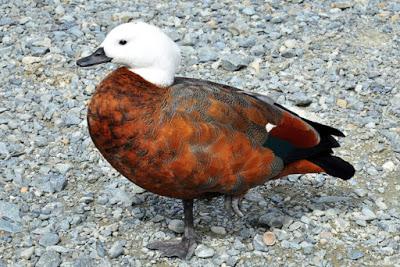 Female Paradise Duck (Tadorna variegata)
For over an hour, I watched the fog drift up only to tease me, and consoled myself by chatting with tame Paradise Ducks
(Tadorna variegata).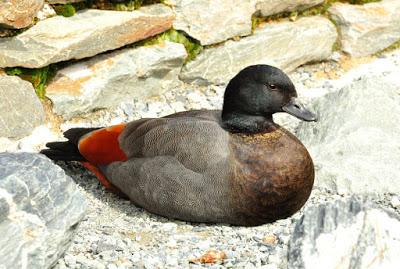 Male Paradise Duck (Tadorna variegata)
The next day, a low gray sky made it less hard to leave Mount Cook forever, especially with the promise of sun in Queenstown, our final stop—assuming we could find new flights home, straight to Los Angeles.
To be continued…
FOR MORE INFO
Join Cathy Mayone's Mount Cook adventures in her New Zealand post about the SouthIsland