TAKEAWAY: Spending a week in Kuala Lumpur, Malaysia, each day sampling this rich variety of daily newspapers, in different languages, but each finding a segment of an audience that still wants its printed newspaper in the morning.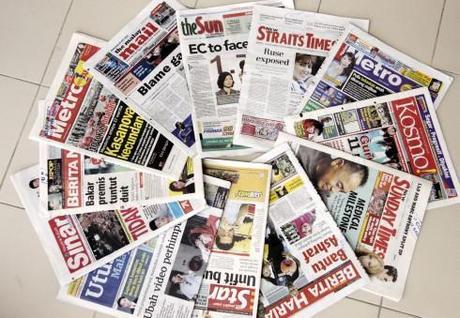 A look at the variety of daily newspaper titles published in Malaysia (Photo by Zahari bin Zakaria.photo editor, New Straits Times)

It has been an exhilarating week here in KL, capital of Malaysia. Indeed, that city that until very recently called itself home to the tallest building in the world, those two proud tall sisters in the skyline, the Petronas Twin Towers.  The Petronas were the tallest buildings in the world from 1998 to 2004 until surpassed by Taipei 101, then in 2010 by Dubai's Burj Kalifa.  However, the Petronas still hold the title of the tallest twin towers in the world.
But there is more to Kuala Lumpur that those towers. It is a culturally diverse city with lush parks, modern highways and a charming combination of old and very modern architecture.  Ethnically, Malaysia is home to Malays, Chinese, Indians and people from around the world. I have enjoyed the people (friendly, smile a lot and, in the case of those with whom I work at the New Straits Times, enthusiastic and ready to take the project forward.
The food is an eclectic mix, with Chinese and Indian touches. One can sense the fresh aromatic herbs and roots that are used in many of the dishes,  such as lemongrass, ginger, garlic, shallots, kaffir limes and fresh chilies. Both fresh and dried chilies are used, usually ground into a sambal or chili paste to add hotness to dishes. I have particularly enjoyed the Red-Cooked Chicken as well as the Laksa : Noodles in Tangy Fish Soup.  And, although I did not try any, I have passed many a window with assortments of very sweet delicacies, which I am sure are deliciously appetizing.
However, just as appetizing to the Malay apparently are their newspapers.  In this country of 29 million people, there are at least 19 daily newspapers which make it out into the streets each morning.
The Malay love their newspapers—-and they have plenty of choices
One does see people reading their newspapers everywhere, and the circulation figures are there to confirm the story.
Newspapers are published in at least three languages: English, Malay and Chinese.
Among the English dailies we find 10 titles: Daily Express, Borneo Post Sabah, New Sabah Times, New Straits Times, New Sunday Times, The Star, The Sunday Star, The Sun, The Malay Mail, The Edge.  The Star has the largest circulation with 278,961.
Among the Malay: Berita Harian, Utusan Malayan, Utusan Malaysia, Mingguan Malaysia, Kosmo and Metro
. Metro Ahad has the largest audited circulation for the Malay dailies with 452,386.
Among the Chinese: Sin Chew Daily, China Press, Guang Ming Daily, Oriental Daily News Sin Chew Daily is the largest in circulation with 385,270
In terms of readership, the average Malay newspaper is read by about 4 to 5 readers, giving the New Straits Times Publishing and its newspapers, New Straits Times, New Sunday Times, Berita Harian and Metro, 63% of the market share.
"We are also seeing a rise in the number of readers engaged in social networking. Right now we have over 400,000 followers on Facebook for our Malay title, Berita Harian," says Zuraida Mohamad, director of marketing for New Straits Times Press.
It is the New Straits Times and the New Sunday Times that we are now engaged in helping with a total rethink across the platforms, a process that culminates with launch of the revamped products in November 2011.
In terms of their look, the Malay newspaper (see overall view above) tend to be colorful, loud, with big headlines and photos dominating the front page; once inside, it is a quieter environment.
And, as happens in many other big metropolitan areas worldwide, the more downmarket newspapers, such as Metro here, tend to claim readership among the white collar readers, who also read other newspapers.
Of special interest to me, as this is a recurring theme: the fastest growing segment of the newspaper readership here is among those who read in the Malay language, with a decline in the readership of English language dailies.  This is a phenomenon that I have observed in India, where our work with the Hindi language daily, Hindustan, yielded the same results there.  And similar results in Hong Kong, where we worked with the South China Morning Post and were told that it is now "chic" to read Chinese newspapers.
As for our proposed changes for the New Straits Times: This is a total rethinking of the already successful newspaper as it continues to move forward as a multi platform publication.  Part of our work involves a reorganization of the newsroom, leading to the convergence of platforms with storytelling as the centerpiece of the operation, and the various platforms presenting stories in a way which emphasizes the potential of each individual medium. 
Also be ready to be surprised with the creation of a newspaper that is visually more contemporary, displaying brand new typography and a better system of navigation to help that reader in a hurry which, as I am told, exists even here in rather relaxed Malaysia.
For type enthusiasts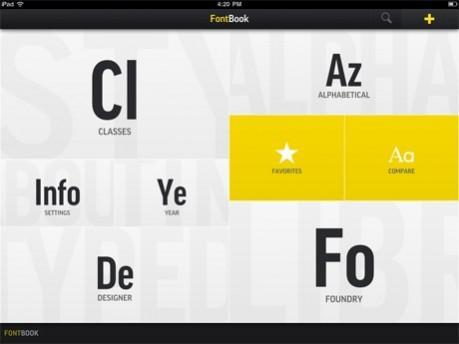 Now available: The New FontBook™
Here is a purchase you wish to make if you go shopping this weekend, and if you are into type, as in seeing 620,000 font samples categorized by name, style category, typographical subclassification, designer name, foundry name, year of publication, or by similarity of design. You can also interact with and compare typefaces on-the-go and with the swipe of a finger.
There you go. I have plenty of friends in my circle that I know will be happy to know this and will give hints to their other friends for possible "gifts" in the future.
You can download the app for just $5.99/€4.99 in just a few hours at the iTunes App Store
For more details: http://www.fontbook.com/
For details:
Of special interest today

- Under Murdoch's ownership, business improves at Dow Jones and The Wall Street Journal
http://www.poynter.org/latest-news/business-news/the-biz-blog/139505/under-murdoch-ownership-business-improves-at-dow-jones-and-the-wall-street-journal/
-The Wall Street Journal under Rupert Murdoch
http://www.journalism.org/commentary_backgrounder/wall_street_journal_under_rupert_murdoch

- Tablet advertising: Which metrics matter?
http://emediavitals.com/content/tablet-advertising-which-metrics-matter
- Why We Need the Tabloids
http://www.nytimes.com/2011/07/20/opinion/20linkof.html?emc=tnt&tntemail1=y
- 21 New Media Innovators
http://nymag.com/daily/intel/2011/07/new_media_innovators.html

TheMarioBlog post #814