I've just begun a new feature category called "In Her Bag" where I can feature different women who inspire me and who are willing to feature the contents of their everyday survival kit, their handbag.  Let's see if I can keep this new category on a roll.  They needn't necessarily all be famous women, however, for my first In Her Bag feature I do have the privilege of featuring someone who isn't just famous, she's lovely, kind, Godly, Funny with a capital F, and sweet.  During her years as an MTV VJ in Singapore Donita Rose also graced the cover of Time Magazine and she now brings her sunny attitude to local TV as one of the hosts of an early morning show on ABS-CBN, Umagang Kay Ganda.  Being a wife to Eric and mother to Joshua has brought on more of a sparkle in her smile and she hasn't lost her kiddish sense of humor in the slightest.  She wanted to hold the camera in this photo.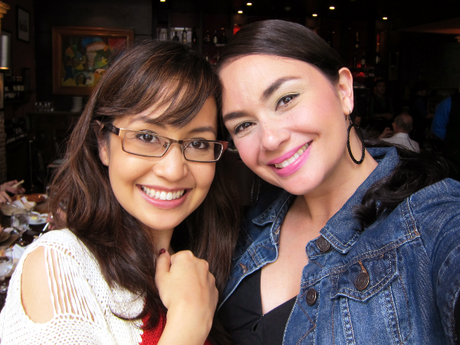 I've known Donita since my days in college and though we rarely see each other she has remained a good family friend which to me also means a friend who is like family.  We had planned to meet up months ago, but prior to our set date we BOTH got sick and decided to call it off, but thankfully our immune systems won over germs this time.  So here she is, armed and ready.  What's really funny is, I hadn't expected anything particularly quirky when it came to the contents of  her bag, but as you are about to see, lo and behold, I was in for an absolute surprise.  As she sat down to our lunch in Balducci at Serendra she had a scheming grin on her face.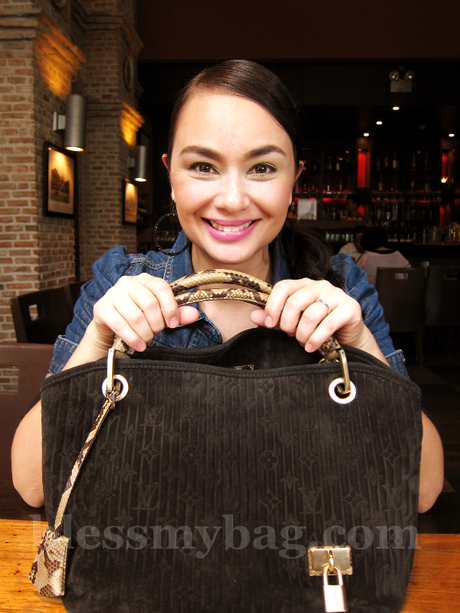 "You're going to be surprised by what's in my bag.  I'm sure you've not seen a bag like mine".  She wasn't actually talking about her Louis Vuitton handbag, she was talking about what it carried.  I assure you, what this woman is about to share with us is absolutely out of the ordinary, not naman SHOCKING as some say, but not what you'd expect.  I can attest that Donita did not "set up" her bag for this feature.  "My friends always get surprised when they see me take stuff out of my bag, you're so OC, they say."  I had thought of  making this a video instead, but that would be so blah.  We always see more of her on TV, somehow in this instance a photo essay lends more charm to this post and it was funner to put together.  Click Read More and brace yourself for a photo overload.
First Donita wanted to freshen up quickly and wipe off the table.  So she combed her hair, brushed up her lashes with L'oreal Double Extend Mascara, then quickly cleared the table.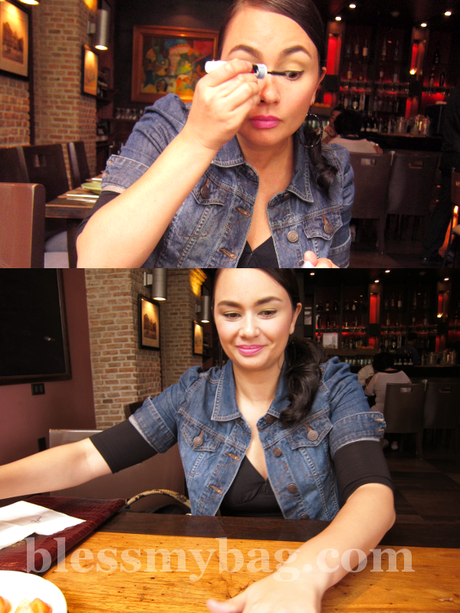 First off, she pulls out the usual suspects…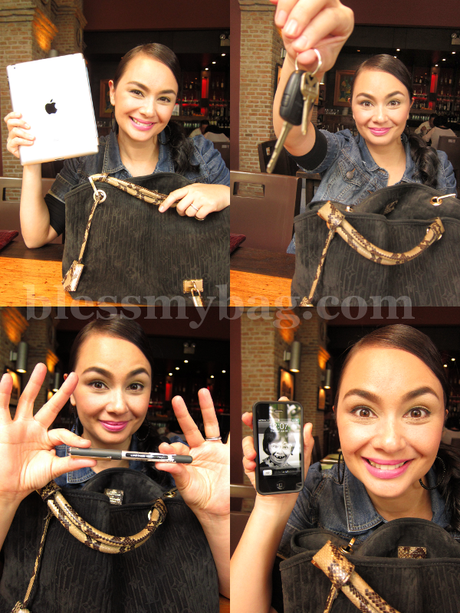 Donita's usual suspects are (clockwise from left): her iPad, her car keys (yes, she drove to meet up with me, cool), her iPhone with an "adorable" photo of herself as a child, and a pen.  A bag is never complete without a pen, which is mightier than a sword.  Next up, the fun begins.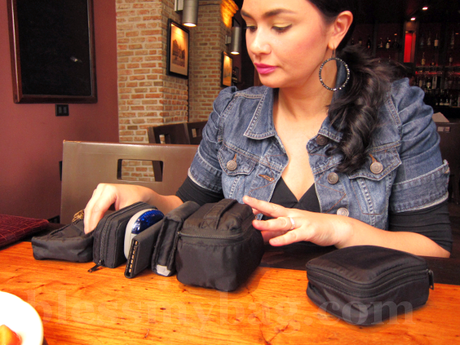 Donita likes compartmentalizing the contents of her bag.  Can you tell? LOL.  She uses small black pouches to keep little bits and pieces of essentials together, oh and the fun doesn't stop with the pouches believe you me.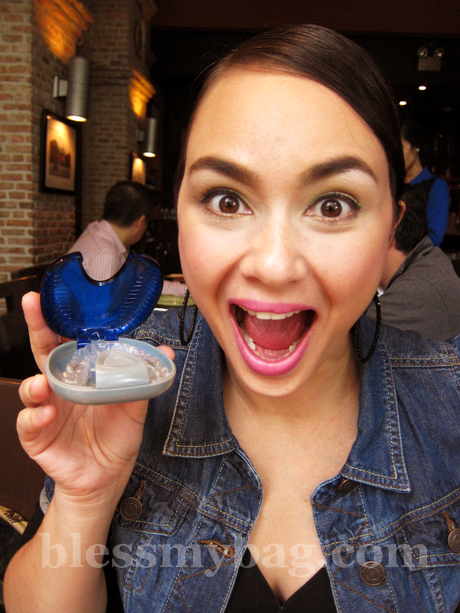 Of course she had to proudly display her invisAlign "retainers".  You have to be confirmed by a dentist as "eligible" before having these made.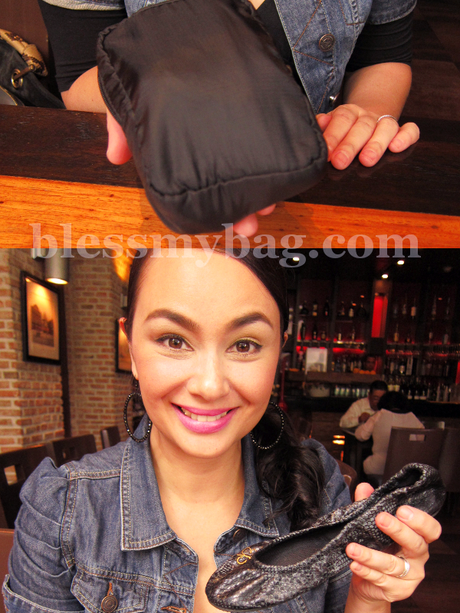 These are Butterfly Twist shoes as recommended by Oprah, they're twistable and foldable ballet flats so you can keep them in a pouch.  They're actually made for tired feet who give up on those killer heels from time to time, it's a handy way to provide comfort for your feet in between events (or you can wear them at work beneath your desk when no one's looking).  I was given a pair of these not too long ago, but mine are bright fuschia, they were available at CMG, they may still have them now.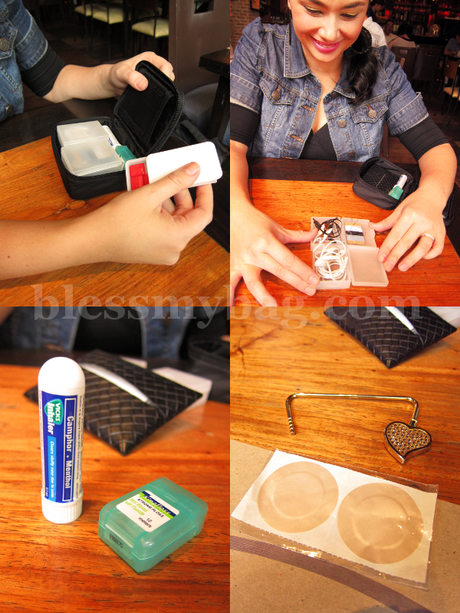 Clockwise from left: Donita's medicines and favorite gum Dentyne "Fire", her sewing kit and earphones in two separate cases, heart shaped bag holder (hang from table) and ahem…wardrobe adhesives for emergencies, it's showbiz right, and tissue, dental floss, and her Vicks inhaler for when she gets nauseous in the car.  Now, prepare for OCness…yes, seriously…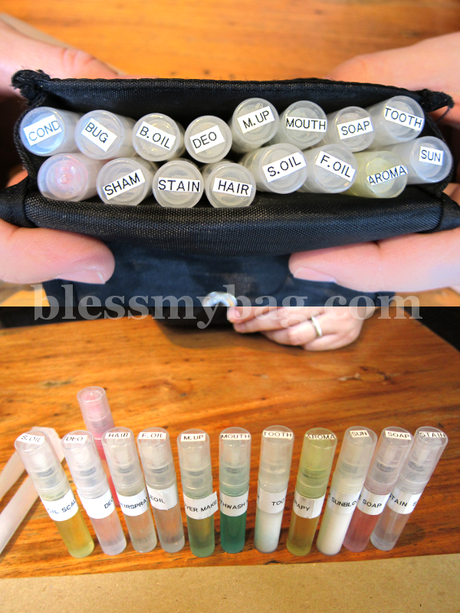 …I'm not kidding.  In mini bottles by Beabi, and in no particular order thank goodness, she carries small amounts of: Shampoo and Conditioner (she likes to shower even after an average amount of sun exposure), Bug Repellent, Neutrogena Body Oil, Deodorant, Makeup Remover, Mouthwash, Liquid Soap, Toothpaste, Stain Remover, Hairspray, Facial Oil, Aromatherapy Oil and Sunscreen, oh and also one with a bit of Benefit Posie Tint which is a pink lip and cheek tint with a bit of shine, she put that on top of her lipstick.  Yes, yes I know, I'll get to her make-up goodies in a second, that's the best part

.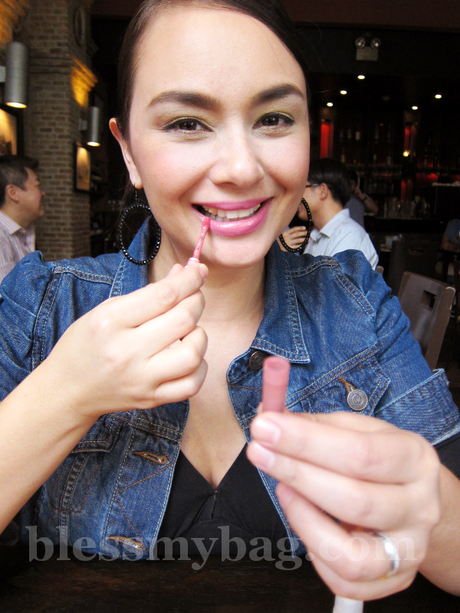 And now for Donita's Pièce de résistance, for me, this is the absolute best one out of everything, drum roll please.  Donita  transformed a daily pill organizer into her own custom lipstick palette, and she didn't get the idea from someone else. Here she wears MAC's Pink Nouveau lipstick, a bright cool pink suitable for fairer skinned ladies like her.  The dark muddy powder at the end is loose eyeshadow for her brows.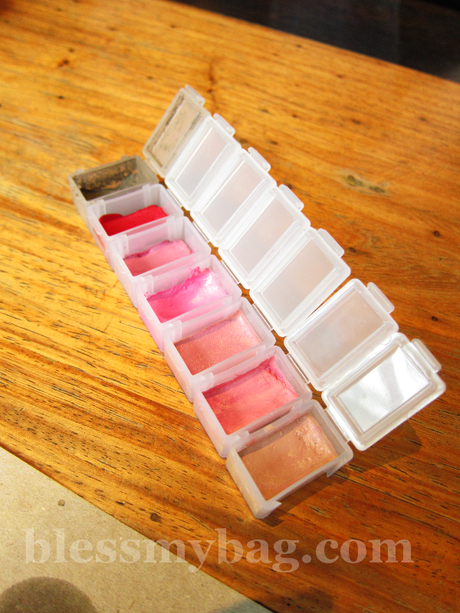 Donita used a tool by Shu Uemura to cleanly cut segments of her favorite lipstick shades and place them in each compartment.  Then she microwaved them all in the container really quickly so they'd all even out inside, about 30-40 seconds on medium heat she said.  Then she labeled each compartment with the name of the color, most of these lipsticks are MAC and one is by NARS.  From what I can see she has MAC Ruby Woo, Unlimited, Pink Nouveau, Nars something Pink, MAC Overtime and MAC Gaga, Viva Glam if I'm not mistaken, which she all labeled individually at the back of course.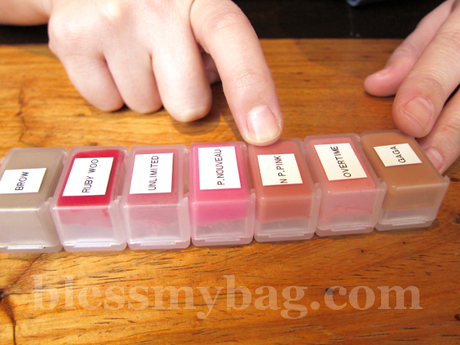 Her innovative handy custom lip palette has impressed me, but if you'd like to know what cosmetic items out of her entire bag stash are the ones that really matter to her it isn't that awesome lipstick palette.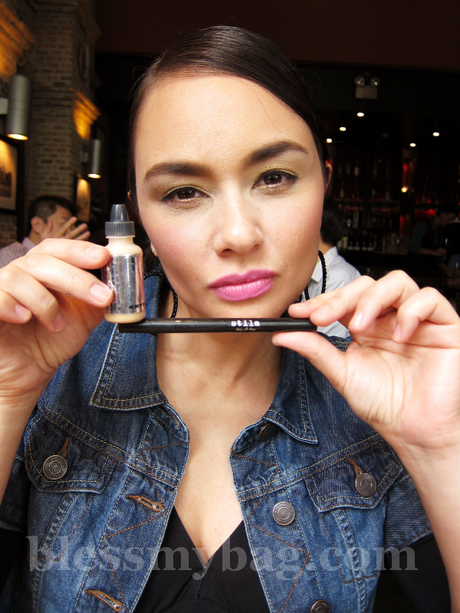 It's these two little items that Donita says she can't live without.  Kryolan On Air Micro Foundation (the formula used in airbrushing if I'm not mistaken), and her no-fail Stila Stay All Day waterproof liquid eye liner.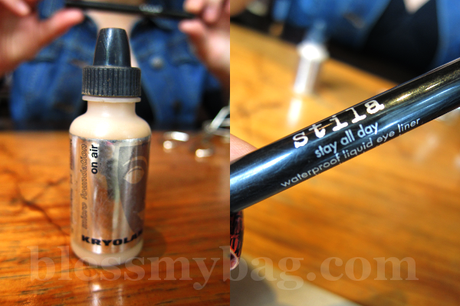 So we're down to Donita's last two essentials.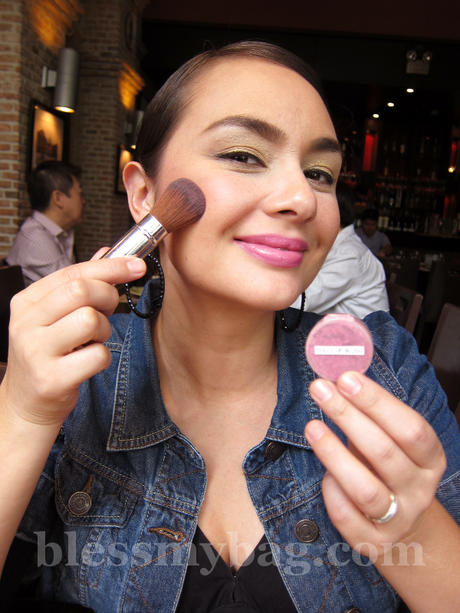 Of course a girl isn't complete without a hint of color on her cheeks, so she gussies up with MAC Dolly Up Blush using a Body Shop retractable travel brush.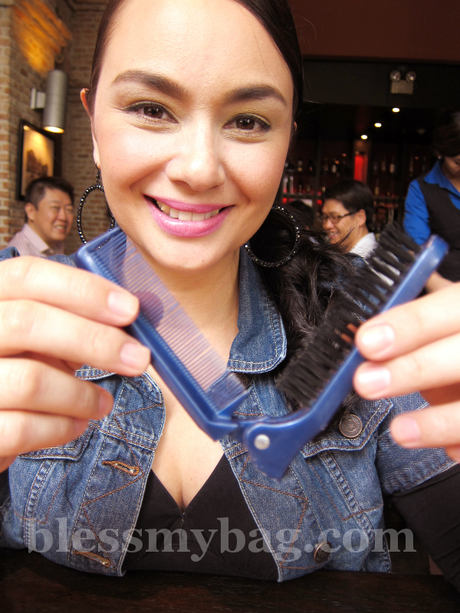 Last but not the least, Donita claims that this exact kind kind of foldable hair brush isn't easy to find, if any of you know where she can easily get it maybe you can help me point her in the right direction, just in case she needs to replace it.  Whew that was a long parade of goodies Donita had lined up for us in her bag, and like I said, she didn't put it together for the feature.  She's this prepared whenever she can be.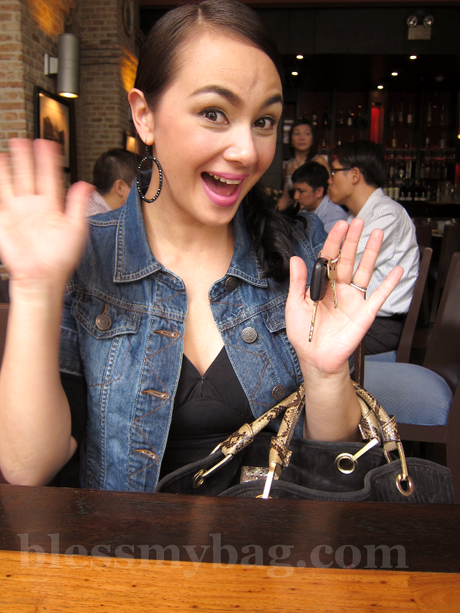 Donita needed to go right away, in fact I almost made her late for her cooking class because we chatted for a bit too long prior to shooting this feature.  Donita said that generally, if she had it her way her beautifying routine would only be about being as clean as can be as often as possible.  Hair and makeup are a must when you work in showbiz so of course Donita takes the necessary steps to look as presentable as she can, but she'd much rather take the clean and comfortable route whenever possible, she's not a naturally kikay type of girl.  If she can get away with lip and cheek tint she will.  By the way, is your bag as insanely organized as Donita's is?  My bag's not a total mess, but it certainly is nowhere near as tightly put together as what I've just shown you.  In fact when I was in front of her, all I could think about was this scene from one of my favorite movies.
So what do you think of Bless My Bag's first In Her Bag feature, did you enjoy it?  Would you like to see more features like this from now on?