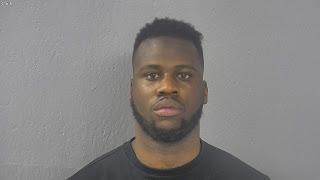 Dorial Green-Beckham mugshot
How screwy was the probation-revocation proceeding in Springfield, Missouri, that
caused former NFL player Dorial Green-Beckham ("DGB") to land in the Greene County Jail for 90 days
? Based on local press reports, the sentence was grounded largely on the word of police officers who apparently cannot count.
As my wife, Carol, and I know from firsthand experience, Circuit Judge Jerry Harmison
tends to buy anything crooked cops and prosecutors throw at him
-- and that's why Green-Beckham inow is behind bars. But was Harmison's ruling based on facts and the law? We don't have access to the full court file, but news accounts suggest there is enough doubt to choke a rhinoceros on the marijuana-possession charge that caused DGB's probation in a DWI case to be revoked.
How goofy is the justice system here in the Southwest Missouri Ozarks, once perhaps best known as the home to Jed Clampett and his family of hillbillies, before they moved to Beverly Hills? Even Jed likely would have been amused by the DGB charade, had he heard about it while lounging around his "cement pond."
When Green-Beckham was arrested last December on the drug charge, the headline in
USA Today
was "
Ex-NFL WR Dorial Green-Beckham arrested with pound of marijuana, police say
." The headline in the local
Springfield News-Leader
was pretty much the same -- "
Dorial Green-Beckham caught with pound of pot after drug raid in Springfield, police say
." So, it's established that cops caught DGB with a pound of pot, right? Well, not exactly.
First, I should note that I'm a novice when it comes to matters involving marijuana and the like -- except for my reporting on MJ cases involving my nephews -- Blake Shuler and Noah Shuler. But my research indicates a pound is quite a bit of pot.
While I'm hardly an expert on pot, I apparently know a lot more than the loons in the Springfield Police Department. This is from
a local newspaper account of Green-Beckham's recent probation-revocation hearing
, written by reporter Harrison Keegan:
. . . testimony provided more details about the December drug arrest. Police initially said Green-Beckham was found with a pound of marijuana and officers discovered an additional 7 pounds of marijuana at the house.


On [March 8], however, officers said Green-Beckham had less than 35 grams of marijuana in his pocket when he was arrested, but investigators believe he was also responsible for an additional one pound of marijuana found inside the house.


Green-Beckham was not the target of the drug-related search warrant.
Let's allow that to sink in for a moment. OK, what does the above tell us?
(1)  Cops said last December -- to the accompaniment of blaring headlines -- that Green-Beckham was found in possession of a pound of marijuana.
(2) Now, roughly three months later, cops say Green-Beckham had less than 35 grams. "Oops, our bad," say the cops.
(3) How much less than 35 grams did DGB possess? Was it 5 grams, 2 grams, 1 gram? Cops don't seem to have an answer. We probably would have no reason to believe them if they pulled an answer out of their collective fannies?
(4) What happened to the 7 pounds of marijuana that was originally in the house? Did cops smoke it, eat it, sell it? We don't know, but it apparently had nothing to do with the guy who now is in jail.
(5) Cops now say they "believe" DGB is responsible for 1 pound of pot found inside the house. Why do they "believe" that? DGB did not reside in the house, and cops claim he was not the target of the search warrant. Is Dorial Green-Beckham now behind bars based on what clueless cops "believe" but cannot prove?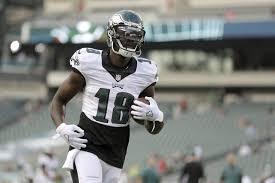 DGB with the Philadelphia Eagles
A little math adds to the circus atmosphere surrounding this case. Our research indicates 1 pound of pot equals roughly 450 grams. Now that DGB is said to have possessed less than 35 grams, it appears cops missed the total by a mere 415 grams (at least). As for the mythical 7 pounds of grass, that is 3,150 grams for which cops no longer can account. Gee, these guys are precise, aren't they? Would anyone, other than Judge Jerry Harmison believe a word these clowns say?
Why does 35 grams seem to be a magic number for Springfield cops? It's probably because
the city code
, section 78-261, is called "Possession of thirty-five grams or less of marijuana." That probably is the code section under which Green-Beckham was arrested.
Harmison's actions in the DGB case are no surprise to Carol and me. We saw Harmison over and over ignore cops' inconsistent statements, even outright perjury. He apparently took much the same approach to the DGB case. (Motions re: perjury, inconsistent testimony, and court errors in the Carol Shuler case are embedded at the end of this post.)
How ugly might the incarceration of Dorial Green-Beckham be? I will admit that I am a cynic toward law enforcement, but I don't think it takes a huge leap of imagination to consider the following: Green-Beckham's pro football career has been pretty much a flop, so far, but he still is a wealthy guy, especially by Springfield, MO standards. When the Tennessee Titans signed DGB in 2015, he received $5.3 million in guaranteed money and a signing bonus.
It's safe to say that DGB probably has enough money to last a lifetime, if he handles it wisely, and he's the most celebrated black guy in Springfield, MO -- maybe in the city's history. In an area known for its right-wing politics, it's not hard to find people here with less-than-progressive views on race -- and that likely is especially true among law enforcement.
Given cops' inability to keep their story straight, is it possible they did target Dorial Green-Beckham and even planted a baggie of weed on him? We might never know the whole truth, but that scenario would not surprise me one bit.