Welcome to this week's 'In a Vase On Monday', when I am joining Cathy at Rambling In The Garden in her challenge to find something from the garden to put in a vase every week.
This week I am mixing old and new – old hydrangea heads from the garden and newly flowering Paperwhites from the greenhouse.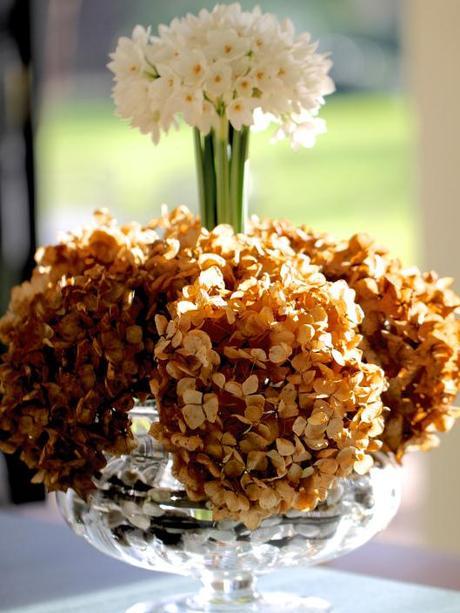 I had plans to use flowers from the garden this week, but yesterday's endless rain and sleet meant a quick rethink. I braved the weather to collect some old hydrangea heads, which I then dried on the aga (the petals were dripping wet) and I cut some unopened Paperwhites from the greenhouse – I took a gamble that they would open overnight in the warmth of the kitchen.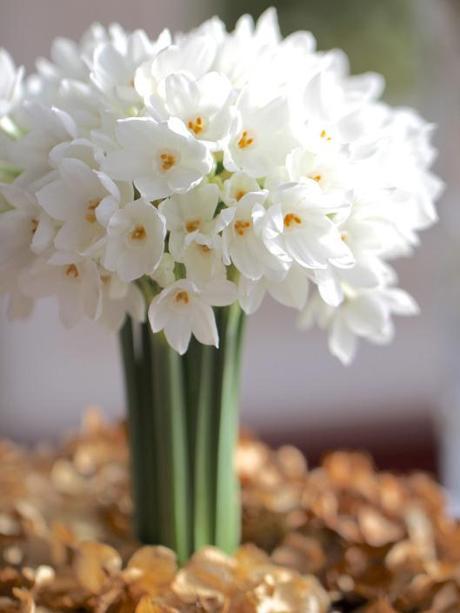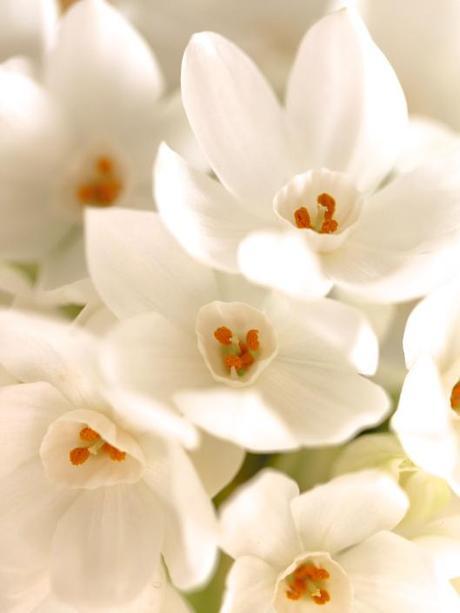 As you can see the gamble paid off – these are the freshest Paperwhites I have used this year.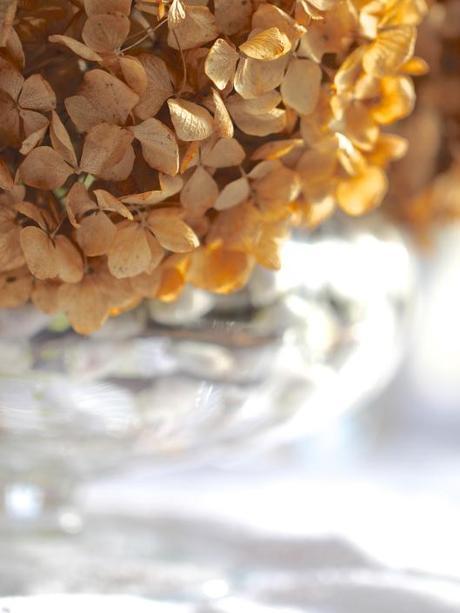 This weeks arrangement involved a little more than 'plonking', but was still very quick and easy. I bought this lovely footed bowl last week in Laura Ashley – I have been admiring it for a while and was hoping it might turn up under the Christmas tree. In its absence I decided to buy it for myself.
To hide the flower stems I have lined the bowl with pussy willow left over from Christmas. I am including this in 'props' as it is something that I buy rather than grow.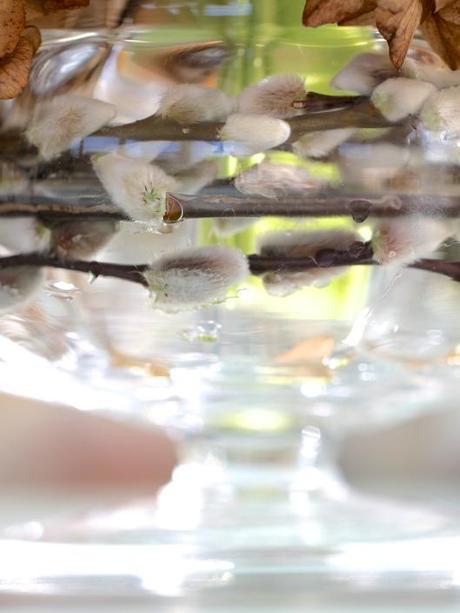 I then created a grid across the top of the bowl with tape – I used florists pot tape which you can buy on the internet, but sellotape should work just as well. I threaded the stems of the hydrangeas between the grid lines, securing with a little more tape where necessary.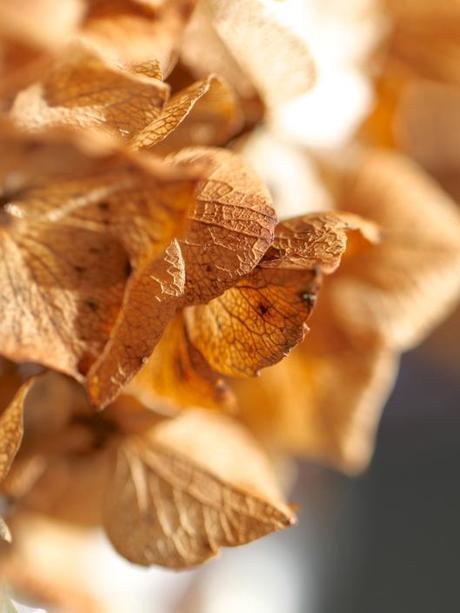 The Paperwhites were arranged into a dome shape and the stems all cut to the same length. I secured the stems together with the pot tape. The Paperwhites were put in a tall thin glass filled with water and this was carefully placed into the center of the hydrangeas – in this way I did not need to fill the bowl with water.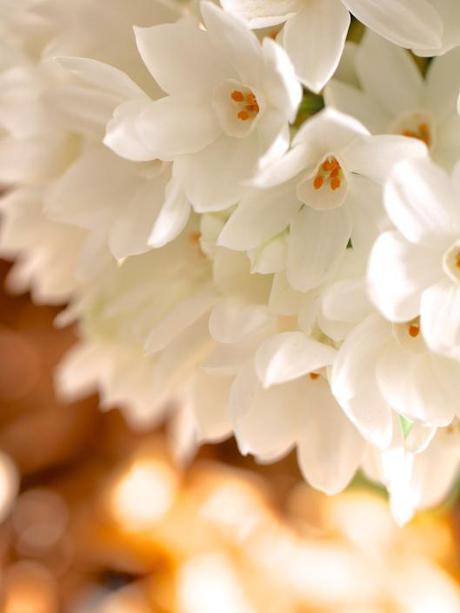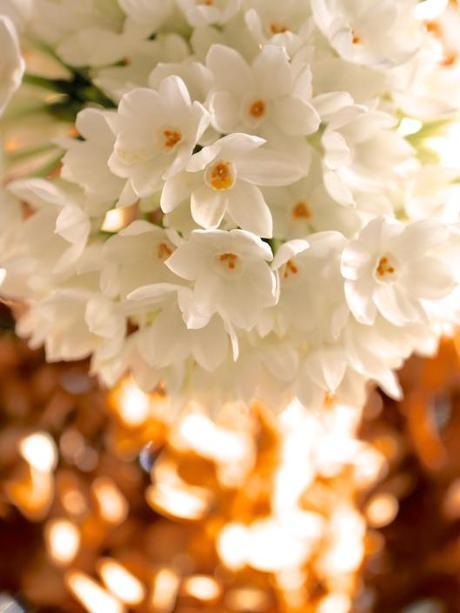 It sounds complicated but actually took about 10 minutes to put together. Initially photographed in the kitchen I moved the arrangement to the drawing room, where it sits well with a vase of pussy willow that was already there.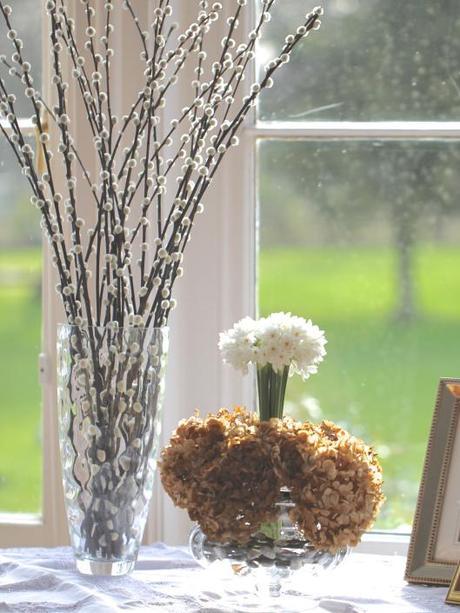 I have to say how much I am enjoying these simple winter arrangements – I know that the supermarkets are full of narcissi and tulips which create the impression of an early spring, but this year I am happy to savour winter for just a little longer. I know that it is cold and the wet weather seems endless, but I am rather enjoying the slower pace with shorter days and evenings by our new wood burner. For now I am in no hurry to see my garden bulbs burst into flower.
Finally I have to say a big thank you to everyone who commented on my Cutting Garden post on Friday – what a lot of lovely comments!! I will be going through and answering any questions tomorrow, but for now I must announce the winner – congratulations Kathleen Murphy – if you email me your address details I will get your lovely book posted to you. I wish that I could have given everyone who commented a copy of the book and thank you all for taking part!
That is all for tonight – I hope you will pop over to Cathy's blog now and see what she and the others have made this week.