by The Big Sister
We've lived in our home for nearly 4 years and have been remodeling VERY SLOWLY.  Room by room and tax refund check by refund check.  One of our latest projects have been a year in the making.  We started by pulling up the horrendous parkay flooring the house came with.  It was very orange in color and many of the pieces were worn and in need of attention.  This was replaced with 18'' ceramic tile in (insert color here - I have no idea.  It is very light in color) and boy did that freshen everything up! 
The walls maintained their original pinkish cream color for several months until I could make my mind up on a wall color.  My Husband went on a Vegas weekend trip with the guys so I just went for it.  
My original plan was to paint 3 walls a color named  Milestone by BEHR and go for a feature wall with the coordinating color listed on the color swatch - Manhattan Mist.  So I start with the feature wall - the longest and tallest wall in the room.  I decided to complete the wall before deciding how much I disliked Manhattan Mist. The paint color was far to "cool" and bright for this room's light flooring, vaulted ceilings and large bay windows so I repainted in Milestone.  When I chose the color originally I thought it was more of a gray then a blue/purple but it has grown on me.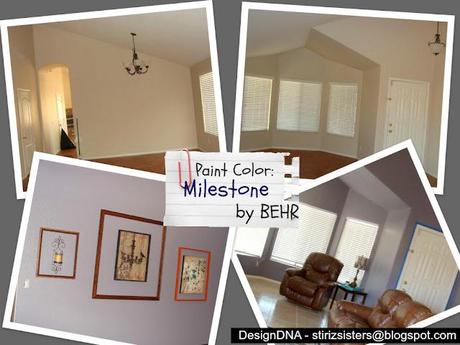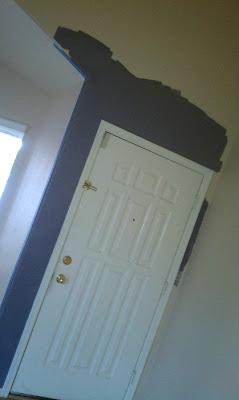 Lots of things still need to happen in this room but we have a good start!
To do:
Paint Trim (blue painters tape is already in place as you can see)

Replace Switch-plates (or at least put the old ones back on)

Install a ceiling fan

Entertainment center

TV

End table

Lamp
Sofa
Recliner

Additional lighting

Some sort of buffet/bar/shelves/storage

Wall art
Gallery Wall (upcoming blog post)