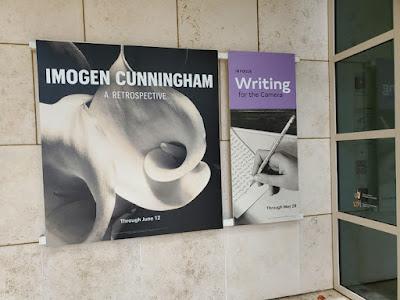 Entrance to Imogen Cunningham Retrospective at the Getty Museum, Los Angeles, California.
Two Callas (detail), photo by Imogen Cunningham

When Imogen Cunningham died June 23, 1976, at the age of 93, she was in the midst of a new project, a book about aging. (It was published after her death.) She took photographs for almost her entire life, leaving behind an incredible body of work.  A
retrospective exhibit
is currently at the Getty Museum in Los Angeles and, for the first time, photos from her entire career--spanning seventy years–have been mounted together, allowing us to see the development of her thought and work in relation to other photographers and artists of her time and to marvel at the depth and breadth of her work.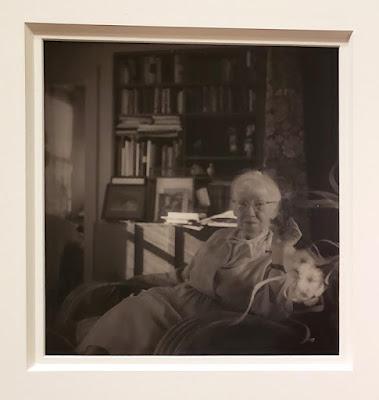 Imogen Cunningham, San Francisco, 1966. Photo by Edmund Teske
Art and I viewed the exhibit on a recent Saturday afternoon and were surprised that there was not a long line waiting for the monorail train for a ride from the parking lot to the museum. Then we discovered that we were supposed to have made a reservation online (a Covid rule made to limit crowds.) Luckily for us, it wasn't very crowded that day and we were allowed to continue. The exhibit, which opened March 8, will only be up until June 12, 2022. So, if you plan to go while it is at the Getty, make sure you have a reservation. (From September 15, 2022 - January 7, 2023, the exhibit will be at the Sonoma Valley Museum of Art, Sonoma, CA.)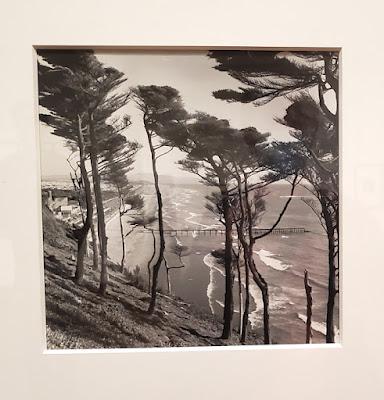 The Beach, San Francisco, about 1955.
Each room of the exhibit is devoted to a period in Imogen Cunningham's life–from her early years in Seattle, teaching herself how to make pictures with a camera she ordered by mail, to her marriage and years with small children that forced her to stay close to home, to her later work taking portraits and teaching to earn a living, then traveling and interacting with other photographers in the San Francisco Bay area.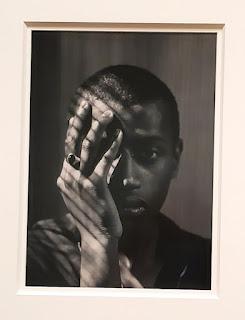 Stan, San Francisco, 1959.
An important part of the exhibit is the 28 minute video interview in which Imogen Cunningham reflects on the course of her life, offering comments on particular pictures on view at the museum.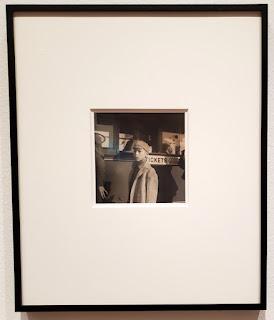 Angel Island, 1952.
The first thing you notice when you enter each room is that virtually all of the photographs are black and white. The other thing you notice is that they are small. You have to stand up close to each one to appreciate the details and range of values. The earliest photos are dark dream-like images taken with a soft-focus lens, inspired by a trip to Europe after she graduated from the University of Washington.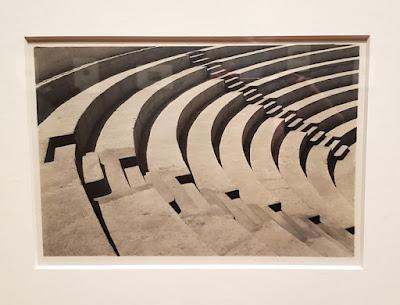 Mills College, about 1928.
In 1917, Cunningham moved from Washington State to the San Francisco Bay area with her husband, Roi Partridge, who had been hired at Mills College in Oakland, and began to make more sharply delineated pictures.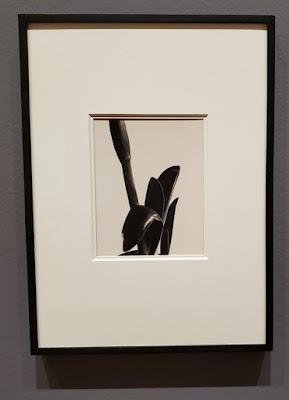 Amaryillis, 1933.
For the next few years, her main subjects were her children and the flowers in her garden. But Cunningham's flower photos are not what you'd expect. Rather than beautiful blossoms, she comes in close with her camera to turn the leaves and petals into abstract shapes.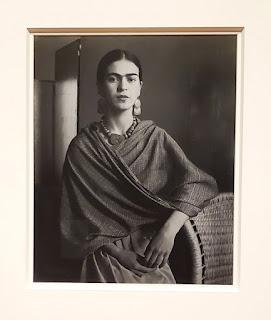 Frida Kahlo, 1931.
One room of the exhibit is devoted to Cunningham's portrait photography, including many pictures of famous people. After her divorce in 1934, Cunningham supported herself and her family by teaching and studio photography. She also became interested in street photography–unposed pictures of people as they appeared in their daily lives. With other San Francisco area photographers she formed a group call f/64. She also joined the San Francisco Women Artists, a group organized to promote, support, and expand the role of women in the arts.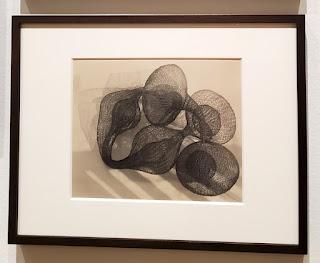 Looped-Wire Sculpture by Ruth Asawa, 1956.
Among my favorite photos in the exhibit is a close up of a piece by sculptor Ruth Asawa, organic abstract shapes constructed from what looks like wire mesh. I have admired Ruth Asawa's work at the de Young Museum in San Francisco, where the pieces hang like giant bulbous webs in the alcove next to the tower elevator.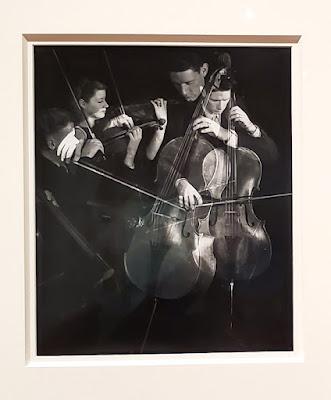 Cornish School Trio 2, 1935.
Another photo that particularly intrigues me is a photo of a string quartet, created with double exposures on the same negative to reveal the movement of the players and suggesting the rhythm of the music. Other photos, such as
Girl at Point Lobos
, look almost like paintings.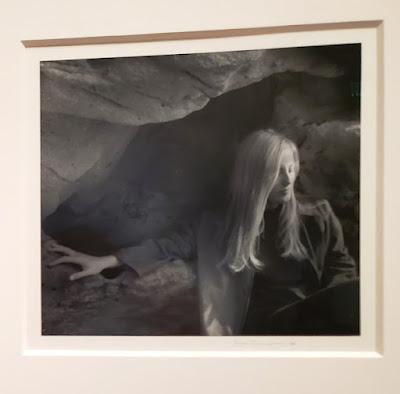 Girl at Point Lobos, 1968.
One reason I like to take pictures with my phone when I go to an art exhibit is so I can enjoy and re-examine the pieces again after I go home. The above examples are just a sample of the hundreds of photos on exhibit. I recommend going to the exhibit in person so you can pick out your favorites.