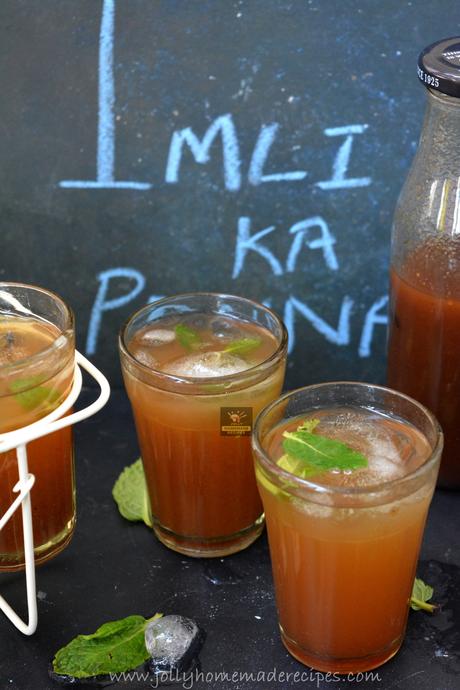 Imli ka Panna is a tangy, sweet & sour refreshing summer cooler made using tamarind pulp & sweetened using sugar and seasoned with few spices. This is similar to traditional Rajasthani beverage "Amlana". 
This drink is so refreshing, absolutely delicious and very healthy drink to cool off during a hot summer. 🌞 From boosting your immunity to keeping your liver and heart safe from diseases, tamarind do your health a world of good. 
Tamarind is rich in fiber and has no fat content. Studies suggest that eating tamarind daily might actually help in weight reduction since it contains flavonoids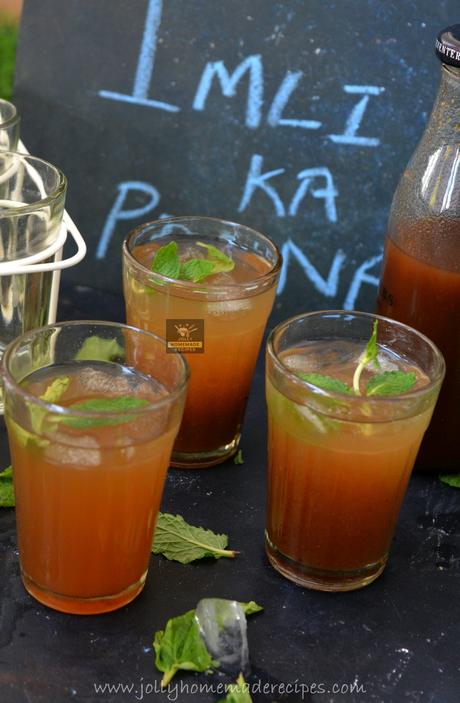 Tamarind is a rich source of magnesium, potassium, iron, vitamin B and provides other essential amino acids, antioxidants and vitamin C to  the body. It is great for digestion and when combined with sugar & cumin, it acts as a natural coolant in summers.
This is one such refreshing drink which I used to make it on a regular basis in the months of summer. This imli ka panna drink will surely help you make tasty and tantalizing 100% natural drink at home.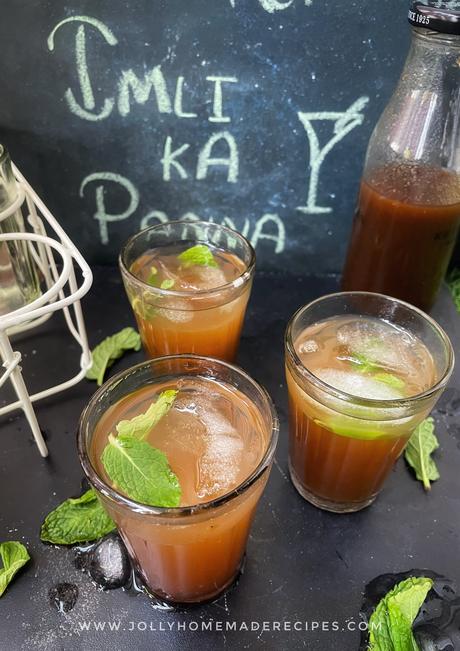 Imli ka Panna Preserve
You can make a preserve of Imli ka Panna and use it as when required. Store this focus in refrigerator for 15-20 days. When ready to use, just add 5-6 tbsp of concentrate or adjust according to your taste in serving glasses and top up with ice and water. Add a few mint leaves to give more freshness to the drink.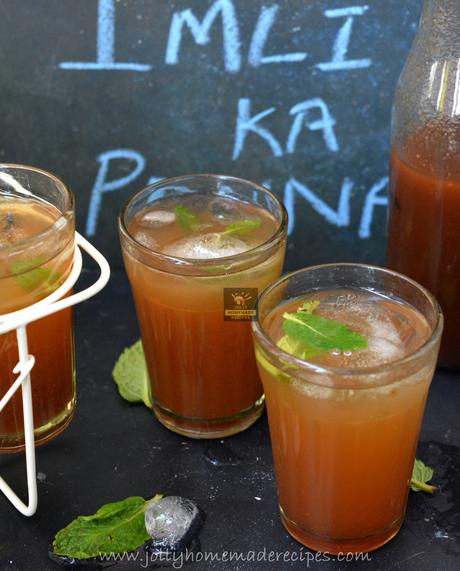 This Imli Panna recipe is quite simple and does not take much time too. It can be prepared beforehand and stored in fridge. Cumin and cardamom adds an aroma to this drink.
In India, Imli or tamarind are profoundly used in curries and sambar dal. Here are few summer recipes that you might like to try apart from 
Aam ka panna
Kache aam ki khatti-meethi Chutney  (Chundo) 
Roohafza Sharbat
Rose Watermelon drink
Sparkling Lemon Iced Tea
Course  : Summer Drinks(beverages)
Preparation Time  : 10 minutes
Cooking Time  : 30 minutes
Total Time  : 40 minutes
Cuisine  : North Indian
Author : Jolly Makkar
INGREDIENTS:
Dry Tamarind (Imli) – 1 cup 
White Sugar - 1 cup
Water - 6 cups
Black Salt/Kala Namak - 3/4 tsp
Crushed 
Black Pepper / kali mirch powder – 1/4 tsp
Roasted cumin powder/Bhuna Jeera – 1/2 tbsp
Cardamom powder (Elaichi) - 1/4 tsp
For Servings:Mint LeavesIce CubesWater
INstructionS :
1. Wash the dry tamarind chunks thoroughly. Transfer them in a bowl with 1 cup of hot water to it. Soak it for at least 2-3 hours.
2. Tamarind must have soaked by now and turned soft and mushy. Place a sieve on a bigger bowl and transfer soaked tamarind along with water on it. With the help of spoon keep mashing the tamarind till all its pulp is extracted completely.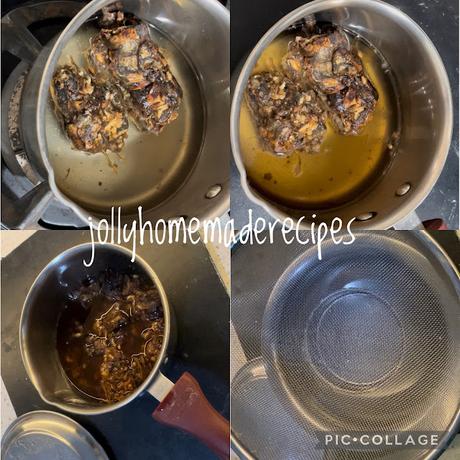 3. Tamarind must have soaked by now turned soft and mushy. Place a sieve on a bigger bowl and transfer soaked tamarind along with 1 cup of water (used in sieving tamarind pulp)on it. With the help of spoon keep mashing the tamarind till all its pulp is extracted completely.
4. In a kadai or heavy bottom pan, add tamarind pulp mine will come almost 2 cups so I added 4 cups of water along with 1 cup of sugar. Simmer it till sugar dissolves and stir continuously for about 20 minutes on full flame.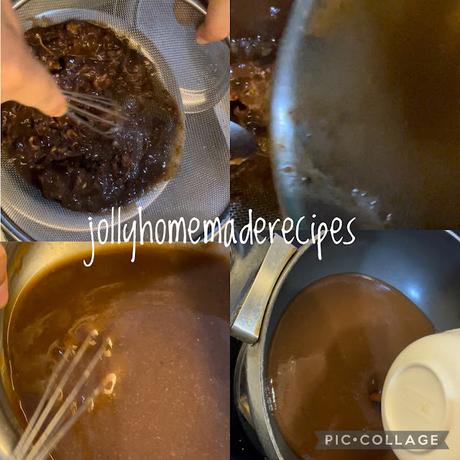 5. Add black salt, black pepper powder, and roasted cumin powder. Mix well. I would advise to taste panna at this stage and adjust the salt or spices little bit as per your taste if required.
6. Simmer it more 5 to 10 minutes and then lastly add cardamom powder. Cook for another 5 minutes, switch off the flame. Cool it properly and then store the preserved into sterilized bottle. Keep the preservative into fridge.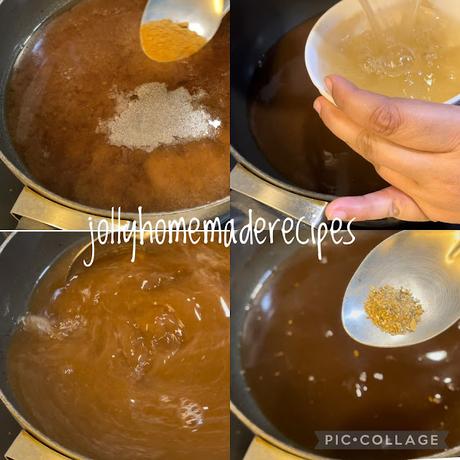 HOW TO SERVE :
 – 
Before serving add some Ice cubes in the glass and pour Imli Panna preserve over it, pour water on it(adjust the sweetness nd  Garnish with some fresh mint leaves and enjoy this cool refreshing tangy Tamarind cooler🍹. Cheers !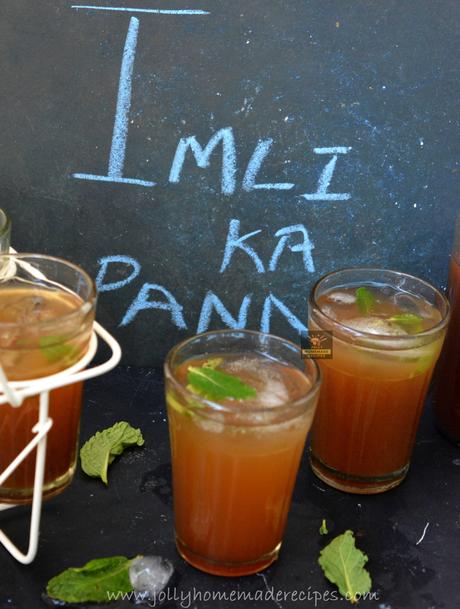 This month letter is
I
for season 2 
A to Z Challenge
, I choose IMLI and made this super refreshing and healthy delicious drink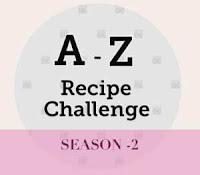 Did you try this recipe? 
Click a picture and mention 
@jollyhomemaderecipes
or tag 
#jollyhomemaderecipes 
in Instagram or Twitter
Subscribe to our 
YouTube 
Channel 
Click here to 
Subscribe
our 
YouTube 
Channel and stay updated with our latest video recipes
PIN IT
 later for your future use