52 Places to Go: Week 14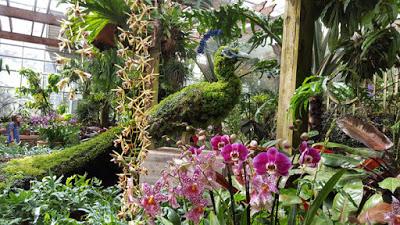 Peacock living sculpture inside the orchid house at the Atlanta Botanical Garden
(Note: This article was originally posted in July 2018. For information on current exhibits and visiting the Atlanta Botanical Garden, check their website.)

A fearsome dragon, a caravan of camels, a spectacular peacock and a giant Earth goddess, all created from living plants, are just a few of the many delights of the Imaginary Worlds: Once Upon a Time exhibit in the Atlanta Botanical Garden. The exhibit is mounted in partnership with the International Mosaiculture of Montreal.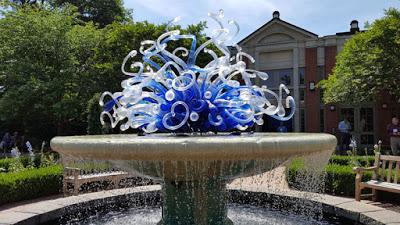 Chiluly glass sculpture, fountain at the Levy Parterre
In May, on a brief trip to Atlanta, I had the morning free and decided to visit the Botanical Garden, located in Piedmont Park, about a twenty-minute walk from my hotel in Mid-town. It was a beautiful sunny day and I joined other visitors and numerous school groups touring the garden.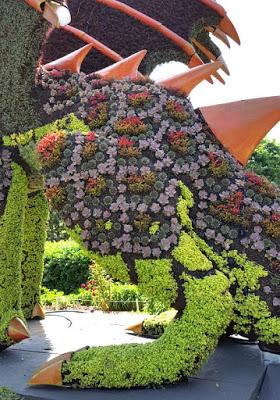 Detail of Dragon sculpture; plants are plugged into a metal framework stuffed with planting mixture
The pieces in the exhibit are positioned throughout the garden along with the permanent plantings. They are created with a process known as mosaiculture. Mosaiculture first became popular in Europe in the 16th century as wealthy landowners commissioned elaborate three-dimensional gardens, or "embroidery beds," for enjoying up close or at a distance. (By the late 1860's, the term "mosaiculture" was used for the first time in France, referring to the mosaic-like appearance of the surfaces of planted sculptures.)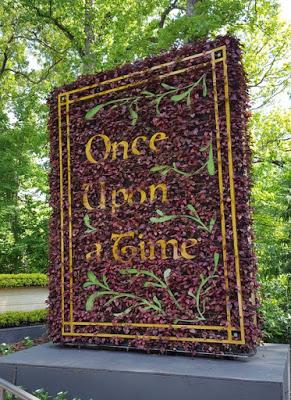 Once Upon a Time "Storybook"
After purchasing my ticket and entering the garden I was greeted by the Storybooks sculpture. There I opted to go left toward the rose garden, great lawn and greenhouses. At the edge of the great lawn a huge dragon, who appeared ready to take flight, dominated the scene.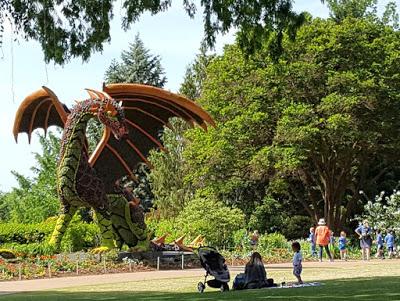 Dragon, mounted in the rock garden
From there I made my way toward the orchid center. On much of my tour I ended up following a school group taking a docent guided tour. At the Bogs and Poison Plant garden the kids were squatting on the ground trying to get a close-up looks at the Venus fly-traps and poking them with sticks to try to get them to snap shut.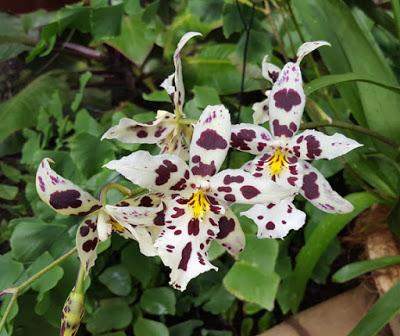 Orchids
The orchid house is truly spectacular, with orchids of every size, shape and color. In the center was a giant peacock, part of the Imaginary World exhibit.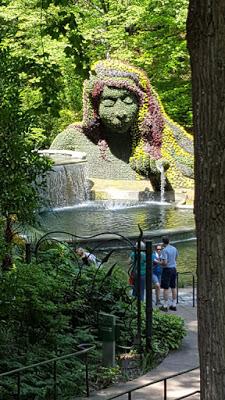 Earth Goddess at the Cascades Garden
I then circled back to the entrance passing through the peaceful Japanese garden and taking the bridge to the Kendeda canopy walk where I got a view of the Earth Goddess presiding over the refreshing Cascades Garden. She has become a permanent feature of the Botanical Garden. The rest of the sculptures except for the Shaggy Dog are temporary.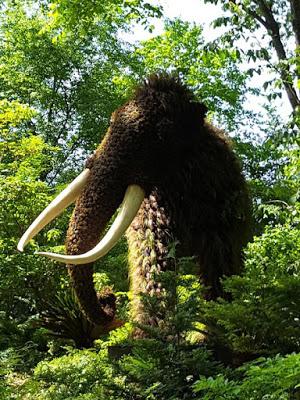 Mammoth
On my way back to the entrance I almost missed the mammoth with its giant tusks, peeking through the greenery. For a moment, I thought it was real!
Imaginary Worlds: Once Upon a Time was on view May-October 2018.
The Atlanta Botanical Garden is currently open to visitors but with limited capacity. Timed tickets and Covid rules are in place.
For more information go to www.atlantabg.org