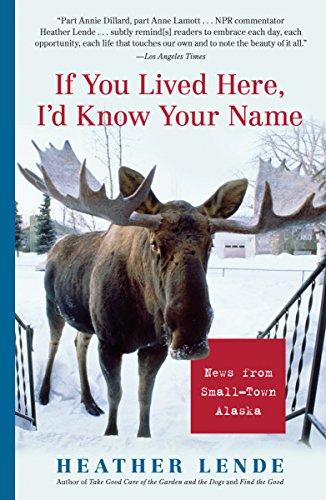 TITLE & AUTHOR: If You Lived Here, I'd know Your Name (News from Small-TownWHAT'S IT'S ABOUT
Alaska) by Heather LendeOPENING
PUBLISHER: Algonquin BooksWHAT I THOUGHT
EDITION: EbookRELEASE DATE: 29 March 2006PAGES: 294SOURCE: Digital Library
Tiny Haines, Alaska, is ninety miles north of Juneau, accessible mainly by water or air-and only when the weather is good. There's no traffic light and no mail delivery; people can vanish without a trace and funerals are a community affair. Heather Lende posts both the obituaries and the social column for her local newspaper. If anyone knows the going-on in this close-knit town-from births to weddings to funerals-she does.
Whether contemplating the mysterious death of eccentric Speedy Joe, who wore nothing but a red union suit and a hat he never took off, not even for a haircut; researching the details of a one-legged lady gold miner's adventurous life; worrying about her son's first goat-hunting expedition; observing the awe-inspiring Chilkat Bald Eagle Festival; or ice skating in the shadow of glacier-studded mountains, Lende's warm-hearted style brings us inside her small-town life. We meet her husband, Chip, who owns the local lumber yard; their five children; and a colourful assortment of quirky friends and neighbours, including aging hippies, salty fishermen, native Tlingit Indians, and volunteer undertakers-as well as the moose, eagles, sea lions, and bears with whom they share this wild and perilous land.
Like Bailey White's tales of Southern life or Garrison Keillor's reports from the Midwest, NPR commentator Heather Lende's take on her offbeat Alaskan hometown celebrates life in a dangerous and breathtakingly beautiful place.
IT WAS JUST us and the small Haines clinic staff eighteen years ago when I had our second daughter, Sarah.
Alaska is the place that endlessly fascinates me. I love reading books set in Alaska. I love watching movies and TV shows set there. Alaska is place I could easily imagine living in. I'd love the remoteness. I've lived in a pretty big city for almost eleven years but it's never quite felt like home. I don't like cities. They're loud and have too many people in them. I grew up in what used to be a coal mining village, a place where you can't get a bus anywhere after 5pm on a weekday and never on a Sunday. Alaska is my idea of paradise. If You Lived Here, I'd know Your Name is a delight. This book is touching, moving and heart-warming. I felt cosy as I read it like I was snuggled up under a warm blanket with my best friend. I loved Heather's anecdotes of life in Haines. I loved the crazy, colourful and almost unbelievable characters. I loved all of the stories that offered insight into living in a small town in Alaska. I could easily imagine myself in this places with these people. There is a touch of sadness in the book but there is a lot of fun, love and laughter. I'd highly recommend I f You Lived Here, I'd know Your Name.