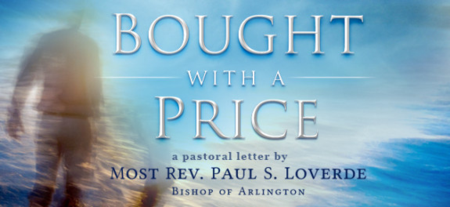 Paul Stephen Loverde is the bishop of the Roman Catholic Diocese of Arlington in Northern Virginia and he's written a pastoral letter on the dangers of pornography:
How I wish that this new edition of my pastoral letter, Bought with a Price, was unnecessary.  How I wish that stories of porn addiction like Matt Fradd's—found in a new Foreword—never had to happen.  And yet, since I first issued this letter nearly eight years ago, the porn epidemic engulfing our families, marriages and communities, has reached a pandemic scale. In light of this, I pray that Matt's powerful witness, the addition of practical takeaways, a study guide for individuals, groups, and families, and a plan of life, will be a timely and encouraging tool for purity and holiness of life.

"If you are really open to the deepest aspirations of your hearts," I echo the words of Pope Francis, "you will realize that you possess an unquenchable thirst for happiness, and this will allow you to expose and reject the 'low cost' offers and approaches all around you.... Have the courage to be truly happy! Say no to an ephemeral, superficial and throwaway culture, a culture that assumes that you are incapable of taking on responsibility and facing the great challenges of life!" (World Youth Day, 2013)
That's just a piece of the preface. Check out the website put together in support.  Lots of resources, lots of help for those who might need it.
Might many be touched to turn away from their addictions and turn toward Him who fulfills every longing.