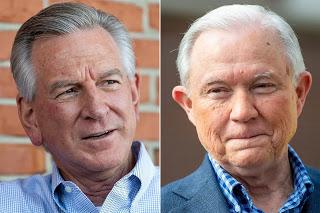 Tommy Tuber ille and Jeff Sessions
 Is Jeff Sessions' political obituary about to be written? The latest polling
shows former Auburn football coach Tommy Tuberville with a 12-point lead
heading into a March 31 runoff in the Republican Party runoff for Sessions' old U.S. Senate seat, the one he gave up to become Donald Trump's attorney general -- a seat now held by Democrat Doug Jones.
If Alabama voters finally boot "The Evil Elf" (as Sessions has become known to many), it will be --
according to a new report at banbalch.com
-- for two primary reasons: (1) His ties to the Trump-Russia scandal; and (2) His ties to Birmingham's corruption-infested law firm Balch Bingham. Writes
banbalch
publisher K.B. Forbes:
When he was a U.S. Senator, Jeff Sessions' number 1 and number 2 lifetime political donors were, respectively, the sister-wives, Siamese twins of Alabama: Alabama Power and Balch Bingham.
Once the most powerful politician in Alabama, 68% of his party's voters picked another candidate instead of Sessions on Super Tuesday.


Why has Sessions, who came in second, been so bluntly rejected?




Because of his ties to Balch Bingham and the corruption born at the embattled law firm.
Forbes turns to the nation's No. 1 source of right-wing news for details:
Fox News reports:
President Trump has little sympathy for former Attorney General Jeff Sessions, who now faces a runoff election after failing to secure a majority of votes in Tuesday's Alabama Senate primary.

Trump has a history of criticizing Sessions for recusing himself from the Russia investigation that cast a shadow over much of Trump's presidency before ultimately resulting in a lack of evidence that his campaign coordinated with Moscow in the 2016 election. Now, Trump is implying that Sessions deserves his current electoral struggles for not having the president's back.
So, why did Sessions recuse himself? Forbes has the details:
Because of Sessions' ties to Balch client Black Hall Aerospace of Huntsville and the changing of Russian sanctions in November of 2015 to benefit Black Hall.

After we, the CDLU, carbon-copied Sessions' former Chief of Staff Rick Dearborn ( who was serving as the President's Deputy Chief of Staff in 2017) in a letter to The White House in February of 2017, information about our efforts leaked.

On February 28, 2017 we met with lawyers of the alleged owner of Black Hall Aerospace, Oleg Sirbu, a Soviet immigrant who now lives in Dubai.

Two days later, on March 2, 2017, Sessions recused himself. On that very same day, Balch Bingham scrubbed their website of any reference to successfully changing Russian sanctions on behalf of Black Hall Aerospace.

On March 3, 2017, Balch Bingham fired the alleged mastermind of the Newsome Conspiracy Case, Balch partner Clark A. Cooper, who is now selling mattresses.

The purging and clean up efforts by Balch failed as just six months later, Balch Bingham partner Joel I. Gilbert was indicted on six federal charges including bribery and money laundering.

The North Birmingham Bribery Scheme was born at the offices of Balch Bingham and the public has not forgotten.
What became of Black Hall Aerospace? It went where Sessions' political career appears to be headed:
Interestingly, Black Hall Aerospace appears to be crumbling, accused of circumventing an arms embargo against Libya in court documents.

Sessions, Balch, and Black Hall Aerospace . . . all appear to be dying on the vine, and the public is voicing their strong displeasure against Sessions, against Balch Bingham.