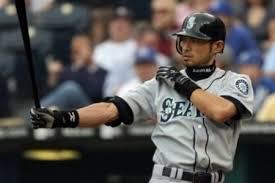 Via ESPN:  "Ichiro Suzuki joined Pete Rose and Ty Cobb as the only players with 4,000 career hits in the highest levels of professional baseball. Ichiro's accomplishment comes with a little bit of a twist because his are the combined total between Japan and the American major leagues.  
On Wednesday, Ichiro's 4,000th hit occurred when he singled to left off Toronto Blue Jays starter R.A. Dickey in the first inning. The game was stopped as Ichiro received a standing ovation. Ichiro's teammates bounded out from the home dugout and met him at first base to give him hugs and high fives.
"It was supposed to be a night that was special to me," Ichiro said through a translator after going 1-for-4 in the Yankees' 4-2 win. "But you know what happened tonight, I wasn't expecting when my teammates came out to first base, that was very special. To see the fans, I wasn't expecting so much joy and happiness from them. That's what made it very special tonight. Not just the number, but all the things that happened with it. That came with it. It was very special."
In his seven seasons in the Japanese Pacific League, Ichiro collected 1,278 hits. During his 13 years in the United States, he now has 2,722 major league hits. He surpassed Lou Gehrig for sole possession of 59th place on the all-time major-league hit list."
Ichiro is the man.  I've been a fan of Ichiro since he began with the Mariners in 2001.  He was the new guy for a fan base that had just seen Randy Johnson, Ken Griffey Jr. and A-Rod leave over the past few years.  He was different, but not just because he was Japanese, but because of how he played the game.  He hustled on every play, stretched frequently in the outfield, and was probably pretty damn annoying for opposing hitters.  He'd hit pitches never meant to be hit for singles, beat out little choppers consistently and make plays like this pretty frequently.
He didn't talk much, dressed ridiculously sometimes, but never stopped grinding out hits and trying to win games.  For that, I thank him.  He was a joy to watch and still is, even if he's wearing that disgusting uniform.
What impresses me so much about he 4,000 hits is that he's almost eclipsed the 3,000 mark here in Major League Baseball.  He's never had less than 175 hits in a season, he sports a .320 lifetime batting average and to my knowledge, really never been a problem in the clubhouse.  He's stolen at least 29 bases in every season he's played and even this year, at the age of 39 has 18 steals to only 3 caught stealing.  He never asked to leave Seattle even when the organization ran out terrible team after terrible team and didn't test free agency last year; electing to stay with his current team, the Yankees.  If you think about it, in 22 years of playing baseball, he's only played for three teams.  Pretty impressive.
Easy first ballot hall of famer.  No questions asked.