2 huge imposing monuments stood in front of me, with an equally imposing gate guarding them with lush green gardens running along its pathways; this was my first view of the Ibrahim Rouza - a truly extraordinary moment. Bijapur is not short of historic monuments but very few manage to stand out from the lot – Ibrahim Rouza easily surpasses others with its grandiose architecture and mysterious charm.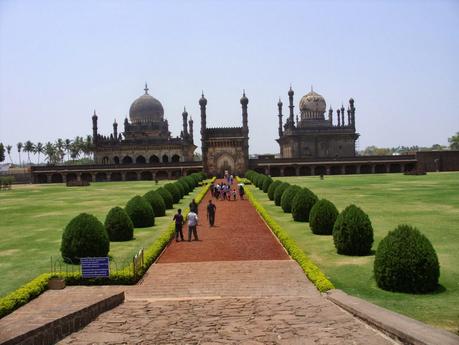 After walking down a red sand trodden path we reached the fortified gateway, with a small shaft in the name of a door located on the side of it. We made our way through the shaft and set foot on the courtyard, in the center of which was a dried out ablution basin. On one side we saw the impressive Rouza (tomb) and on the other we saw an alluring mosque. We first set out towards the Rouza.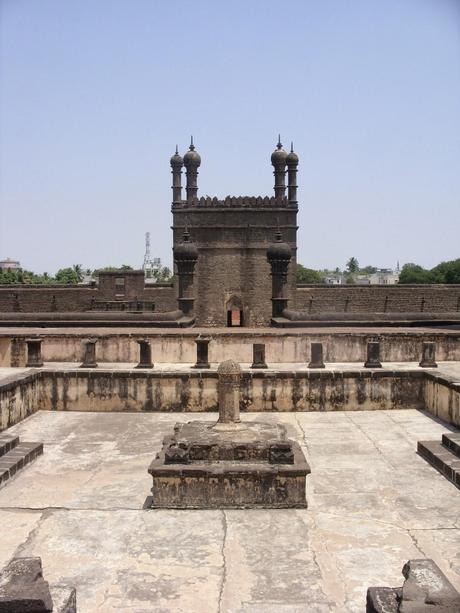 Built in 1627, Ibrahim Rouza contains the tomb of the Bijapur Sultan Ibrahim Adil Shah II and his wife Taj Sultana. The Rouza was originally intended to be queen's tomb.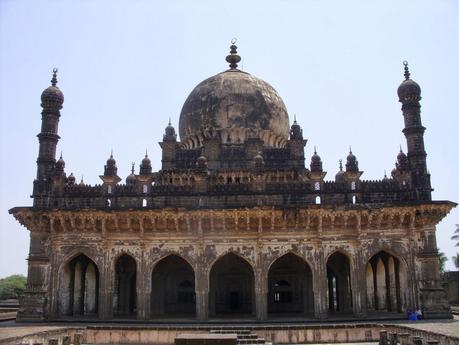 The square structure was designed by the Persian architect, Malik Sandal, who is also buried in the premises. It is believed by some that this tomb served as an inspiration for the construction of the ostentatious Taj Mahal at Agra.
The Rouza had darkened in color, standing neglected through years of harsh weather. The inner perimeter of the Mausoleum has well crafted arches on all 4 sides. Its friezes still managed to stand out; their intricate designs seemed to shine on the darkened walls that they run across. Apart from the friezes the outer walls of the tomb contain panels which display fine calligraphy in the form of perforated screens and shallow relief. The mausoleum's wooden windows and doors also carry similar motifs.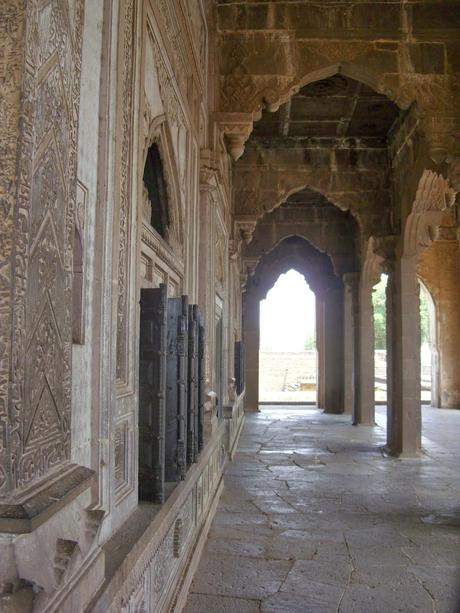 We entered through its teak wood doors which were braced with metal strips and decorated with Islamic motifs. We came upon a dark chamber with the cenotaph of the Sultan and his wife in the center of it. The cenotaph was dark like the dark chamber and the dark walls that surrounded it. The structure has been erected on a single rock slab and has a basement, which was used to store ammunitions and food.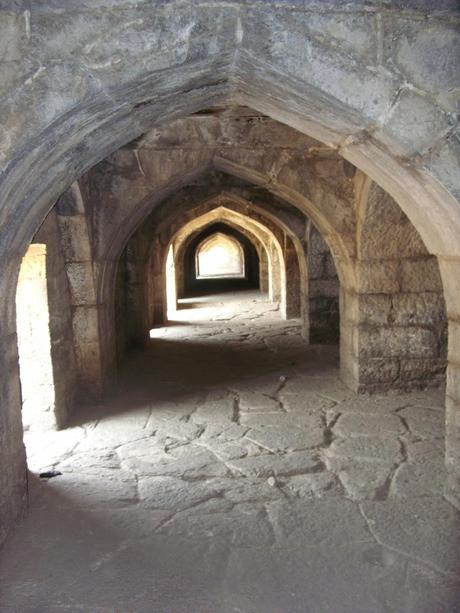 We then made our way to the off-white colored mosque. Its architecture was impressive, graceful minarets marked the corners of the mosque, surmounted by a dome rising from a lotus petal base and its five arched entrances inviting worshipers. In fact the architecture of all historic Bijapuri mosques is noteworthy, all similar to each other yet disparate from any other mosque in India. Unfortunately, no congregational prayer is held at this mosque and has become a mere tourist site.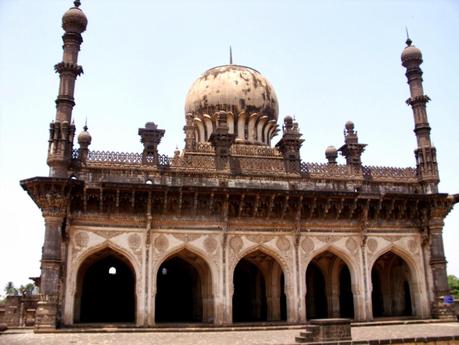 After visiting Ibrahim Rouza it almost felt like a grand monument was being neglected. Nothing apart from the lush green gardens outside seemed to be taken care of.