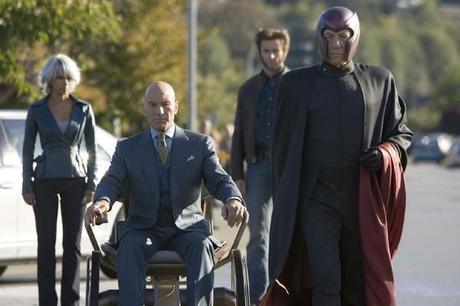 Director Bryan Singer announced on his Twitter feed earlier today that Ian McKellen and Patrick Stewart will be reprising their roles for X-Men: Days Of Future Past. Ian McKellen and Patrick Stewart played Magneto and Professor X in the previous X-Men trilogy. They will be joining Michael Fassbender and James McAvoy as younger versions of the same characters in the sequel to X-Men First Class.
Tweet in Question:
I'd like to officially welcome back James McAvoy, Jennifer Lawrence, Michael Fassbender, & Nicholas Hoult to #XMEN for #DaysOfFuturePast

— Bryan Singer (@BryanSinger) November 27, 2012
If Magneto and Professor X are returning, what about other characters in the franchise? Will Wolverine (Hugh Jackman) make another appearance in the sequel universe for X-Men?
The film is scheduled for release July 18, 2014.
Here's the description:
The storyline alternates between present day, in which the X-Men fight Mystique's Brotherhood of Evil Mutants, and a future timeline caused by the X-Men's failure to prevent the Brotherhood from assassinating Senator Robert Kelly. In this future universe, Sentinels rule the United States, and mutants live in internment camps. The present-day X-Men are forewarned of the possible future by a future version of their teammate Kitty Pryde, whose mind traveled back in time and possessed her younger self to warn the X-Men.