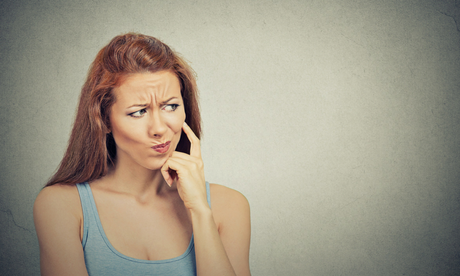 I may be the only person in the entire world who enjoys writing thank you notes. I feel like they're an opportunity to say nice things to people without having to actually speak the words-you just write some words down and someone else delivers it for you. Writing + Laziness = my favorite thing ever.
I've heard it said that practicing gratitude brings more gratitude into your life. Such was the case when I mentioned how great Peeve's mom's brownies were and she brought us a plate full.It was the day we got back from our honeymoon. Only problem was... something else came with it.
Quick history: When Peeves and I were in Middle School, our friend went to New Orleans and bought each of us a creepy ass Mardi Gras clown.These little demons became a constant for the next decade as we devised ways to hide them and scare the hell out of each other.
Eventually she got married and I made I made the mistake of explaining this same history to Alex.I should have brushed it aside, like a series of poor life choices and the clown tradition fell by the wayside. That is, until now- when "I don't know, she's a weird old lady who gave us a clown for our wedding."But no. I'm compulsively honest.
Now I have to live every hour of my life in constant fear and trembling.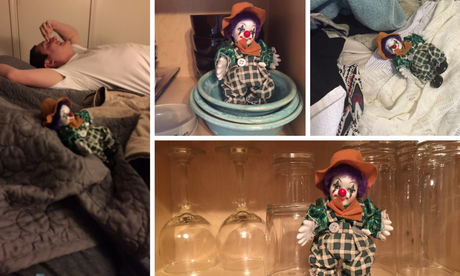 Who is this man I married? I feel I can no longer trust a word he says.We'll be sitting on the couch and he'll make a casual comment about how the blanket is there in case I get cold.I'll suddenly realize I am freezing, grab the blanket, and BOOM- clown.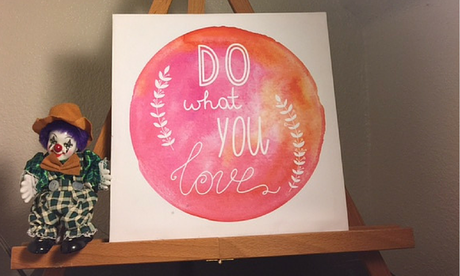 I should know better.Alex is not a small-talk kind of guy.He's more of a Mr. Darcy-if Mr. Darcy were a sociopathic villain determined to frighten Elizabeth into an early grave.But here he is, enquiring about my makeup travel bag or commenting on the number of shoes I own. I turn to observe the commented upon item and BOOM- clown.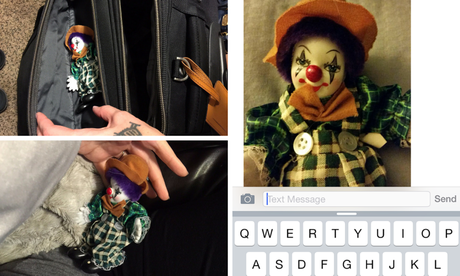 It's not a fair fight, because he doesn't find the evil clown to be frightening.I inevitably yelp every time my finger grazes its satiny bulge or ceramic cheeks.But Alex?Not so much as a flinch.
I decided to do as I do and fight dirty. While he was in the shower I flipped the bedroom light out and stuck that little bastard on the ceiling fan.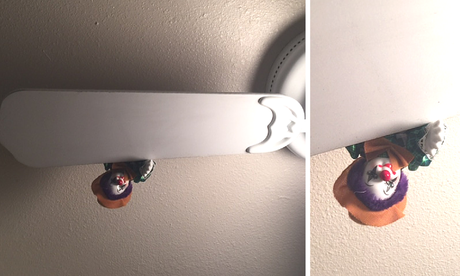 Word to the wise: You may not be afraid of clowns but no one is immune to the sheer terror of a shimmering glass object flying at your face when you flip the light on.
Do you enjoy frightening your friends or significant other? What weird traditions go on in your house?Are you afraid of creepy ass clowns?
To thank you guys for being my favorite people, I'm giving away ANOTHER copy of Brittany Gibbons AKA Brittany Herself's newly released book "Fat Girl Walking" (now a New York Times Bestseller!) to a lucky e-mail subscriber.If you're not already subscribed, Do. It. Now.I'll draw a random winner at the end of June.May the odds be ever in your favor.
Subscribe and get full posts in your inbox