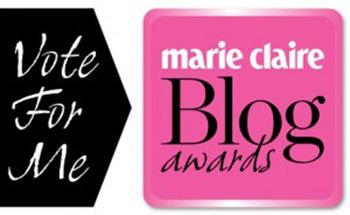 Small post just to tell you all that I have been nominated for the Marie Claire Beauty Blog Awards! I am so chuffed with this and literally cannot believe that people want to read my blog!? It's insane, but I am so happy! If you would like to vote, not just for me, for any of the other fabulous blogs just click on the image above and follow the Beauty Blog awards link, however if you do vote for me then thank you so so much and to those lovely ladies who already have MASSIVE thank you hugs are flying over to you right now!
I am up against some fabulous fabulous bloggers and I am so honoured; some of the blogs long listed along with myself are ones that I have read for some time now. I cannot believe I am up there on the Marie Claire website with them! Eeeek!
Massive love everyone!