Twitter's live-broadcast video app,
Periscope
, launched less than a week ago and has quickly become a smash hit app that everyone loves. Canadian astronaut and social media master
Chris Hadfield is all over it. His dick? Not so much
.
WHAT IS PERISCOPE? 
It's a free app that lets you
broadcast live video of whatever you're doing
and you can
watch the live video
of others: see a Belgian stroll around the grocery store, help a Vietnamese woman choose her eye shadow, go through the car wash with some guy in Windsor. A lot of it is everyday people doing normal things but it's
more than the sum of its parts
and the result is a connection that closely mimics the human-to-human level.
You can make
comments
on broadcasts which then pop up on screen for both the streamer and viewers to read. You can also tap the screen to send a little
heart emoji
.
BUT NO DICKS
Since installing the Periscope app five days ago,
I've seen zero dicks broadcast.
Is there an all-dicks Periscope somewhere? (Asking for a friend.)
[UPDATE: An unaffiliated app called Peniscope is set to launch this fall.] 
The Periscope app's very title implies that there will be dick shots.
We all know the act of periscoping: it's when you're in a hot tub and some dude pokes the head of his dick above the surface like a submarine's periscope. Surely the app's cofounders,
Kayvon Beykpour
and Joe Bernstein, had this in mind and knew that the app's moniker would influence the technology's usages. So where are the dick pics?
WHERE THERE ARE STARS, THERE ARE DICKS 
Along with the everyday folks who are broadcasting on Periscope, there are celebrities showing you their cool-ass lives. In less than a week,
Arnold Schwarzenegger
has amassed over 11,000 followers, comedian
Kevin Hart
has 18,000 and topping them both is Canadian astronaut
Chris Hadfield, who is a bonafide Periscope superstar with 24,000 followers
.
Hadfield is all over Periscope, taking us on a
tour of Niagara Falls
, live streaming from a
hockey game
, but
where is his dick
? When women spend this much time on social media, they're
getting their tits out
for sure. Or they're getting asked to, and often aggressively so. And while I'm interested in offering a subtle critique of gender norms and the ingrained expectation of double standards on emerging image-based social media, I mostly think it would be
hilariously self-aware
if Hadfield just gave us a peek.
Do I have to start the national conversation around Chris Hadfield's dick?
CHRIS HADFIELD: KING OF ALL MEDIA, GOD OF ALL GALAXYS, WEARER OF PANTS 
Chris Hadfield is the
first Canadian to walk in space
, he's
flown 2 space shuttle missions
and as the first Canadian commander of the International Space Station he helmed a crew of astronauts who ran dozens of experiments on the impact of
low gravity on human biology
.
C'mon
, human biology plus low gravity? It's a trove of
erection jokes
. Add to that the fact that every single spaceship tour or astronaut Q&A in history has involved a discussion of how spacemen
hang to drain the Tang
and it's only natural that
Hadfield's privates are part of the national consciousness
.
While leading Expedition 35 for 5 months after its launch in December 2012, Hadfield worked with his web-savvy son, Evan, to
build a huge audience on social media
. He chronicled life at the space station with regular posts to
Twitter
,
Facebook
,
Google+
, and
Tumblr
. To date:
He maintains over 1.3 million Twitter followers. 
His rendition of Bowie's 'Space Oddity,' recorded in space, has over 25 million views on YouTube. 
He hosted one of the most popular Reddit AMAs ever. 
He has never publicly shared a picture of his dick online. 
For now, Periscope may offer us videos of "crazy" sunsets: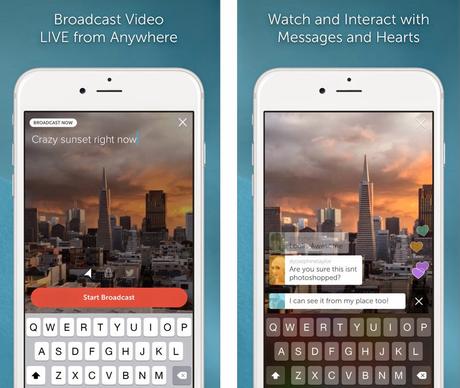 But I hold out hope that
Chris Hadfield will grab this new technology by the balls and at least show us his moon
.