Hanukkah is over, Christmas is on the horizon, and I am searching for a jobs.  The overbearing Goliath called life grows ever larger as it falls, appendages spread, toward a colossal belly flop over me, floating in a pool of latent and static dreams awaiting life's tidal wave onto the burning concrete deck of the job market.  Hmm, maybe I got caught up in that analogy...nevertheless, I have some great excitement ahead before I feel the full brunt of life.
Tonight, I am doing a run-through of the libretto for the premiere of a children's opera, "How the Camel Got Its Hump", from the story by Rudyard Kipling.  I will certainly have more information on this soon, but it will be the cutest show ever.
If you didn't hear already, I am going to the Grammy's in February as one of the ensembles that I sing with, The Kansas City Chorale, was nominated for multiple Grammy's!  And again, I ask you all who read this blog, to consider donating by clicking the link on the black bar above, to help me fund my trip to LA.  The Chorale had several concerts last week and we were followed by photographers and television cameras.  Actually, the attention is a little awkward, as you may imagine.  Most people when they realize that photographers are taking pictures of them, they make a conscious effort to look normal while continuing in awkward conversation - a little like being a supernumerary on stage.  However, I just can't be the normal, lazy human that I usually am.  So, with photographers always around us on the performance day, I couldn't text, check Facebook, hum through some music, talk to others, stare out a window, or sleep in a chapel pew without a photographer there.  With cameras around, it's hard not to become paranoid.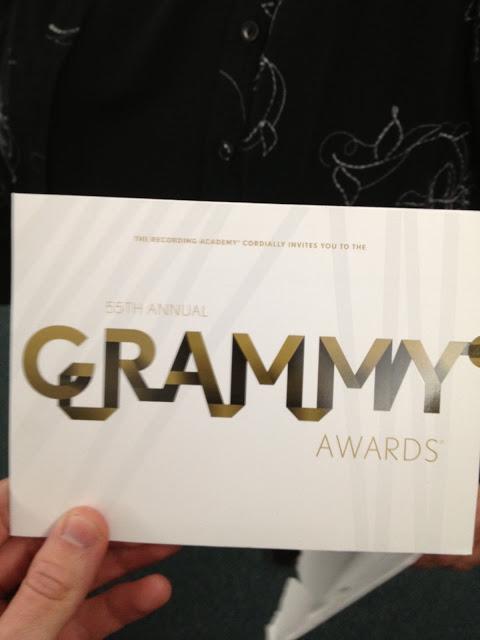 Also last week, I had the privilege to sing carols at a very fancy Christmas Party at the River Club in Downtown Kansas City.  Four operatic singers, including myself, stood outside as the limousines pulled up and the aristocracy flooded out amid what I assume are incredibly important Real Housewife arguments over grudges and insults about their personal chefs or tabloid articles.  We also sang as the guests were escorted to their seats for dinner.  There were about 50-70 guests and the decorations were all of the late 19th Century Gilded Age - making caroling in tuxedos a perfect match for the occasion.
Sunday, I put in a 12 hour marathon singing in 3 church services, 4 rehearsals, and 2 concerts in the evening at Village Presbyterian Church for their annual Christmas spectacular - Tidings of Joy!  Village Presbyterian Church is one of the world's largest Presbyterian congregations; thousands attended and the concert had 150 singers, orchestra, and LOTS of Christmas music.  It was highly emotional however due to the shootings in Connecticut.  A music teacher friend of mine lives only 5 miles from that elementary school in Connecticut and like most of you, my mind has been caught up in all the media.  I inadvertently caused a Facebook war due to my wish of America becoming more like Western Europe and banning assault weapons, which have no practical use other than to kill many things.  As an American, I am 100 times more likely to be murdered by a gun than someone in the UK, and 150 times more likely than someone in Japan (according to the most recent United Nations statistics).  On top of that, it is probably easier to purchase an assault weapon than to get proper mental health help as was detailed on NBC Nightly News.  With that said, I was crushed to hear of the death of so many little kids - I hope America can make a serious effort to become a more civilized society in the wake of this carnage.  At our services this weekend, the most touching moment wasn't the singing of Silent Night, which always causes lots of tears, but of the last verse of Away in a Manger.
Outside of my normal Christmas craziness, I want to leave you with some of my favorite operatic Christmas youtube hits/blunders.