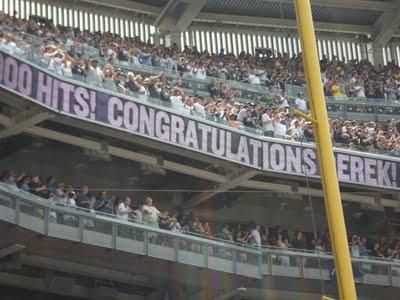 Since yesterday, I have tried to post all 292 photos, but Blogger just keeps crashing.  So we are going with these for now.  There is no way to truly capture a moment in history, to accurately describe what it is like to witness something that will never happen again.  Even with all 300 photographs.  I went to the Stadium on Saturday hoping to see Derek Jeter's 3,000th hit – the first Yankee to ever do so – and I left with a memory that I will treasure for the rest of my life. This is my best attempt at putting the Baseball Jesus and his epic Saturday into words.  I, for one, will never ever forget it.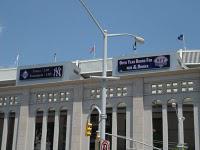 11:55 a.m.:
  My brother and I are on a packed subway, filled mostly with people in pinstripes, and a crazy man is screaming he is diabetic.  Let me state upfront that I am going to be incredibly bummed if Derek Jeter gets to 3,000 tomorrow. See, months ago, when these tickets were first offered to me, I had the option of taking Saturday or Sunday – I chose today.  I also had tickets to last night's game, but it was postponed.  So now that Tampa Bay has refused a double-header, I may or may not flip out if Derek does not join The 3,000 Club this afternoon.  Although, if he
does
make it, I will be grateful that this was not a double-header; 12 hours at the Stadium is an eternity, even for a baseball junkie like me.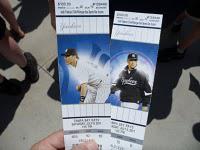 Funny story about last night: So I met my friend Amanda around 5:45 p.m. at her office uptown, which is on the way to the Stadium.  We were sitting there, drinking from a flask (because we are sketchy and hardcore). I already knew the game was rained out; however, I did not understand why Amanda kept refreshing her browser.  Finally, around 7:15 p.m., I was like "Um, why are we still here?" She looks at me quizzically and says, "Aren't we waiting to see if the game eventually gets played tonight?" Mind you, the game had been canceled for approximately 90 minutes at that point.  Clearly, she confused the difference between a rain delay and a postponement.  After I broke the news and she got over her disappointment, we went back to her apartment, rocked out, and finished the bottle of vodka. Needless to say, my head is pounding and these crazy subway fuckers are not helping.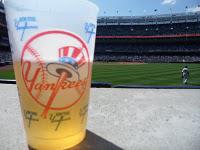 12:45 p.m.:
HOLY CRAP!  We are sitting in the front-row.  Like, hanging over the right-field wall first-row, Section 105. Until this very moment, I thought we were in "Row 10," and we are – but apparently in the outfield, Row 10 is the first row.  AND I AM AMAZED!  I probably shouldn't be – these seats are owned by ESPN, so I should have assumed they would be great.  But I had no idea
how
great.  I have been to probably 50 or more Yankees' games, but I have never ever been this close to the field.  It is incredible. Like, I can't get over how incredible these seats are.  I can obstruct any ball hit to right field. Andruw Jones and I may become best friends by the end of the afternoon. Jeffrey Maier 2.0? Yes please. Look for me getting arrested on SportsCenter tonight, thanks.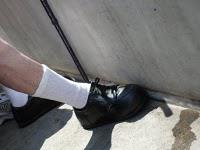 12:55 p.m.:
My dream in life is to catch a foul ball or homerun at a baseball game.  This is my fucking chance, people. I have this planned out already. I got Andruw's attention (and a nod), so I made inroads there. A wink-wink and a promise of sexual favors should get me at least a foul ball hit into the corner, right?  I have also decided that, for a homerun, a broken hand is totally worth it. I mean, I would break my face for a Yankee homerun ball.  I told my brother that he has my permission to push the old man with the cane next to us.  But I also told him that if a ball is hit directly to us that he better move out of the way, since I am clearly the family jock.  He nodded in agreement. I like that he knows I am absolutely serious. 
1:04 p.m.:
The game is about to start and the atmosphere is electric. You can tell that everyone here is anxious, nervous, and excited to see greatness.  The seats are packed already, it is hot as a motherfucker, and the jumbotron is showing Jeter highlights on repeat.  Good god, I adore him.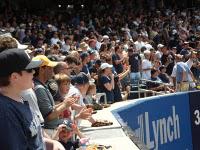 Top 1:
A.J. is on the mound.  He, his former-convict tattoos, and his inconsistency scare the hell out of me, but what else is new?  He ends the inning on a swinging K.  I am sorry, but I still can't get over how amazing our seats are.  In fact, I keep saying it over and over again. All girls love diamonds, I am just not sure if I prefer the kind you get in the Bronx or at Tiffany's.  Potential suitors out there, please note that lifetime season tickets are the equivalent of any sort of commitment ring for me.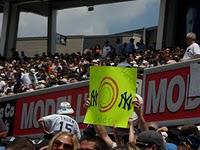 Bottom 1:
Here we go! The crowd is roaring. It is crazy to think that, in reality, everyone is here only to see four or five at-bats by one man.  And we are going to get the first one right here, as the Baseball Jesus leads off against David Price (it does not excite me that he is on the mound).  Everyone is on their feet.  I love the home-made signs that decorate the crowd; they are witty and worshipful. I don't know if worshipful is an adjective, but let's go with it.  It seems DJ is up there to swing – and I love that. Everyone is hanging on each pitch with bated breath.  AND 2,999 IS IN THE BOOKS!! A ground ball through the left side.  That is one way to take some pressure off of himself. Everyone is going crazy – you would think he just belted a game tying homerun.  Granderson flies out to center and Tex hits into a double-play to end the inning. But who cares? The Baseball Jesus is one away from history!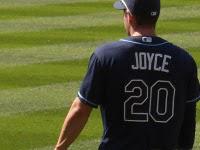 Top 2:
I am going to be totally honest here.  I am drinking beer on a gorgeous day in the front-row at Yankee Stadium and I cannot promise that this retro-live-blog will be as detailed as it normally would be.  I will cover the big stuff and all of Derek's at-bats.  I may miss some stuff in between, but I will make up for it in kickass awesome pictures later. Is that cool? Good. Glad we had this talk.  Kotchman grounds out.  B.J. Upton, who I used to watch all of the time when he was a Durham Bull, strikes out swinging. But DAMN. Matt Joyce just rocketed a homerun directly over my head – like in the second-tier, directly above our seats.  Someone else grounds out – I was too busy drinking and trying to figure out why Twitter hates me to care. My tweets have apparently stopped working.
1-0, Rays.
Bottom 2:
Let's hit around and get the Baseball Jesus his second at-bat, shall we Bombers?  Yeah, they didn't listen.  Robbie was hit by a pitch (which does nothing to help Joe Girardi's Braces, so thanks for nothing David Price), Andruw Jones walked, and everyone else grounded out. Lame. 
1-0, Rays.
Top 3:
Um, no one cares about this half-inning. We are too excited about the bottom-half. So can we hurry this along? AJ does exactly that, impressive.  He strikes out two and gets Johnny Damon (who I also love, even with his ridiculous faux-hawk) to ground out.  Baseball Jesus time!!!! 
1-0, Rays.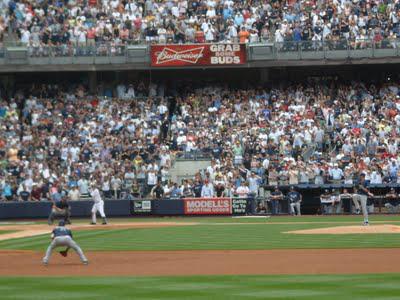 The pitch Derek Jeter knocked for #3,000.
Bottom 3:
Brett Gardner grounds out, a bang-bang play, but whatever. DEREK IS UP!
Oh my god, could this be it?  Everyone is on their feet again.  The excitement is palpable.  One hit away… "Der-ek Je-ter, clap-clap-clap-clap-clap!" is being screamed at a deafening volume.  Full count…  HE DID IT!!!!!!!  NUMBER 3,000 IS IN THE BOOKS!!!  HOLY CRAP. The Stadium is going insane.  And, god, he did it in such story-book fashion.  A no-doubt homerun to tie the game.  WOW. JUST WOW.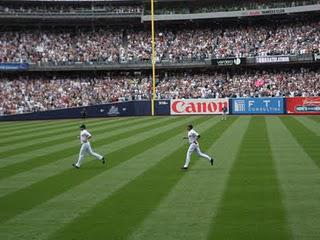 The bullpen running in to celebrate.
I cannot believe I am here.  I cannot believe that just happened! Everyone is still going nuts. Random people are hugging strangers.  My brother just high-fived the two fat men behind us.  Derek is getting mobbed at the plate; the jumbotron shows him as all smiles.  OH MY GOD I LOVE HIM.  Everything he stands for, everything he has done for my baseball team and my city, everything. I can't stop smiling or jumping up and down.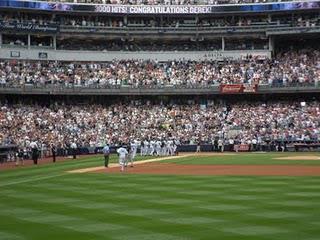 THIS IS SO COOL. He comes out for a curtain call. We are all still going insane.  It is about 100 degrees and I have chills.  What an incredibly special moment to share, to be here for.  Oh my god, he did it!!!!!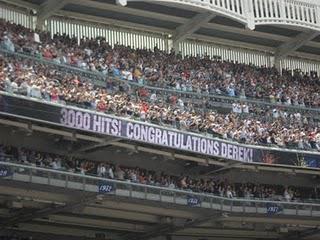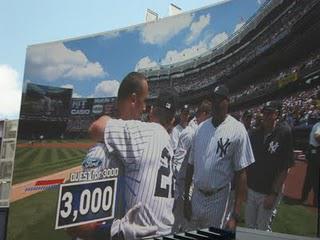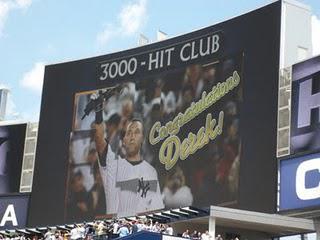 Captain Clutch, from his first hit to his 3,000th.  I don't even know what happened the rest of the inning.  I am in the best type of awe there is
. 2-1, Yankees.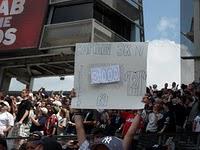 Top 4:
The Rays came out and clapped for Derek, which I thought was really nice. And the Stadium is still buzzing.  It is a hushed buzzed, though.  An appreciative one. Everyone seems amazed that we are the lucky ones who got to see history. I wonder who the fat guy is who caught the ball and what he plans to do with it. I would give it back – Derek Jeter earned that baseball – but I would negotiate with the Yankees for a shitload of swag and autographs, season tickets, and perhaps a futon in Derek's spare bedroom. A mini-vacay, just the two of us, to Harry Potter World? A monthly phone call to discuss his swing and why the Red Sox are such assholes? Eh, I would probably negotiate for a job with the Yanks. Wow, I cannot get over the moment, my seats, or just the atmosphere. I was here for Game Six of the ALCS in 2009 and I am not sure it ever reached this level of excitement.  Or sheer happiness.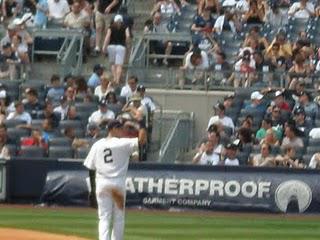 Like, we all received exactly what we came for today – and more. B.J. Upton just hit a two-run shot and I don't give a damn.  I really don't care if the Yankees lose 17-2 at this point.  If that makes me a bad fan for today, so be it. That moment, seeing that one hit, was amazing.  And nothing, not even a blow out, could take away from getting to witness it first-hand. This is awesome. 
3-2, Rays.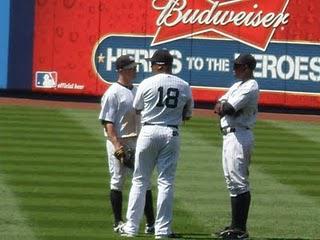 Bottom 4 – Top 5:
You guys have to understand, I have idolized Derek Jeter since I was thirteen. He IS baseball to me. How you should play the game.  Why I love the game.  He is a team-first, play every game as if it is your last, leave it all of the field type of icon. He represents New York with such class and such ease. I have been lucky enough to grow up inspired by him.  And today just seems like it all came full-circle. Maybe he is just one of the first players whose careers I have witnessed from start to (nearing the) finish.  Maybe that is why I am especially attached.  But we, all of us fans, seem part of this.  Like we are celebrating with him, not for him, today.   A chance to give him one huge standing ovation for everything he has done for the Yankees, and more personally, our lives.  How many moments of joy and excitement he has brought me.  How many times I have screamed at the television in glee because of some crazy play he has made or some clutch hit.  I can think of specific Derek Jeter-related memories from high school (like reenacting "The Flip" during softball practice) and college (like watching Game 7 of the World Series on the third-floor of Wilson with my new dorm friends).  He is this person that I do not know, who I will never know, and yet he has, in so many ways, affected my life.  In incredible ways. Like a decade worth of playoff berths and five world championships. He deserves this today. This uninhibited adoration from 50,000 cheering strangers.  And I am so thankful to be part it.   Sports are my life, the Yankees are my heart, and Derek Jeter swept me off my feet ages ago. Baseball happened, but it is still
3-2 Rays.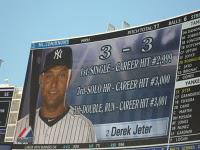 Bottom 5:
I guess we should pay attention, because Derek is about to be up again.  Can we go for 3,001? YES WE CAN!! He shoots a double to left field (what is with all of this left-field business today? Especially when I am sitting in the perfect Derek-Jeter ball-catching position in right?!).  Wow, three-for-three.  I think he is a triple away from the cycle.  I mean, would that not be AMAZING?! Granderson hits an RBI single, tying the game at three.  Tex gets a hit, too.  Well, we are getting history AND a really good baseball game, apparently.  A two-for-one special here in The House That Derek Built. The Yankees knock Price around (I think he is done), drive up his pitch count, and score two runs in the process.  A fine inning all around, fellas. 
4-3, Yankees.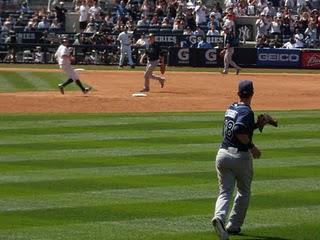 Sixth inning:
The Rays do not score any runs, so woo hoo. Two outs, but Derek is up!! Can he get 3,002? HOLY SHIT, he gets another hit!  This is crazy! He is four-for-four! Everyone is going nuts, more in stunned disbelief at this point.  Isn't he batting like .250-something?   The Rays get out of it, but who cares? This is unbelievable.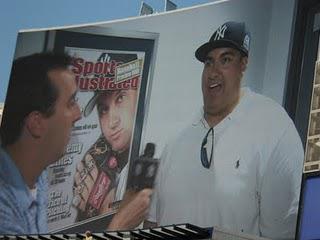 Seventh inning:
Before the inning started, they showed an interview with the guy who caught the 3000th hit – he is giving it back to Jeter! He is all smiley and seems so thrilled to be here.  Awwww, I like him. It was the perfect interview.  He deserves a big gold star for being a really good guy.  I am still marveling at how sweet the lucky fat guy is.  Whoa, three huge beers, a hot dog, the sun, and Derek Jeter have my head spinning a bit. In a terrific way.  But I feel like I should offer that disclaimer.  Players not named Derek Jeter try to hit and score runs but do not. 
4-3, Yankees.
Top 8
:  Robertson, that bastard, just let the Rays tie the game.  Really? We could not just end this day on the perfect note? Because it was sort of perfect until that. It made me miss Joba, which says a lot.  Sigh. Tied fucking game.
 4-4.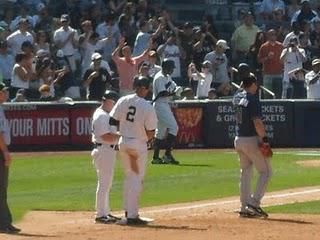 Bottom 8:
Nunez leads off with a double.  Gardner sacrifices him to third.  And now Derek Jeter is up, with one out and the winning run a base away.  Everyone is on their feet and showering him with verbal affection.  Captain Clutch.  Can he possibly add this feat to his magical day of awesomeness? Like, I don't even mean a hit. Just a sac-fly game-winning RBI (with a guaranteed save from the MoBot3000X).  ANOTHER HIT.  FIVE FOR FUCKING FIVE.  The Stadium is shaking! This is insanity.  "De-rek Je-ter" chants are thundering. 
5-4, Yankees.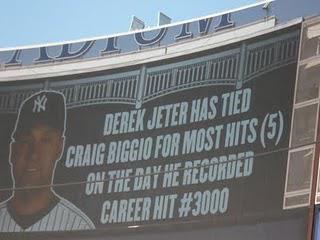 Top 9:
Mo saved the game, duh.  I mean, did you have any doubt that would happen? I do not really want to leave my seat. Can I just live here? It seems no one really wants to leave. But
"Start spreading the news…."
is hinting that I should probably mosey to the subway.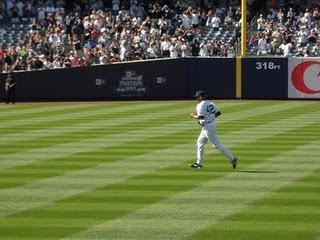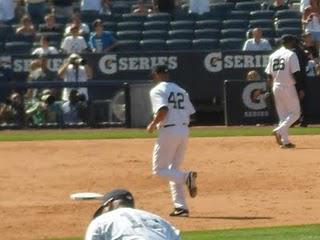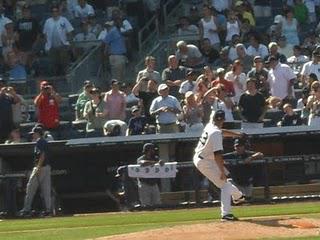 The Mo Montage.
Derek is being interviewed by Kim Jones down by the dugout and everyone chants his name one last time.  It so SO loud in here and the game is already over.  He waves with his hat and my day is complete.  Sigh, what an incredible game. What a moment. #3,000 on a homerun! A five-for-five, game winning RBI, historic record kind of day for the Baseball Jesus. I can't believe I got to witness it.
5-4, Yankees.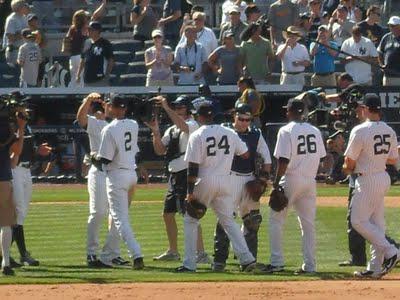 Now, in retrospect, after having some time to reflect, I am still in total appreciative shock over the fact that I sat in the first-row to see Derek Jeter make history. More photos in a separate post.  But one more thing before we go.  The series of pitches before Derek Jeter hit #3,000 after the jump: