My first year of college (which was forever ago) I went out of town to St. Bonaventure University. I had an AMAZING professor, Dr. Foerst, who leads a small program of 10 students who volunteer to do service work in Kingston and Trenchtown, Jamaica for two weeks. There were no class credits offered for this, but who would give up an opportunity to go to Jamaica for cheap to help people? I had also never been on a plane before so I figured I could use this as an excuse

and probably the best decision of my life. It had opened my eyes to everything in the world. It's one thing when you see such severe poverty in the media, but to see it in person, it made me really grateful for what I have. Not only was it awesome hanging out with the Jamaican kids and seeing where Bob Marley grew up, but to experience a whole different cultures cuisine in the hometown was aahhh-maaze-iiingg!! Jerk fish, curried goat, oxtail stew, spice bun, ackee and saltfish, Blue Mountain coffee… OH and how could I forget Jamrock's version of fast food; beef patties!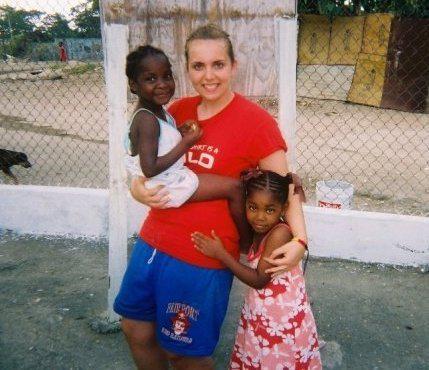 Everything was awesome, but there is a lot of their stuff that is unhealthy. So what to do when you want some healthy Caribbean? I was craving something along those lines (but I didn't want spicy) last week and I found a Caribbean chicken curry recipe that had TONS of things in it. None of which called for curry; weird. So, I whipped up some of my magic tricks, excuse me, ILLUSIONS (Arrested Development fans, anyone?) and re-did the whole recipe. A Caribbean chicken curry recipe (that actually HAS curry) with onions, eggplant, butternut squash and mango.
Caribbean Chicken Curry (w/ onion, eggplant, butternut squash and mango)
INGREDIENTS
spice mix
2 cloves garlic, coarsely chopped
1/2 tsp. coarse sea salt
1/2 tsp. ground pepper
1 tsp. ground coriander
1 tsp. ground curry
1 tsp. mustard seeds
1 tsp. ground turmeric
1/2 tsp. extra-virgin olive oil
dash of cumin (optional)
chicken curry
1 pkg. (4-5 pieces) organic free-range chicken drumsticks (skin on)*
2 C. butternut squash, diced into small cubes
1 Spanish onion, roughly chopped
2 C. eggplant, diced into 1 1/2 in. cubes
2 bay leaves
1 C. milk (cow or coconut)
1 C. chicken stock, no-salt added
1 Tbs. ketchup, no-salt added*
1 mango, peeled and chopped into 2 in. chunks
Juice 1/2 lime
Canola oil
DIRECTIONS
1. Using a mortar and pestle, combine the spice mix ingredients [garlic, salt, pepper, coriander, curry, mustard seeds, turmeric, EVOO and cumin (if using)] and set aside.
2. Heat 1 Tbs. canola oil in a deep pan or a pot with a tight fitting lid. Season chicken with salt and pepper and brown pieces on all sides. Remove from pan and set aside.
3. Add onions, eggplant and squash. Cook until they begin to soften and brown.
4. Add spice mix stirring continuously until fragrant.
5. Return chicken to pan then add the milk, stock, ketchup and bay leaves. Sprinkle a dash of curry, turmeric, and coriander over everything then cover and let simmer until chicken is cooked through.
6. Once chicken is cooked, take out the bay leaves and add the mango and lime juice and cook until mango is warmed up.
7. Serve over brown rice, I used egg white noodles; and with a slice of lime. Or just eat as is!
***I normally buy chicken thighs and drumsticks with the skin on just for flavor. Do not eat it! Just peel it off before eating.
***1 Tbs. ketchup, no salt added – the original recipe called for tamarind paste. I'm not going to go to an expensive specialty store for this stuff. Ketchup is a fine substitute.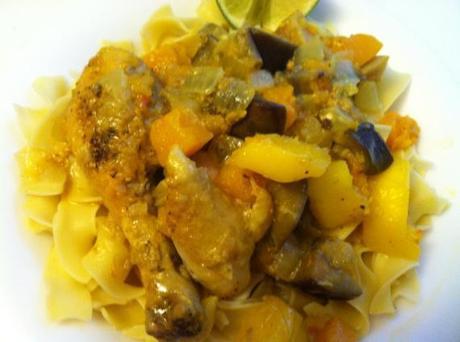 BELLISSIMA!
Let me know what y'all think!
peace&love