Via NBCSports:  "The Ravens also made a decision to release linebacker Brendon Ayanbadejo on Wednesday. The moves have been necessitated by the new contract given to quarterback Joe Flacco and trying to get their financial commitments under the salary cap.  However, Ayanbadejo thinks the reason for his release may not be that simple. Ayanbadejo and Minnesota Vikings punter Chris Kluwe have been incredibly outspoken supporters of gay rights. According to Tom Rock of Newsday, Ayanbadejo believes his activism for gay rights also was a factor in the team's decision to release him."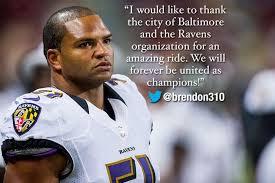 Brendon, you should have left it at this.
Hey Brendon, what you did for Gay Rights here in the state of Maryland will never be truly appreciated.  As an athlete in the spotlight here in Baltimore and throughout the league, you stood up and stood out and was a huge part of what happened here in Maryland and what's happening around the country with regards to gay rights.
With that being said, get over yourself and look around the locker room.  You got cut because you were making almost double the league minimum and barely got on the field.  This has nothing to do with your role in gay rights.  The Ravens have gone through a historic transformation since winning the Super Bowl two months ago. They've seen Hall of Fame players retire, cut one of the best safeties to ever play the game, traded a wide receiver who could have been named MVP of the Super Bowl.  You really thing this was because you were too vocal with regard to gay rights?  Bro, this is one time you shouldn't have opened your mouth.  You're a 37 years old special teams player who has 190 CAREER TACKLES.  You were scheduled to make close to a million dollars and the Ravens just saved $800k by cutting you.  This was a business decision, not one rooted in gay activism.  There is no reason to bring that part of your life into a decision that had everything to do with your skill as a player versus the salary you were scheduled to make.
For me this takes away a little from all the amazing work he's done for gay rights.  He should have stopped at his public goodbye to Ravens fans and left it at that.  This puts a bit of a stain on my perception of Brendon because I thought what he was doing throughout the season here in Baltimore and beyond was really special.
This comment from Brendon is straight amateur hour:  "I was a vocal guy and garnered a lot of attention," Ayanbadejo said. "I brought a lot of issues with me to the Super Bowl and the issues came up at the Super Bowl. …My bark is louder than my bite. I make a lot of noise and garner a lot of attention for various things off the football field. When that starts happening, why do you have that player around?"
Bro, you just aren't a good football player anymore.  Let's just leave it at that and move on.