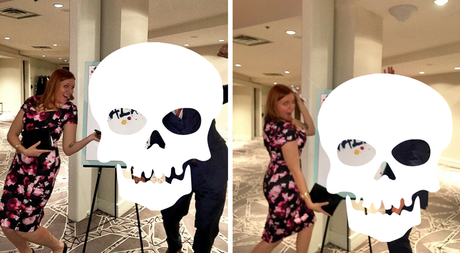 I think we've already established how bad I am at parties (breaking toilets, stroking male strangers, talking about my underwear) but that's nothing compared to a gala. Because I spend half my time pretending to be a successful professional, I sometimes have to attend fancy ass parties. To cope, I have a very elaborate pre-gala ritual that involves listening to Katy Perry, dancing badly, and guzzling wine. But this last week the Denver weather had different plans and forced me to be stranded at my boss's house (where I work, because the universe hates me) beforehand.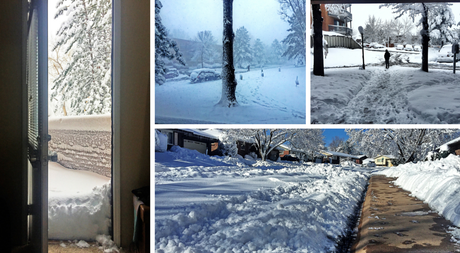 Having to struggle with eyeliner in front of my boss/use his bathroom to forcibly stuff myself into Spanx was pretty much the *only* boundary our work relationship had yet to cross. To make things worse, there was no wine and no Katy Perry- just the sound of my heavy breathing as I tried to figure out how to get the control top over the explosive girth of my thighs without the usual leverage of laying against my queen sized bed.
My outfit for the night was the second runner up in my "dresses I wear when feeling fat," and was paired with my bare ass legs because the blizzard had prevented me from making my usual Target run for a $15 pair of leggings that can survive two hours before sustaining a puncture.
All those nights I mocked the scantily clad women who shivered on the frozen streets of downtown Denver were coming back to bite me in my spanx-swaddled arse.
I comforted myself knowing I could just hide beneath my swankily stylish black coat. Until I put it on and realized instead of the nicely tailored and feminine frock I'd envisioned, it was actually Alex's black zip up pea coat from JcPenney. Somehow I had grabbed the wrong one when leaving the house that morning. While it was somewhat miraculous to finally wear a coat where the sleeves were long enough for my arms, I looked like some sort of boxy Lego character with fluorescent lights for legs.
When we arrived at the gala, I tried to stifle my hysteria by looking for humor in the darkness- Like the fact I had nowhere to put my name tag because the Second Runner Up Fat Dress was also a Everyone Look At My Cleavage Dress. I tried to stick my nametag to my right hip but my boss didn't find this amusing.
I spent the next 45 minutes wandering around not talking to people and trying not to throw a drink in my boss's face when he made such charming statements as "I'll deduct the cost of your wine from whatever new business you bring us tonight."
Spoiler Alert: No one got any new business, except for the Uber that came to take me away like a Fairy Godmother at the end of the night.
At our $3000 table, I was miraculously seated next to two empty seats, which meant I could spend the night speaking to no one except the lovely people of Twitter: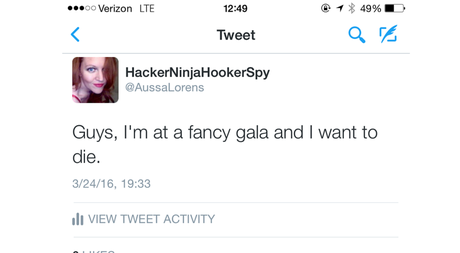 When I did join the conversation, it was so I could be a dismal wingman for my boss, who's attractive seatmate leaned over to include me in the conversation:
I was developing an ear infection and sustaining my inability to do anything that makes sense, so I answered. "Oh, both!"
"So Aussa, are you here with [MY BOSS] or with [MY COMPANY]?"
I thought she had asked if I worked with him or with the company. But no. I basically said "Oh, I'm on the payroll but also a whore."
At least I'm nothing if not consistent.
After this, I spent the next half hour developing new ways to nurture a 15% iPhone battery while avoiding eye contact with all the other humans. The only redeeming point of the night came when a guy across the table began fiddling with the little plastic table decor that marked each of our seats.
"It's made out of sugar," I said. "Fondant. You're supposed to eat it."
He looked skeptical, but I gave him my best "I Am A Successful Professional Face" and he trusted me because he didn't know I had arrived in a man's coat and just committed verbal infidelity. Raising the brightly colored plastic to his mouth, he took a hearty bite out of it. It snapped in half as he spit it into his hand, causing his girlfriend to throw her hands up in shock.
For that one brief glorious moment I wasn't the most ridiculous person at the gala.
Do you like attending fancy parties? What's the sneakiest prank you've played on a stranger? How do you survive awkward social obligations?