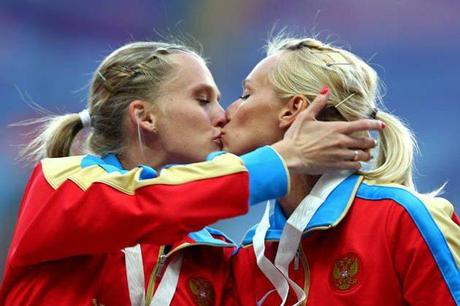 Via Yahoo Sports:  "Kseniya Ryzhova and Tatyana Firov won a world championship as a part of the 4x400m relay team at the IAAF track championships in Moscow. They edged out the American and British teams for the gold. While on the medal stand, they kissed to protest their own country's anti-gay propaganda laws."
So obviously this is awesome because they are protesting their own country's anti-gay laws.  I'm not really even sure how we can take Russia seriously with these laws.  Honestly, I just find myself laughing about it.  I mean, who pulls this kind of stunt with the Olympics looming in the distance.
Plus, two hot Russian chicks kissing is a win win for everybody in my book.  Like there's no way you can be mad at that picture above.