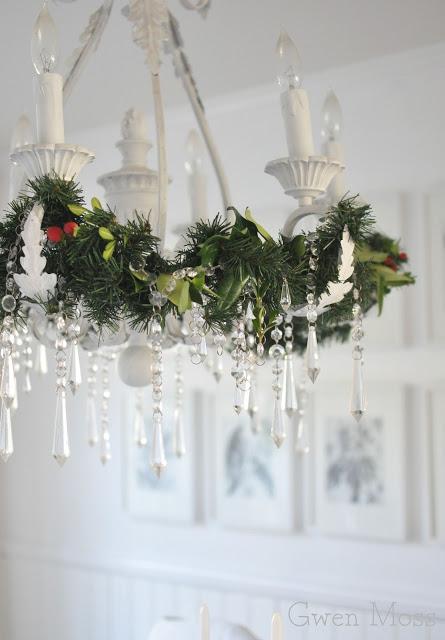 On a sun-drenched afternoon a few days ago I walked into our yoga studio and hugged my friend who proceeded to tell me why she's been missing from class lately. Turns out she's been caring for an elderly friend who is in the last days of her hospice care, and I listened to her describe her first experience bathing a frail body.
ding-ding.
Then on Saturday night, when I was a guest on a yacht draped in glittering white lights and floating in the middle of the annual Holiday Boat Parade in Long Beach, there was more. Against the backdrop of jolly Christmas music and flowing wine, I sat in a corner and spoke with a mother who was grieving the loss of her adult daughter during this holiday season.
ding-ding.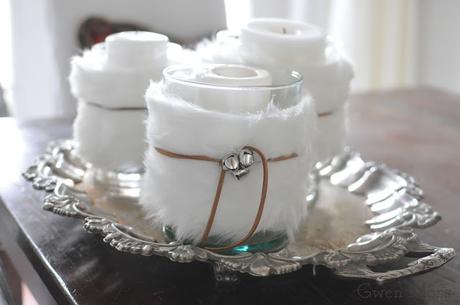 Wouldn't it be powerful if we could hear a faint bell each time we came in contact with love and compassion and tenderness?
Just to bring us back to what really matters?
I've been noticing these little heart-opening moments more lately, maybe because of my yoga practice or maybe because I'm trying to be more intentional about slowing down and observing myself.
I'm especially aware of my tendency to focus on all the things I'm not getting done and I can see how easy it is for me to get stressed and feel "behind" on my list of things to do.And then suddenly
I find myself brushing shoulders with someone who is struggling with loss or sadness or sickness and boom.  And I'm instantly reminded of what's truly important. The love and the kindness...and the generosity that we share with each other.
And slowing down long enough to experience these moments when they happen.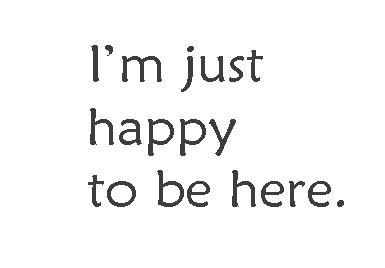 These days this is my favorite mantra
.
I don't know why, but I saw this little phrase somewhere and it resonated with me; I've found that when I take a deep breath and say these words, it really helps me come back to a grateful place. 
It's such a joyful little line.

.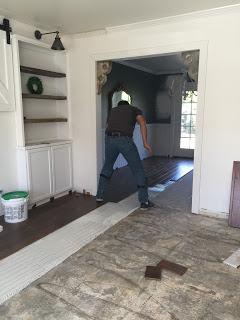 (the floors aren't actually this dark)
Ok. Speaking of gratitude and moving on to a practical topic, I have to say that I'm really thrilled with our new wood floors. Even though they were installed some weeks back I'm just now getting our house put back together after being away for Thanksgiving, and then for our annual Christmas visit to Salt Lake City hosted by the hubby's bank.
And today I thought I'd share some pictures of our newly repainted dining room.  It's interesting how changing one thing leads to another.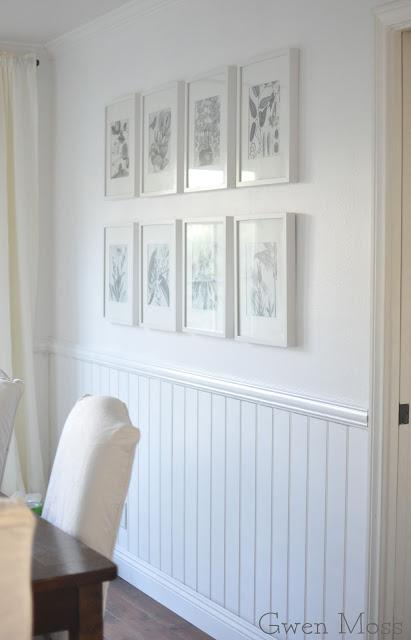 You might remember how it looked before. Even though I loved the dark drama of BM's Kendall Charcoal, once I saw the wood floor in here I instantly craved a warm white and now I absolutely love it.
We also had French doors and beadboard installed in this room and although I still need to finish painting the doors, you can get an idea of the peaceful ambiance.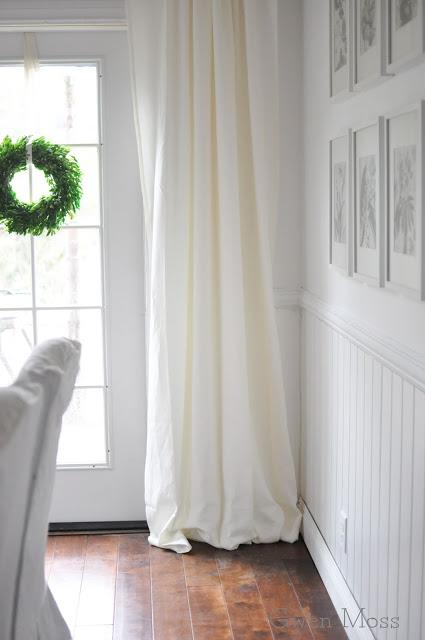 Ikea's Linen white curtains got hung today.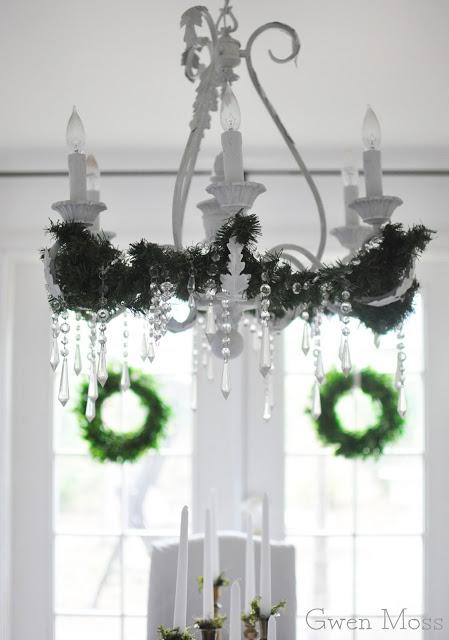 I hung my boxwood wreaths on the French doors. And I found three swags of glass crystals that I had bought at Pottery World years ago and hung them along with green garland to dress up the chandelier.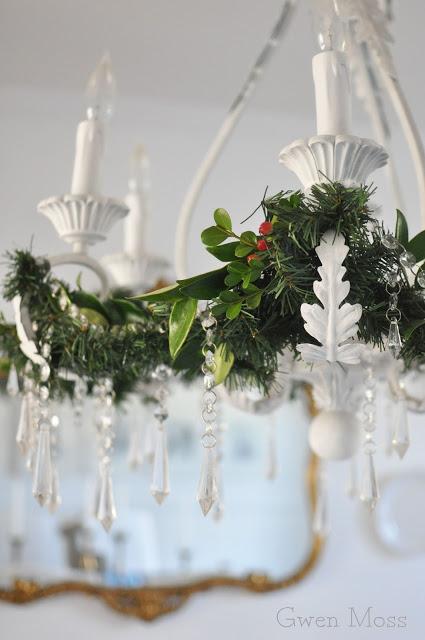 I plan on adding fresh garland and berries into the chandelier.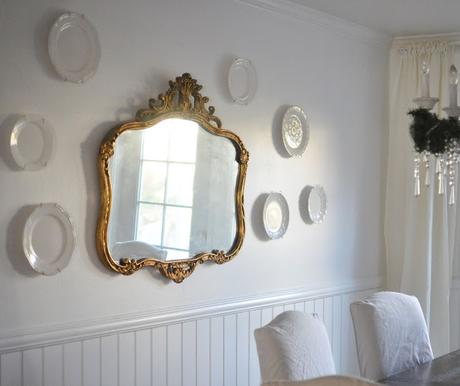 On this side of the room I decided to hang white plates and found all my plate hangers today at Wal-Mart. The plates are courtesy of the thrift store.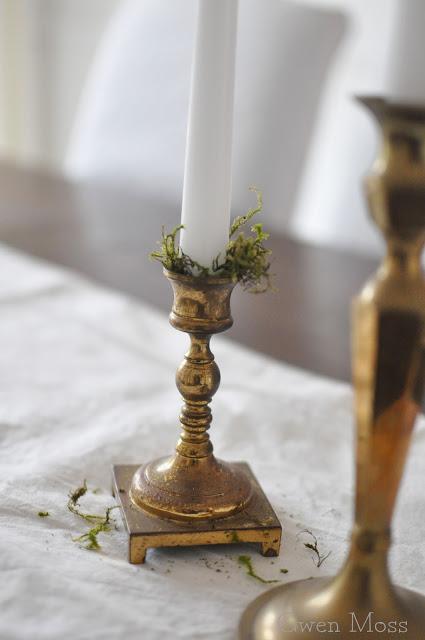 I was having a hard time getting the candles to stand straight in these brass candlesticks so I added moss to the bottoms and I really like the look.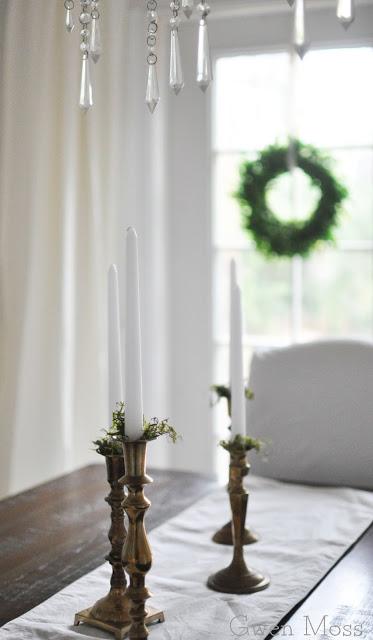 I can't wait to add some flowers in here.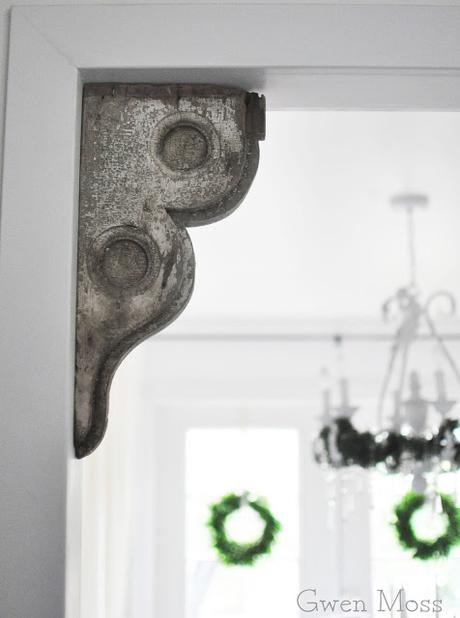 Here's a close up of the corbels we found when we picked up our reclaimed lumber for our living room bookshelves.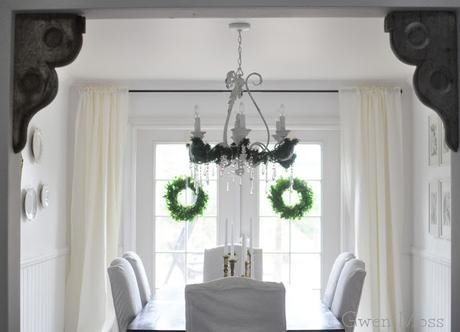 The lighting was poor when I snapped this photo but you can see how they frame the dining room.
(what you can't see: the paint cans and the roll of plastic near the bottom of the curtains)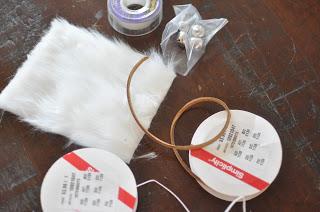 Oh, here's another project I finished today, my fur-lined candle holders.
They're kinda funky, kinda chic, but these are so easy to make.
Are you in the mood for a quickie project?

Here's what I used:

Cylinder glass vases for candles

fur fabric cut in strips to fit around the vase

tape

bells ribbon of choice

(I found my suede piece in the jewelry section of the crafts store).



I added bells for a Christmasy touch.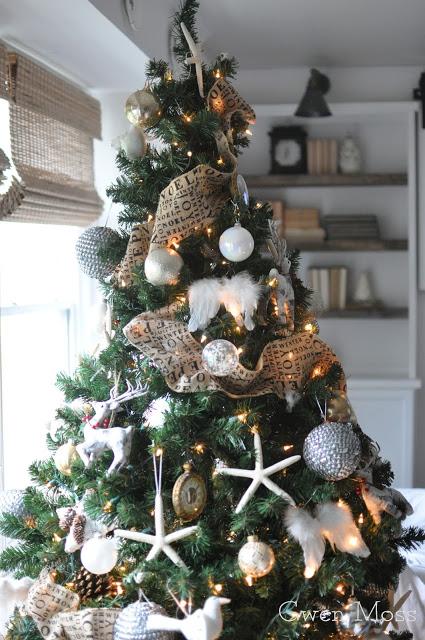 While I had my hot glue gun out, I glued some starfish to ribbon and hung them on our tree to celebrate our beach location.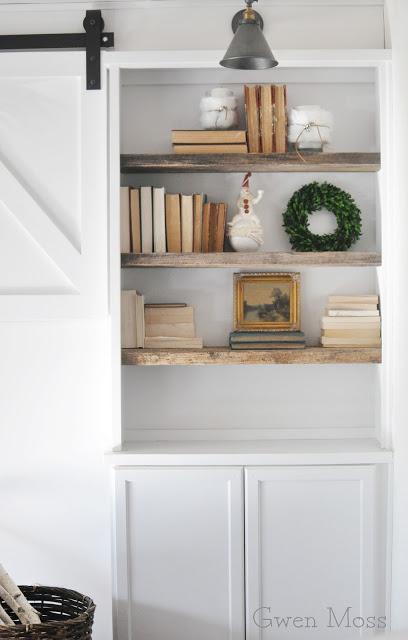 And voila! Here's my furry candle holders in our shelves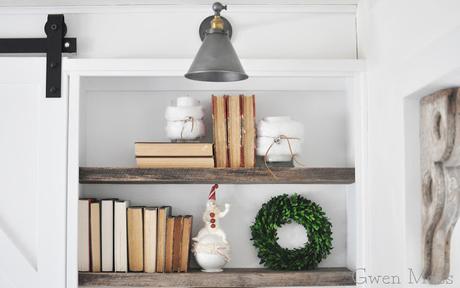 A close up view.
The lighting fixture is from Restoration Hardware.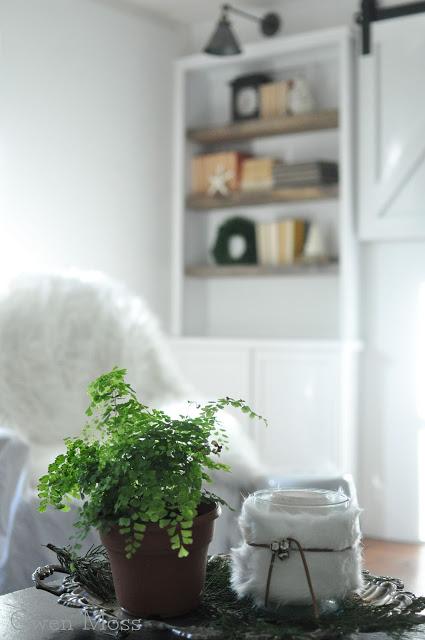 Well that's it for now. Sorry I bombarded you with pictures but it's been awhile since I've been here. As always, I am so grateful for your visit and I'd love to hear how your December is going.
Have you been hearing the faint sound of bells lately?
 peace and love 
xo
Leslie


I'm sharing this post here:


The Scoop