So, something really cool happened. I was featured in the San Marcos Daily Record today!!! That's right!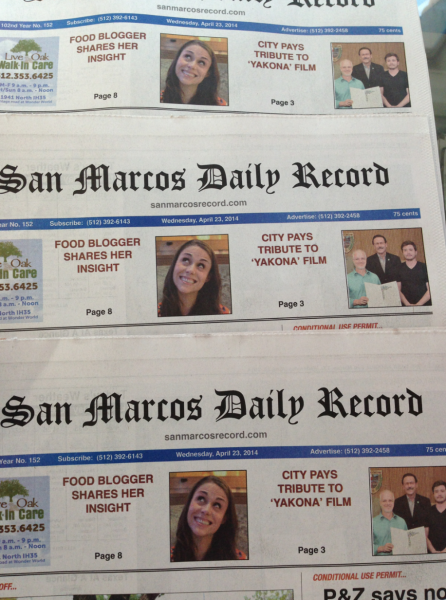 Check that out! Front page and EVERYTHING!!!!
For those of you who either A) are not from SMTX and can't get a copy or B) don't subscribe to their website, I've got a treat for you. Sweet Candice provided me with the text to the article so I could share it with all of you!
Learning to Savor
By CANDICE BRUSUELAS
Features Editor

Katie Ogletree's life has been like many of ours: A nonstop rush. The New Jersey native moved to Wimberley several years ago, is recently married and stepmom to a 5-year-old boy named Major. Despite the major changes in her life, Ogletree says she's learned to slow down and savor, something her popular cooking blog is named for.
"I've been cooking my whole life," she says. "Whenever I was little my parents both worked a lot. My mom was rarely home, but when she was home, she was in the kitchen and got me in there with her. I had a live-in nanny and she was real Italian. Like stereotype New Jersey, and her whole family was a big Italian family that surrounded themselves around food. When I was seven or eight years old she let me come in and help her make pizzas and see how she made the sauce. And she called it 'gravy.' I learned how to make marinara when I was seven and have been trying to perfect my own version of it since then."
Growing up around Italian food has definitely had its effect on Ogletree, who says it is her favorite food, and has a weakness for Italian Garden where she would often take lunch while attending Texas State University.
"I kind of like different kinds of Italian food, like chicken piccata, the lighter stuff that people don't think of. Not a whole lot of pasta or red sauce, but like fish and chicken with lemon and capers. Stuff you wouldn't think of being Italian, but really fresh," she said.
Ogletree is a freelance writer and does the food section for BobcatFans magazine. She shares her true passion for food through "Slow Down and Savor," something she's been working on for three years now, and something the Wimberley area has inspired.
"I love the area a lot. It's been really inspirational for me, in terms of creativity and relaxing. That's where my whole blog came from is slowing down and enjoying stuff more. Living in New Jersey, my whole life was very go-go-go," she said. "And so coming here and being afforded the opportunity to just relax and breathe and take in everything has been really exciting."
Ogletree's blog has done well and has more than 3,000 'Likes' on her Facebook page, but started where many blogs have, in awkward and uncertain beginnings.
"I started it in July 2011 and it was really weird and crappy. It was kind of stupid. I was like, 'Why is a club sandwich called a club sandwich? Uh, let me Google that for you,'" said Ogletree. "Like weird stuff. But I started seeing all these other food blogs and they were really popular and had really beautiful photography. I thought, 'I can do that. What is holding me back?'"
Ogletree also did a lot of restaurant reviews, starting in San Marcos and also doing many in Austin. Her blog features more than 120 restaurant reviews and around 70 recipes she's created herself, covering both eating in and eating out.
Her blog was also developed by her developing relationship with her now-husband and stepson. She would include her husband, Michael, in her blog posts since he is always by her side and ready to consume her latest creations.
"When we got married and we had this 5-year-old all the time, we had to start doing more family-friendly stuff, start doing more cooking in the house stuff, getting him food that he would eat. And that's been super fun because he loves mussels. He loves steamed mussels. But he will not eat green beans," she said. "And he loves shrimp and mofongo, which is a Puerto Rican dish which we fell in love with."
"He created a song and every time he eats it he sings the song about it. There's a video on my blog of him Mo-fooongo –fongo –fongo! Mo-fooongo –fongo –fongo! And he does this little dance," she says.
Ogletree has bonded with her stepson in the kitchen as well, letting him do the little things, like cracking eggs.
"He feels a lot of gratification for cracking the eggs for me. He gets really excited. Getting him in the kitchen is something that's really important to me, and he's responding. He just really loves it. It'll help him out in his confidence and his math skills and different things," she said.
She says she tries to cook five or six nights a week so the three of them can sit together as a family.


Ogletree's husband has also helped critique her cooking, sometimes being a little too honest.
"If he doesn't like something he'll say so. He's become a food snob. When we first started dating he'd eat anything and now he's like, 'Well, they should've cut that thinner and seasoned it a little bit more. It's missing a bit of something,'" she says. "He gets so hyper critical that I'll be like, 'Chill dude. It was good. Who cares if it needs an extra pinch of salt or perhaps some oregano?'"
Also incorporated into her blog is her cat, Karen. Michael suggested incorporating the 'feline and the foodie' because of the popularity of cats on the internet. Ogletree now does 'Mondays with Karen,' where she'll talk about something Karen does and what it teaches her.
"It's lighthearted. Monday's suck, so I wanted to do something to make Mondays suck less," she says.
And much more than that, Ogletree seeks to 'slow down and savor' as much as she can, and hopes her readers can learn to do the same.
"In our lives today there's so much technology and so much pressure on younger kids these days, even at my age. There's a lot of doing but not a lot of stopping and enjoying," said Ogletree. "So I've noticed when you stop and enjoy and relax you can really just become part of something different. It's really nice to slow down and savor what you're doing in every aspect; it doesn't have to be eating. I really take it to heart to take every day as a blessing because you don't know what's coming next."
ERHMAHGERD!!!! How cool is that??? Plus, Candice included THREE recipes from SD&S: Marinara, Caprese Lasagna Rolls, and Chicken Piccata Tenders. 
Check out my video below, where I talk about my feelings about being in the paper, and say a bunch of stuff while sitting on a broken chair.
So thank you all for making SD&S what it is, and I will continue to provide you all with awesome restaurant reviews/experiences, fun new recipes and of course, more Karen.