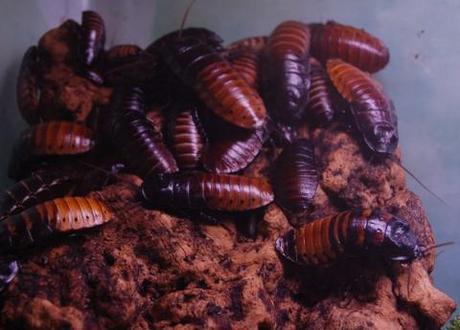 Cockroaches: The real stars of I'm a Celebrity...? Photo credit: Matt Lemmon, http://flic.kr/p/4YKCh6
ITV reality show I'm A Celebrity… Get Me Out Of Here! returned last night. For those who have somehow managed to avoid the jungle-based programme so far: ten celebrities camp out in Australia and take part in a series of tasks, many of which involve consuming large insects, in order to win food and the public's love – all in the hope of being crowned King or Queen of the Jungle. They also bicker a lot. So how will this year's crop of contestants fare?
All hail Queen Fatima! The Daily Mirror's Nicola Methven has already tipped Fatima Whitbread to win the show, after the former Olympic athlete fearlessly completed a tandem skydive into the camp. While other contestants, who include The Only Way is Essex star Mark Wright and former boybander Dougie Poynter, panicked when faced with spending their first night in a stinking cave, Fatima merely rolled up her sleeves and constructed some al fresco beds. Michael Hogan was impressed in The Telegraph: "She overcame a tragic start in life to become a world champion athlete and was soon donning a Rambo-style bandana and displaying bushcraft skills that would put Ray Mears to shame, let alone the bunch of pampered softies in this show," he wrote.
Freddie Starr loses task. In last night's episode, the celebs were divided into two teams and set against each other for a group Bushtucker trial, which involved removing stars with their teeth from cartons of cockroaches, maggots and eels. Freddie Starr was unable to retrieve his stars from a bucket of maggots, thus condemning his team to an inferior camp and a dunking in a bath full of fish guts. As if that wasn't enough, hosts Ant and Dec revealed that the public has voted for Freddie to take part in a head-to-head bushtucker trial with Mark Wright. It seems Starr has the potential to become the Gillian McKeith of this year's series.
I'm A Celebrity contestants, blue team: impressionist Freddie Starr, jockey Willie Carson, actress Stefanie Powers, glamour model Jessica-Jane Clement and McFly bassist Dougie Poynter.
Villains. The Guardian's Julia Raeside wrote that Starr is one of the "two obvious villains" to have emerged from the first episode – the other being reality show regular Mark Wright: "I predict a rough ride for Freddie throughout but Mark may have the chance to win us round if he drops the smirk and gets with the convincing humility," she said. Raeside also suggested that US actress Stefanie Powers is also likely to annoy viewers unless she stops complaining.
I'm A Celebrity contestants, yellow team: Coronation Street actor Antony Cotton, Emmerdale actress Lorraine Chase, comedienne Crissy Rock, reality star Mark Wright and Olympic athlete Fatima Whitbread.
Price of fame. Writing in Metro, Christopher Hooton was unimpressed by the celebrities' antics: "The lengths these 'celebs' will go to for another fifteen minutes of fame is astonishing," he tutted. Hooten argued that people only watch the show because they enjoy seeing low-level celebs being humiliated.