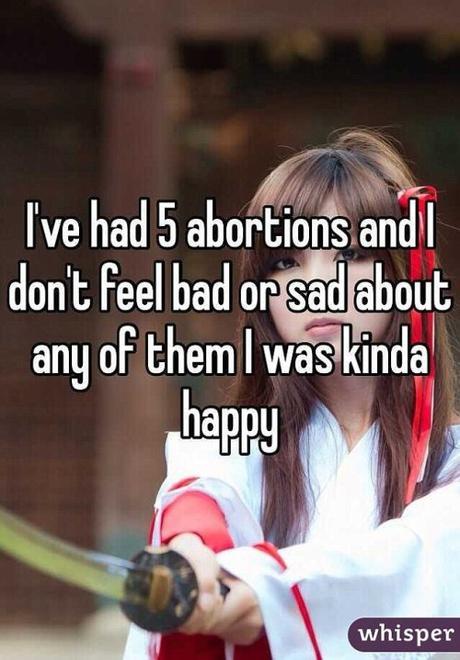 Daily Mail: Women all over the world have opened up on the still relatively taboo subject of abortion on secret-sharing app Whisper.
Finding relief in the anonymity aspect of the app, individuals took the opportunity to reveal their true unabashed feelings on the termination of their pregnancies.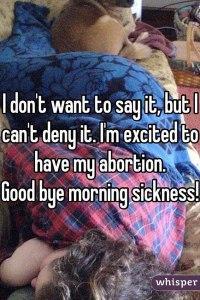 Without censorship, frank confessions varied from lack of remorse, to one woman even admitting that she visited a nightclub the very same day.
Whisper is an online community that allows anonymous users to share and comment on each other's secrets, allowing individuals to air their emotions without any fear of retribution.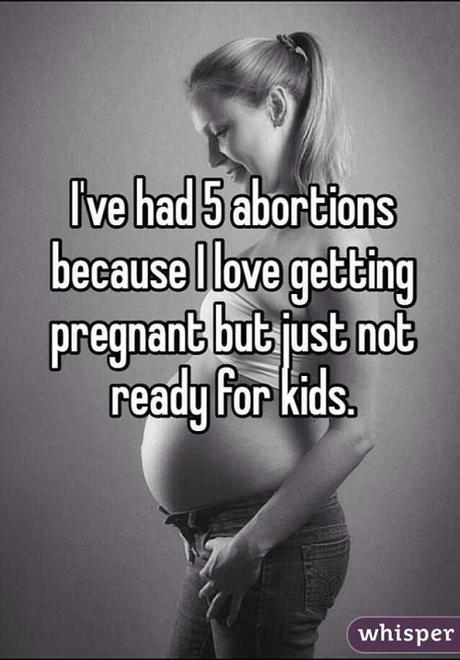 Women of all ages, who admitted to not regretting their decision to have an abortion, were asked to shed a light on their thought processes and emotions.
One woman talked about her unshakable stance, citing: 'Having an abortion was the easiest decision of my life.'
Another individual revealed her own extensive and unbridled history with terminating pregnancies, stating: 'I've had 5 abortions because I love getting pregnant but just not ready for kids.'
Many of the Whisper users talked about other people's projection of guilt or regret, that they had failed to experience themselves.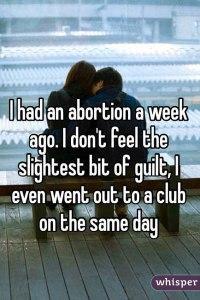 One confused woman wrote: 'Sometimes I feel guilty over the fact that I feel no guilt about my abortion.'
A rather shocking confession came from a woman that continued on with her party lifestyle after the often exhausting procedure: 'I had an abortion a week ago. I don't feel the slightest bit of guilt, I even went out to a club on the same day.'
Another Whisper user talked about how time passing had no effect on the feeling of regret with her decision: '5 years and I've not once felt regret for my abortion. No regret, no guilt, no second thoughts, nothing.'  Another added: 'I've had two abortions in two years. I keep waiting for the guilt to come, but so far I feel nothing.'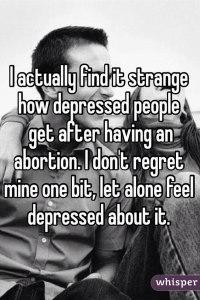 Others used the opportunity as an emotional outlet to directly 'speak' to people who had judged them. One woman argued: 'I don't regret my abortion regardless of how much you think I should.'
Another added: 'I don't feel sorry for my abortions. It's been years and I don't feel the remorse people told me I would have.'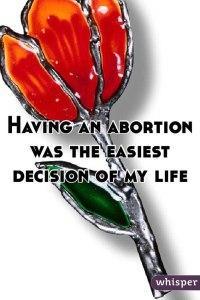 Some women even went so far to express the happiness at their decision, with one woman adding: 'I've had 5 abortions and I don't feel bad or sad about any of them I was kinda happy.'
Similarly, another woman compared her own sensations of relief and happiness to other people's darker experience, writing: 'I actually find it strange how depressed people get after having an abortion. I don't regret mine one bit, let alone feel depressed about it.'
Some women spoke about their experience of being judged or 'shamed' by people who knew of the procedure.
One talked about being 'pro choice': 'I had an abortion and not once have I felt bad about it. I don't feel insensitive saying that either, it was my choice.'
Another talked about her own experience and decision to rise above certain situations, explaining: 'I don't regret my abortion and it's funny when people try to shame me. Luckily laughing and walking away is the best reaction you can give them.'
One pregnant woman confessed that she had not yet had her procedure, but was indeed 'excited' to be rid of her debilitating symptoms: 'I don't want to to say it, but I can't deny it. I'm excited to have my abortion. Goodbye morning sickness!'
Some people are saying that "anti-choicers" are flooding the app with their "rhetoric". Yet you have to remember, there are people that actually promote abortion. After all, it's a big business.
DCG