Ever since I can remember drinking coffee, it all started at what? Age 17? I almost always had a morning snack to go along side of it.
Not saying that anybody should really drink coffee when they are 17, but ever since I can remember I was always addicted to 'diet coke', and 'flavored coffee'.
I'll just blame mom & dad for that one.
I've also always been a fan of Martha Stewart, and when I saw this recipe in her magazine, I just about almost died and had a heart attack.
Fried Egg & Bacon Puff Pastry Squares: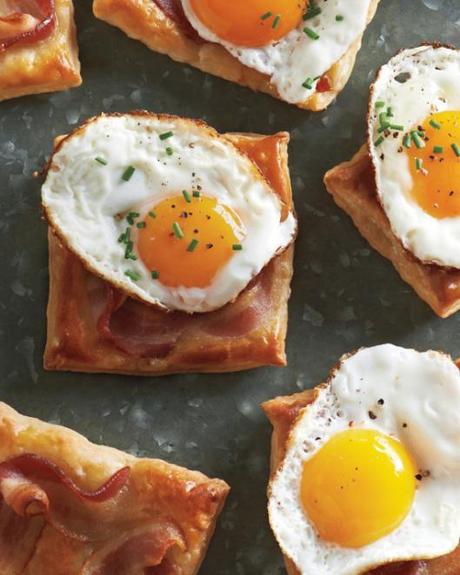 INGREDIENTS:
1 sheet frozen puff pastry (from a 17.3-ounce package), thawed

All-purpose flour, for rolling

10 large 

eggs

, divided

1 teaspoon water

9 slices 

bacon

, cut in half crosswise

3 tablespoons unsalted butter, divided

Coarse salt and freshly ground pepper

Chopped fresh 

chives

, for garnish
DIRECTIONS:
STEP 1

Unfold puff pastry on a lightly floured work surface, and roll out into a 12-inch square. Prick pastry all over with a fork. Cut into thirds to yield three 4-inch-wide strips, then cut strips crosswise into thirds (you should have nine 4-inch squares). Transfer to a parchment-lined baking sheet, and freeze until firm, about 30 minutes. Preheat oven to 425 degrees with rack in top position.

STEP 2

Lightly beat 1 egg with water. Brush top of pastry squares with egg wash; place 2 pieces (1 slice) bacon on each square. Bake until pastry is puffed and golden brown and bacon is cooked through and crisp around edges, 15 to 18 minutes.

STEP 3

Melt 1 tablespoon butter in a large nonstick skillet over medium-high heat. Crack 3 eggs into skillet, and cook until whites are set and golden brown along edges but yolks are still runny, about 4 minutes. Place 1 egg on top of each of 3 pastry squares, and season with salt and pepper. Transfer to a serving platter, and loosely cover with foil. In 2 more batches, cook remaining 6 eggs in remaining 2 tablespoons butter, transfer to pastry squares, and season. Garnish with chives, and serve immediately.