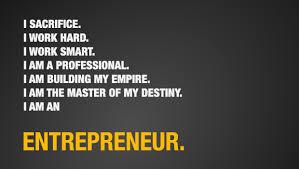 6 Things About an Entrepreneur.
What make it easy to quit my job many of my friends asked similar questions? Is it such easy to start own business for a working people with good salary and married life without family support? One of my friend said that you are getting mad. Many such complements I got from heart touching friends so I decided to not only I will start own business but also I will educate entrepreneurship, how to start business, how can you easy your risks, how you can take decisions easily.
If I have a dream you can say "new born child" in your mind, you should not stop it to come in life. If you stop it that mean you are killing your dream. I did same thing with my dream, I have decided to not kill my dream at any cost and I plan it in such a way so that all of them are supporting it. I thought that this 50k job is also due to I had great performance in last 5 years of my professional life.
If my dream or idea is helpful to large number of people and its existence can change many lives so why wait to make happy a very few people. I have convinced my family about my plan and they always support me but they love lot to us so that they don't support to do any work which has lots of tensions, hard work and hit and run. They know that he can do it even than they don't allow doing so. My mom is not much educated professionally but great scholar of life. When I said I am going to start a computer shop she "wo to koi abhi kar sata hai" "Etna kam karne ke bad dukan khologe". I talk to my mom every step of my dream and how will I go then I got convinced but still if someone asked to my mother why your son come back to home from Delhi. She just said he come to start his own company she never say he is starting an electronics retail chain store.
I started working with PAGOCHA (Own Company) from the next day of leaving Job with Aardee Solutions Pvt Ltd (VConnect.com – Nigeria Largest Local Search Engine). I am living life like I am in heaven. Heaven is on the earn but very few of them go into it. I am feeling life I am in heaven. I don't know what will happen next but my present is awesome and my parents always tell me live life in present. If you present is good your future would be bright.
If you have dream don't kill it but give water into it. There are many good people on earn who can help you complete you dream but first you have to take one step in your life. I can help you my friend to succeed. Just call me at 8586817490 or Mail me: [email protected]