Photo Post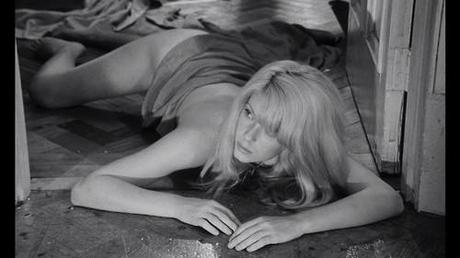 I just googled "repulsion," to find out what kind of word it is, and came upon all of these amazing pictures of Catherine Deneuve. From the movie Repulsion (1965), of course. From Wikipedia: 
"Carol Ledoux (Catherine Deneuve) is a young Belgian manicurist who lives in Kensington, London, with her sister Helen (Yvonne Furneaux). Carol seems shy and interacts with men awkwardly. When Helen leaves on a holiday to Italy with her married boyfriend, Michael (Ian Hendry), Carol appears distracted at work, refuses to leave her apartment, leaves a raw, skinned rabbit out to rot, and sees hallucinations, first of the walls cracking, then hands reaching out to grab and attack her, and repeated nightmares or hallucinations of a man breaking into her bedroom and raping her.
When Colin (John Fraser), a would-be suitor whom she has rejected, breaks into the flat, she bludgeons him to death with a candlestick and dumps the body into the overflowing bath. Later, the landlord (Patrick Wymark) arrives for the late rent. Carol pays him and at first just sits on the sofa, staring into space, as he remarks on the state of the apartment and gives her water to drink. But when he tries to force himself on her, she slashes him to death with a straight razor."
Awesome. I have a rabbit in the freezer. Who wants to come over for dinner?