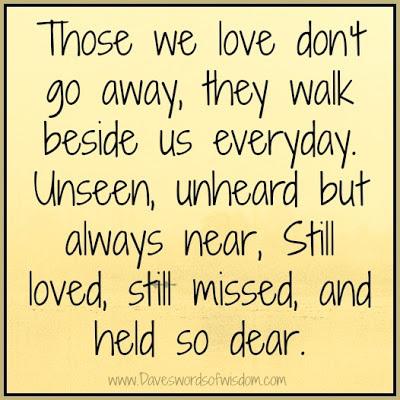 I typically keep this space light and fun.  However, those you have been reading my blog for awhile now know that I also don't want to plaster on a fake smile when I'm hurting.  Unfortunately, life is not just about the happy moments.  We have ups and downs and ebbs and flows.
This happens to be one of those difficult weeks.  It's with great sadness that I lost my uncle, my mother's brother, to a long, nasty battle with cancer.  He had a rare type of esophageal cancer, and while he fought like hell, there was nothing more the best doctors in the world from Johns Hopkins could do for him.  My only solace is knowing that he went peacefully and he is no longer in any pain or suffering.  While my uncle was a bit wild on the exterior, he had a heart of gold and a kind soul.  He was musical, artistic, funny, bright, and he loved his family more than ever.  I will miss him like crazy, but I know he is still with here with us in some way.
I know this song is cliche, but it's appropriate, and it reminds me of my uncle playing guitar, so I thought I would share it here today.  Please keep my family in your thoughts and prayers.  Thanks.
XO,
Gina