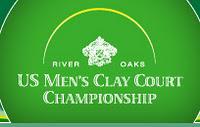 I have spent the past 4 days as a volunteer driver for the U.S. Men's Clay Court Championship at River Oaks Country Club and, for me at least, it has been so fun! I have had the chance to see and speak with more ATP players in the last few days than I'm sure I will ever again. I discussed my latest doubles match with a ranked ATP player from South Africa! I can't remember his name but how great was that? For me anyway. He probably thought, "Where do they come up with these nutty drivers?"
Anyway, I'm back to driving again today. This is the final day of qualifying - the guys who win today will take the 4 spots into the Main Draw that are open to qualifiers. On Saturday, there were 32 qualifiers playing and by the end of today, there will only be 4. I have learned a lot about the whole qualifying process from one of the chair umpires that I drove and from a player's wife. It is brutal.
So, here is a quick and very incomplete list of some of the players I've gotten to drive with these past few days:
picked up Ivo Karlovic of Croatia from the airport; at 6'10", I figured he would be easy to spot but one of the Final 4 basketball teams happened to arrive at the same time as he did; suddenly, there were LOTS of very tall, very athletic guys coming out of the airport; he is currently ranked a low No. 174 due to injuries but I saw him play yesterday - he hit 29 aces to win his match; he is playing Donald Young today for one of the Main Draw spots;
drove Paul Capedeville of Chile and his coach, I even got to take his coach to GNC for whatever special post-recovery sports drink it is that Paul likes, he is currently ranked No. 138 and plays today for one of the spots in the Main Draw;
drove Franco Skugor of Croatia, currently ranked No. 149, he was so quiet I thought he must have lost his match but he too is playing today for one of the Main Draw spots;
drove Grega Zemlja of Slovenia, he was so nice and now I know where Slovenia is (near Italy);
drove Guillermo Canas of Argentina a few times, his ATP profile says he's retired but he's here, practicing;
drove Carlos Berlocq of Argentina and his wife and baby, he is into the Main Draw already as his current ranking is No. 72;
drove Jonathan Erlich of Israel, he is ranked No. 46 in doubles and was very nice and very convincing in telling me why I need to visit Israel;
saw Mardy Fish, the No. 1 seed for this tournament, he gets his own car so I won't get to drive him and pester him about my tennis matches.

Every one that I've driven, without exception, has been so nice and polite and they don't appear to be bothered by my incessant chatting. Maybe they're just good at keeping up appearances. Anyway, my rule is that if I drive them, I root for them. So today, I'm supporting Ivo Karlovic, Paul Capdeville and Franco Skugor. I'm going early to watch some of the matches and hope to get some pics to post here. I used my cell phone to take pictures of Ivo hitting his 29 aces yesterday but my photos were SO bad that I'm not even going to try to show you those. Hopefully, good pics today.
Also - I'm figuring out who is the winner of the latest Tennis Fixation Giveaway for the 4allbyjofit skort. I'll try to post that today and definitely no later than tomorrow!