1. Pinterest
I accidentally deleted 6,000 followers!!!  I'm SO sorry. I didn't mean to, but somehow I deleted a couple of popular boards.  I am going to recreate them, but it will take time. If you want to follow along, here they are - some of these are just new ones, and two are recreating the deleted ones.
Click any blue link to Follow the board.


Art

Shoes & Bags

Jewelry

Furniture, Rugs, Bedding (etc.)

Clothes & Fashion

  


And these are the 4 boards I most actively pin to, all related to decor unless I make a mistake:


Amazing Rooms

Beautiful Rooms

South Shore Decorating Blog

Things to Try, Do, Buy & Things I Love


Why do I have Amazing Rooms and Beautiful Rooms? I have no idea....but they are way to big to delete, so I just use them both. Here's an idea - what if you could consolidate boards on Pinterest? THAT would be awesome.


2. A Note About Sources


I really, truly love it when you guys send me emails and ask me questions. I love answering them when I can, and I most often can when they are asking for general advice (I write a "Answering Reader Questions" series where I do this, so send them along!)  But very, very often I get emails asking for the source of a light, for example, from photo 35 of Friday's post. Those questions are almost always impossible for me to answer.  If I know the source, I am more than happy to tell you, and I have done this quite a lot.  But in the majority of cases, it would take a lot of research that I just don't have time for.  I'm so sorry to have to say this, but it is true.  I could spend 8 hours a day answering questions that I receive, but I can't afford to.  I hope you understand. 
3. House Updates
Foyer:
I've been working on the art and things on the landing of my stairway in the foyer. I think I was inspired to do this by the fire we had, when we had to replace the chandelier (we used one from Restoration Hardware, as you can see in the photo).  It's a teensy tinsy little foyer, so we have to make the most of it!
Still on the to do list is panelling the whole area and painting it in my favorite trim color, Cloud White.  I'm hoping to have that done by fall.  And here is the landing, which we did this weekend. I still have to add art to the frames of course, but otherwise I'm happy with it: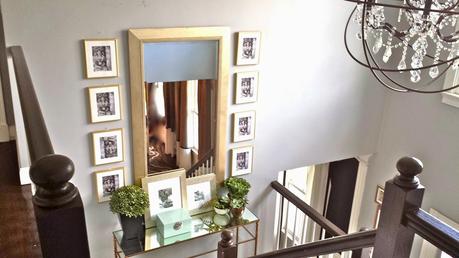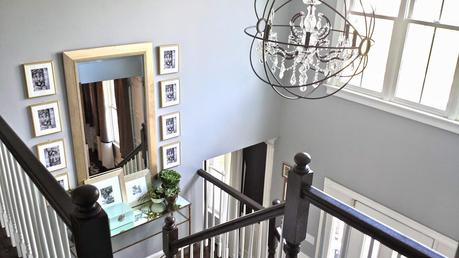 Landscaping:
Patrick and Bobby planted 15 hydrangeas this weekend. Next weekend it is all about fixing the fence. I can't wait to show you when it's all done and the flowers come out!!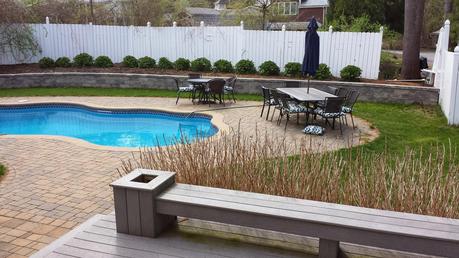 Ellie's Room:
Is a disaster. But I'm not upset, because one thing that I have learned is that in redecorating, it's always darkest before the dawn. Or, it look worse before it looks better.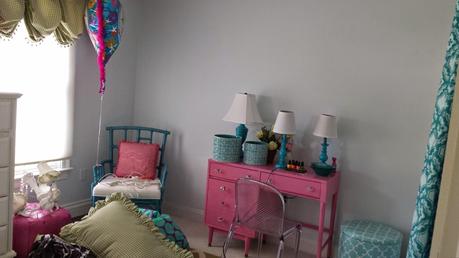 It's work in progress, but slowly but surely getting there.
Here is a little piece for the corner that I picked up at Home Goods recently.  I LOVE the color, and more importantly, that she can display some jewelry that is important to her (some from her brother, some from my mother), and her Pandora necklace that I give her beads for on special occasions: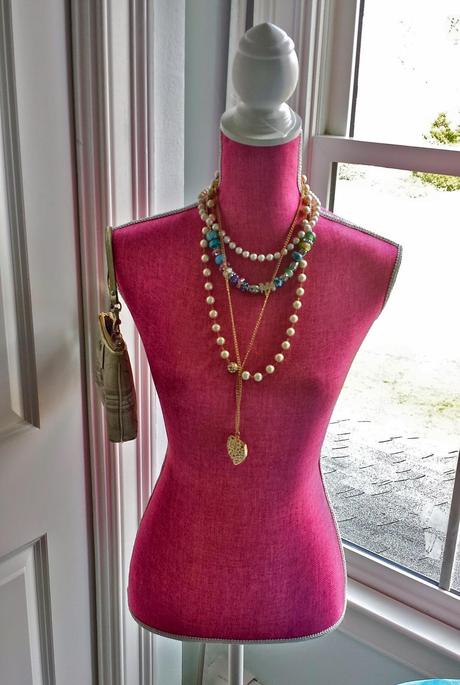 And my latest project was to buy a scarf from One Kings Lane and cut it up and frame it. The frames are from Home Goods.  But here's a tip - they were not in the picture frame department. Instead, I bought frames with art already in them. The sizes were bigger and the selection better. It is definitely harder to do, because it is almost always harder to get the backs off, but I've never met one that I couldn't conquer, and I don't say that much with do it yourself!
They are going to be arranged somehow (probably geometrically cuz that's how I roll) on her large wall: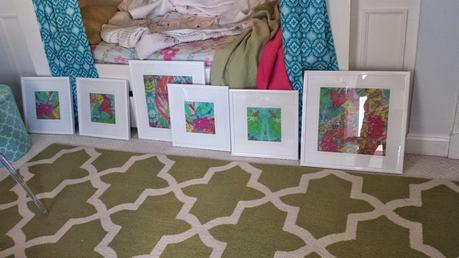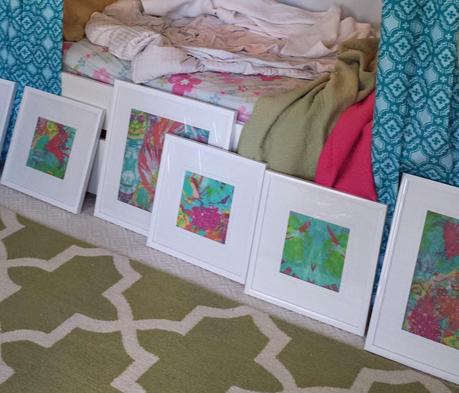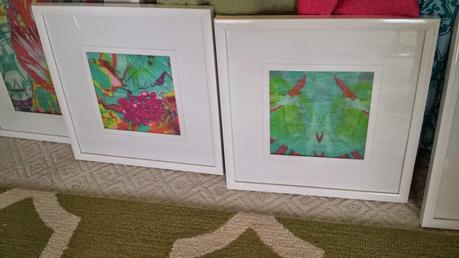 And then this chandelier - did I show you this before? I bought it very inexpensively on One Kings and spray painted it. The wood was heavily distressed, so I used wood filler (the brown part). I have sanded it, but still need to paint that center bar bright lime green.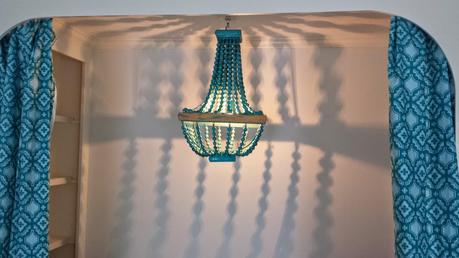 It will tie into the rug that I am still waiting for: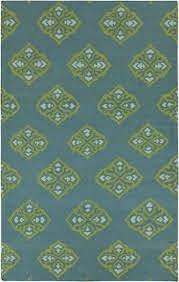 Finally, I'll add this, which came today. I'll probably spray it bright pink, but it might be turquoise instead. And I'm not sure where I'll put it!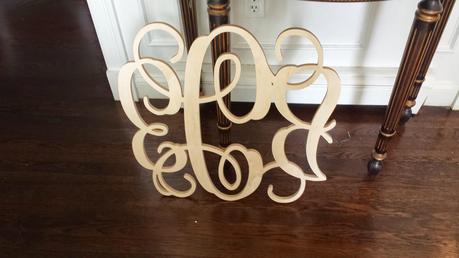 UPDATE: Yes, before I even published this, I did some more. So here is the current state. I thought I'd add to the post rather than amend it because that way you can see the tedious process ;)
This looks a little over-saturated. The monogram will be painted, maybe green?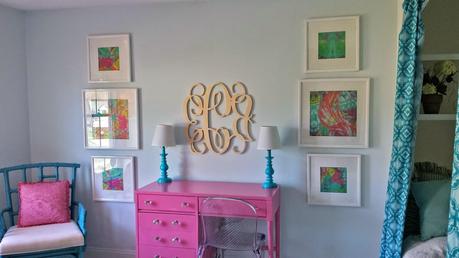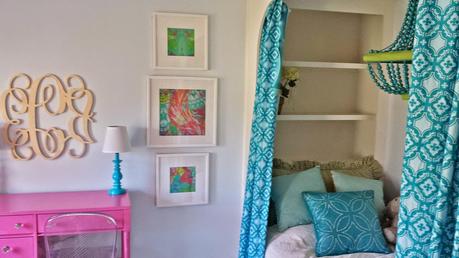 I painted the green bars on the light: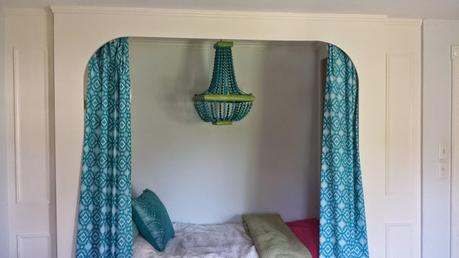 The bed really needs some pink. Off to Home Goods :)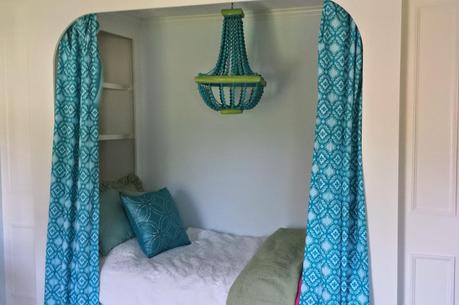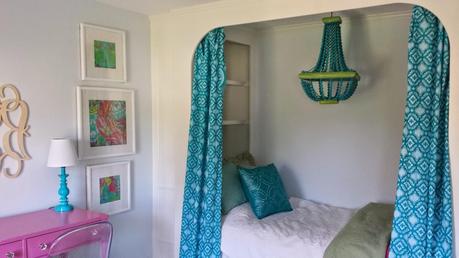 I also just added a monogram to my dining room, here: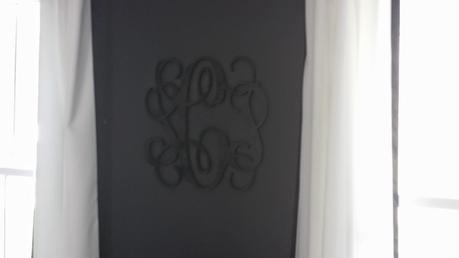 It's very subtle. I painted it shiny black, and the walls are flat black: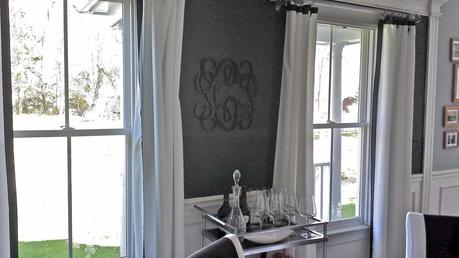 4. Girl's Weekend
Who wants to go on a girl's weekend from October 26-29 at Beaches Turks & Caicos? Three nights in the most beautiful resort in the world - I Can. Not. Wait.
My friend who is a travel agent arranged it for 12 of us now (and increasing weekly!) who are going that weekend (PS - I am not associated with Beaches in any way and make no money if you do this! I just want you to have a chance to get in on it!!)
I went on the last one to Jamaica, and it was AMAZING. Here we are at the swim up bar: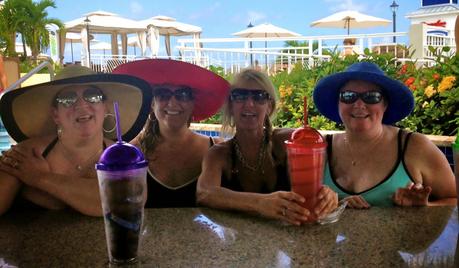 And at dinner: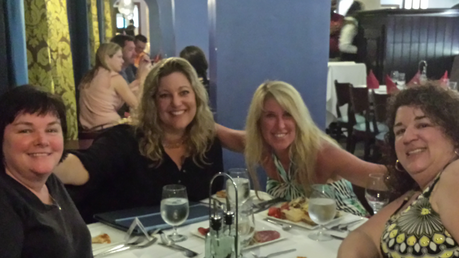 We had SO much fun. And I'm even more excited for Turks because it is supposed to be so much nicer. And we think there will be a ton of us going :)
The best thing, though, is that it is really a great deal.  I loved that I went to Jamaica with $100 in my pocket and came home with $90. All-inclusive is AMAZING. Honestly, when I heard about it for Jamaica, I thought it might be kind of tacky. But once we went, I fell in love with it. It was AWESOME. All the food, drink, and activities are included, so you don't have to worry about cost. I really do kind of like knowing exactly what I am paying in advance.
And the activities at Turks for the October weekend look like so much fun: wine and jewelry party, dinner on the beach, beach bonfire pj party, seaside yoga, etc.
Ok

here

are the details if you want to look into it.  I SO hope some of you come!!!