I get sent a lot of really gorgeous stuff as a result of my blog. I have to pinch myself sometimes, even after all these years, when I think that this is actually my part-time job. I don't feel "grown-up" enough most days for this to be true; sometimes I'm not sure if I feel like a proper blogger, a proper woman, a proper adult, a proper creative. I need help sometimes, from the little things that sit around my house and remind me, whenever I see them, how much beauty my online creativity has provided for me. Objects that make me feel somehow a little more together, a little more grown-up, a little more "here", a little more done.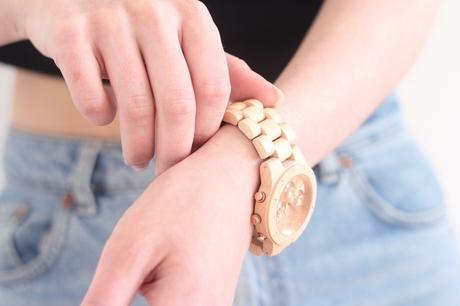 Watches are no longer really necessary for their practical purpose. Everyone tells the time by their phone. But we keep buying them because of what they mean, because of our learned material culture, because of aesthetics. We create ourselves, and those we love, with the things that adorn us. Being grown-up is ultimately just a matter of doing something with the time we are given, and trying to learn at the same pace as we wrinkle up. And making the most of our time is easier if we have a perpetual reminder.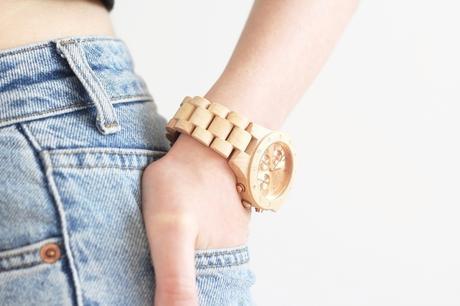 This is the first even-remotely "grown-up" watch I've ever had, at the ripe old age of 25. It's definitely one of the most beautiful objects that blogging has brought into my life. When I went to have it sized, the watch-maker said she had never seen one like it before, which pleased me a great deal. It's made from maple wood and rose gold, and was chosen for me and my style by the super kind and knowledgeable people at Jord. Clothes-wise I'm quite a laid-back person, and I tend to express my personality more through my hair, my makeup, my jewelry, my body, the way I speak with my hands. I have always been an over-sized watch and blue jeans type of woman inside, and now my exterior is in sync. I am a little more here, a little more done.

You can win your own timepiece by entering my giveaway. The winner will receive a $75 e-voucher to spend, and everyone who enters will win a $20 one to put towards a timepiece. The giveaway ends on the 12th of June. Good luck, everyone.

Wooden Watches For Sale