One of the major projects I had to take care of in the school I teach in is
the annual retreat of the senior class.
 Again, it was awesome…awesome for many reasons:
the retreat venue, the material, and the students themselves.
I take charge of this event each year, and I just want to express here why I enjoy this project so much.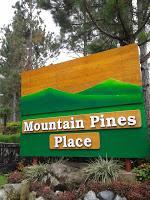 Let me start with the venue.  
Mountain Pines Place
is
the perfect venue to hold all kinds of retreats, family reunions, and corporate team building events, among others.
The place very quiet, as it is nestled in the mountains of Sitio Bagalangit, Manolo Fortich, just about two hours away from Cagayan de Oro and ten minutes away from the popular ZipZone Adventure Park (close enough to enjoy the action but then far enough not to get affected by the hustle of the crowd).
In fact, if you think about it, that's one of the venue's main strengths.  
You can almost physically feel stress peel off your body as you get lost in the quietness of the place, its rustic charm, and the pristine pine forest that surrounds it.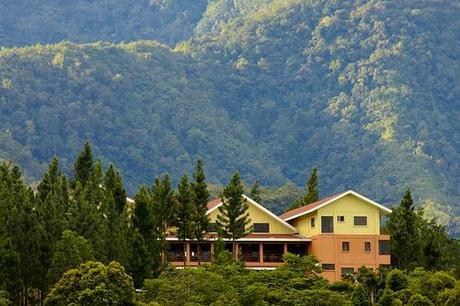 Good bye stress, hello nature's beauty!
Then there's the food.  Oh yes, the food!!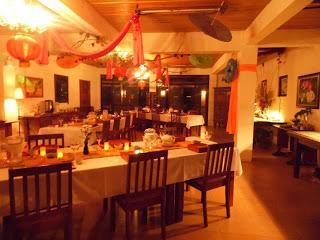 Our Japanese night.  YUM!
A lot of people go to that neck of the woods (pun intended) for the adventure parks, but
one would seriously miss out if they don't go to Mountain Pines Place for the food
(and therefore I know some groups who stay at Mountain Pines Place for the food and solitude, and then go to the other side of the mountain for the fun).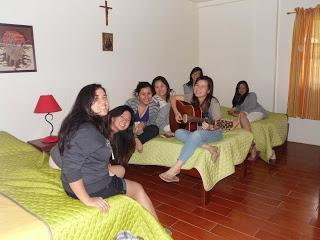 The ladies, chilling out
The buffet meals are masterfully prepared and very delicious.  Furthermore, much of the veggies and herbs are grown right on site, so you are sure you get the freshest ingredients.  I especially like their robusto salad dressing, which is probably the best salad dressing I've ever tasted.  You should also try their spareribs, a second treat
Mountain Pines Place
is famous for (next to the robusto dressing).
Last year,
Mountian Pines Place
was a venue for
our church's couples' retreat.
 This summer, it is the proposed venue for the youth ministry's youth camp (between 200-300 rowdy teens).  There are several other team buildings, family reunions, and even weddings already lined up; and so you are interested in booking the place, please don't hesitate to do so by going to their Facebook page
here
.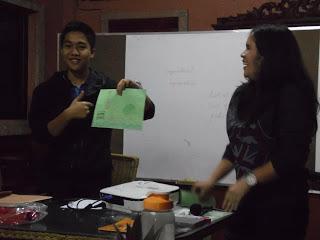 Goals and dreams workshop
The second reason why I thought the retreat was so great was the material.
 I don't mean to toot my own horn, but over the last few years,
The Abba's Orchard Erdkinder has held some darn good retreats
…and this year was the best so far.
It helps a lot that many of the faculty are discipleship-minded lay leaders in churches and other organizations.  As a result, we have LOTS of leadership-based material, personality-development material, and spiritual-development material at our disposal.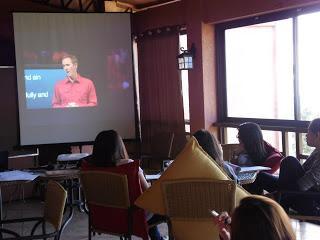 Andy Stanley: one of my favorite communicators
In fact, the material is so good that I feel sorta bad only 18 people (our whole senior class) get this kind of quality stuff.  Maybe someone would like to get our services in case they want a retreat for their students?  That'd be cool.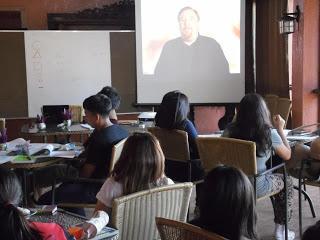 Learning about forgiveness from Rick Warren
We gave students excellent video presentations from some of the best resource speakers in the world, like Andy Stanley, Rick Warren, and Wayne Cordeiro (who I feature in my blog entry about
fighting burnout
).  Many of the faculty, including myself, also spoke (my boss is a top-notch speaker in his own right).  We also gave them lots of purposeful games and workshops designed for both fun and function.  And, again with the great help of the wonderful place, we gave them a chance to pause and reflect.
It was a wonderful experience for those teens.  I wish more young people can get that kind of stuff.
Lastly it was also excellent because of the teens themselves.
 One of the reasons why I simply adore my job is because
I get to mold younger people as their teacher.
 What I love about the method of the school I work for (a Montessori school) is how
they focus on higher order thinking skills and we also allow, encourage even, them to express themselves.
The results are some mighty powerful discussions, deep discussions that sometimes I don't have the answer for.  Hurts and grudges are also expressed and then smothered in the spirit of forgiveness, and they come out of the retreat refreshed and rededicated to their roles as leaders of the high school community.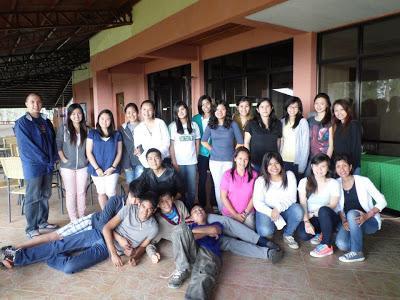 This latest Abba's Orchard Erdkinder Seniors Retreat was the best one to date, thanks to the venue, the materials, and the students themselves.  I always thank God for opportunities to serve others like these.  I do hope I can have many more chances to do this.