Brilliant, typically 'The Sun' article this week, stating that nearly half of 'all Britons' want to move abroad. Although I dislike the fact that they're calling The Sun readership 'all Britons' I have to admit that I agree. The grass does seem to be greener on the other side and if we're inundated with hosepipe bans throughout the summer then the grass might literally be greener in New Zealand or Canada. If I had the money I might have packed my bags years ago, but the big bad world is scary and there's always the danger that if it all goes Pete Tong then its a long way to go back to mom and dads house! These lovely colourful graphs below demonstrate what The Sun readers would miss most about Britain and, on the other hand, their reasons for leaving the country: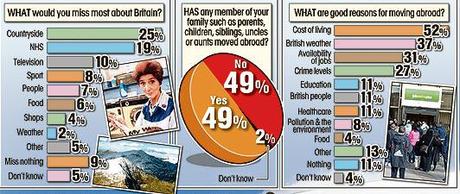 My personal favorite section of The Sun article was the graph depicting which of the Prime Ministers of the last 30 years have made Britain 'better or worse'? (See below) These numbers do seem to be fairly accurate to me: Thatcher made some bits better, some bits worse, Major barely did anything of interest, Tony did some good stuff but everything is overshadowed by the Iraq war, Brown can only be described as a Muppet and Cameron... It'll be interesting to see what the public thinks of Cameron when he has to leave, will he jump or be pushed? (It was Clegg in the Commons with the candlestick.)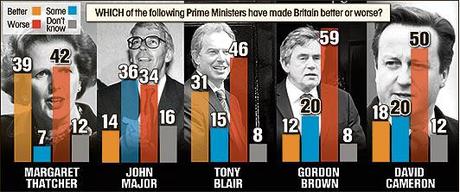 All rights for the images remain with The Sun and © News Group Newspapers Limited, clicking the images should take you to the original source.