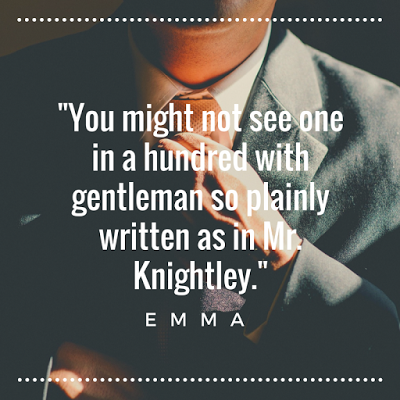 Looking For a New Love: Why We Should Let Lizzy have Mr. Darcy, and Set Our Caps for George Knightley (a tongue-in-cheek male review)
All of Austen's heroes have their excellent qualities. Henry Tilney is charming. Captain Wentworth is romantic. Edward Ferrars is loyal (sometimes to his detriment). Edmund Bertram is kind.
But one Austen gentleman is more famous than all the others combined (thank you, Colin Firth!) Mr. Darcy is the ultimate catch, right? Brooding, rich, tall, and with that noble demeanor, he has turned readers' heads for 200 years. He fell for Elizabeth Bennet when she never suspected that his feelings ran so deep. He saved her family from certain disgrace. He changes his prideful ways for the woman he loves.
He's everyone's favorite book boyfriend.
But hold on a minute…
Have you met George Knightley?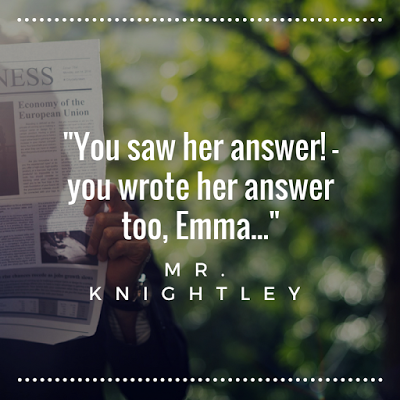 Perhaps, the hero of Jane Austen's
Emma
slides in under the radar, but he's a worthy book boyfriend contender. Except he's not a
boy
; Mr. Knightley is
all man
. He's Colonel Fitzwilliam with money and a nice house. He's Colonel Brandon without the emotional baggage. At thirty-seven years old, Mr. Knightley is no bumbling, awkward bachelor with a stick up his…hmm. In fact, Knightley is man enough to let Emma take the stage of Austen's novel—he even gave over the book's title to her—but in his elegant, understated way, when
he's
on the stage, he often draws the feminine gaze.
If you're looking for a gentleman, Knightley's your man. He's kind to everyone. He thinks of Miss Bates, sending her the last of his favorite apples. He saves Harriet's pride by asking her to dance at the ball after Elton snubs her. He and Emma work together to calm her father when the snow threatens to ruin everyone's Christmas Party. Emma is constantly comparing other men to him: "You might not see one in a hundred with gentleman so plainly written as in Mr. Knightley."  You'd think she would listen to herself and get a clue about her feelings.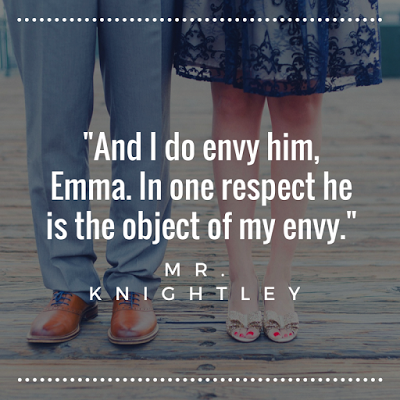 Mr. Knightley is no pushover either. He knows his mind. He's the only person in Highbury who can tell Emma Woodhouse the truth (although she rarely listens). He's observant and wise, intuiting that something is happening between Jane Fairfax and Frank Churchill. And he can put Mrs. Elton in her place when she tries to take over his strawberry-picking party.
Yes, I know Mr. Darcy changes for the woman he loves, and we love him for that.  Wentworth writes one helluva romantic letter, but readers have to wait almost until the end of the book for that little gem. Tilney knows his muslin, indicating he's in touch with his feminine side. However, if you're looking for an understated hero without angsty, cringe-inducing verbiage, passive-aggressive hurt feelings, or a mean father, let Knightley be your man.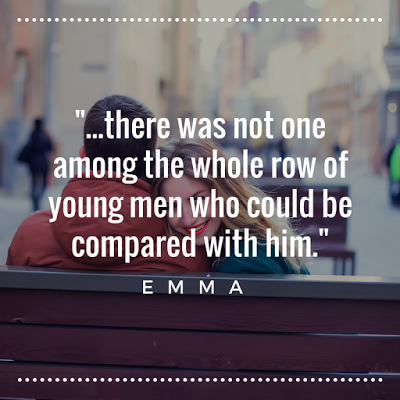 And if I can't convince you (or you just want to read more about the swoon-worthy Mr. Knightley) here are some other opinions on the matter:
https://www.bustle.com/articles/46699-forget-mr-darcy-mr-knightley-is-jane-austens-most-underrated-literary-hero
http://www.huffingtonpost.com/2013/12/16/jane-austen-birthday-_n_4432894.html
http://karenmcox.merytonpress.com/2016/06/19/5-best-things-about-mr-knightley/
http://community.sparknotes.com/2010/10/28/15-reasons-george-knightley-is-the-best-austen-hero.
Karen M. Cox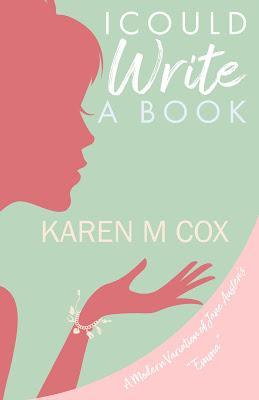 Book Description
"Emma Woodhouse, handsome, clever and rich…"
Thus began Jane Austen's classic, a light and lively tale set in an English village two hundred years ago. Yet every era has its share of Emmas: young women trying to find themselves in their own corners of the world.
I Could Write a Book
is the story of a self-proclaimed modern woman: Emma Katherine Woodhouse, a 1970s co-ed whose life is pleasant, ordered and predictable, if a bit confining.
Her friend George Knightley is a man of the world who has come home to fulfill his destiny: run his father's thriving law practice and oversee the sprawling Donwell Farms, his family legacy in Central Kentucky horse country.
Since childhood, George's and Emma's lives have meshed and separated time and again. But now they're adults with grown-up challenges and obligations. As Emma orchestrates life in quaint Highbury, George becomes less amused with her antics and struggles with a growing attraction to the young woman she's become.
Rich with humor, poignancy and the camaraderie of life in a small, Southern town, I Could Write a Book is a coming of age romance with side helpings of self-discovery, friendship, and finding true love in the most unlikely places. 
Author Biography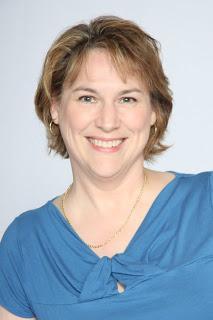 Karen M Cox is an award-winning author of novels accented with romance and history, including 1932 and its companion ebook novella The Journey Home, and the novels Find Wonder in All Thingsand Undeceived. She also contributed a short story, "Northanger Revisited 2015", to the anthology, Sun-Kissed: Effusions of Summer, and a story titled, "I, Darcy" to The Darcy Monologues.
Karen was born in Everett WA, which was the result of coming into the world as the daughter of a United States Air Force Officer. She had a nomadic childhood, with stints in North Dakota, Tennessee and New York State before finally settling in her family's home state of Kentucky at the age of eleven. She lives in a quiet little town with her husband, where she works as a pediatric speech pathologist, encourages her children, and spoils her granddaughter.
Website:
www.karenmcox.com
Amazon Author Page:
https://www.amazon.com/-/e/B004HIFOO8
Facebook:
https://www.facebook.com/karenmcox1932/
Twitter:
https://twitter.com/KarenMCox1932
Instagram:
https://www.instagram.com/karenmcox1932/
Tumblr:
https://www.tumblr.com/blog/karenmcox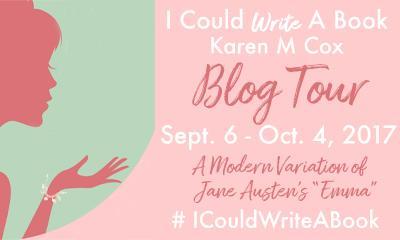 Giveaway Time 
Karen is giving away two themed prizes during the blog tour, tokens of appreciation for readers of I Could Write a Book, and for supporters of the wonderful sites on the blog tour.
Tea Prize Basket includes: A signed copy of I Could Write a Book, Mr. Knightley's Reserve and Emma's Perfect Match teas from Bingley's Teas, a set of Jane Austen Book Coasters, and a Jane Austen Quotes mug.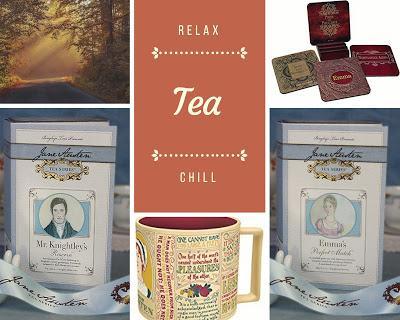 Pretty Things Basket includes: A signed copy of I Could Write a Book, an "Emma" quote pendant, an Emma bangle bracelet, Regency cameo earrings, and a jewelry roll.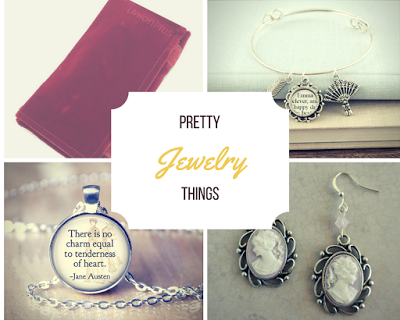 Readers can enter for chances to win these prizes here. There are bonus entries for social media shares and visits, if you're on social media. This is one big giveaway with two prizes.

Good luck, everyone! 


a Rafflecopter giveaway