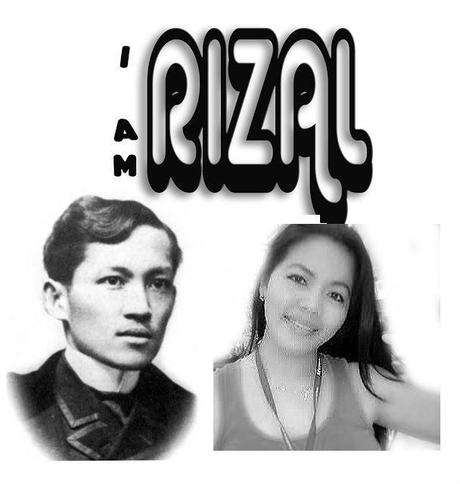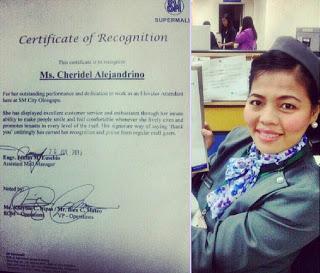 Cheridel Alejandrino with her Recognition
(Google Image)
Another "I am Rizal " ,  Cheridel Alejandrino . After Watching here Video in Youtube, this elevator girl captured my attention , I was very entertained and smiling the whole time i watched the said video.
A very dedicated   and entertaining  girl patiently gave information to the shoppers while they are inside the elevator. Imagine she was doing it on her entire 8hrs shift. Simple yet remarkable approach to any shopper who are going to use the elevator.  A remarkable deeds that captured the interest of  
Dave Pronto
a video Blogger who uploaded the said video in youtube which  As of now 444,576 views already.
Because of the Viral Video she became famous, she was interviewed  in GMA7 Unang Balita   and featured in innumerable Blogs.   Cheridel Alejandrino Received a recognition due her lively attitude that brings smile to the passengers and to her dedication to work on her assigned post.
I can consider her as "I am Rizal" because of her dedication , Rizal was also s a dedicated person in his era. Cheridel deserved to have a recognition.  " I Love my Job Po!" She said. I hope that all the Filipinos will get inspired to love their work after watching this Videos.
Watch the Video and Get Inspired
Credits to Dave Pronto
A remarkable Voice of  Cheridel Alejandrino
  Credits to Josh Magpale
Interview with Arnold Clavio
  Credits to Arnold Clarvio