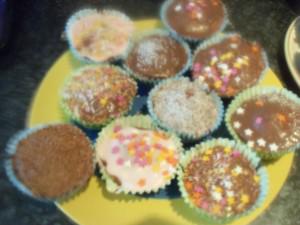 The Last Time I Baked Was 3 Months Ago
I don't make biscuits and I certainly don't make pretty little cakes with my kids. The simplest way of baking with 6 kids is to buy the biscuits and cakes from the supermarket and pretend I made them when they were at school.
Have you ever tried to bake with 6 kids?
12 grubby and germ infected little hands touching the ingredients that I have no desire to eat.
Yes I am a horrid mother because I don't bake with my kids but so what, am I damaging them in some way?
OK so I do bake with my kids, maybe once every 3 months if they are lucky but I can't make biscuits and cakes, yes it's the truth, I cheat and buy the pre made packet mixes, hey it's just as good.
I do have friends who like to bake and can make cakes and when they come to visit the kids always beg them to make cakes; it's a great way for the kids to learn social skills I think so I always welcome it.
We have the kitchen a mess in no time and it takes twice as long to make the damn things as it does for them to eat them all.
Surely my kids will remember the time mum jumped up and down on the trampoline and her bladder was so weak that she wet herself memory, which they found hilarious,  more than not making cakes with mum?
I follow lots of blogs and many are written by pretty mothers who write about pretty things, like making pretty little cakes. The truth is there is nothing pretty about me and I would rather go splashing in muddy puddles with the kids, because the mess is kept outside then.
Mothers who show off beautiful pictures of cakes and biscuits, I swear they are shop bought really. I stick a cake in the oven and it never rises, comes out flat as a pancake.
I guess we all have our talents and baking is not one of mine.
Do you bake with your kids?