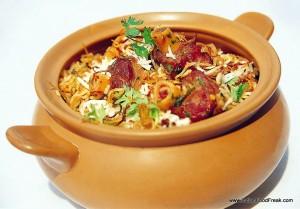 Hyderabadi cuisine is the princely legacy of the Nizams of Hyderabad State. It is an amalgamation of Mughlai, Turkish and Arabic along with the influence of the native Telugu and Marathwada cuisines. I have been invited to sample out a selection of Hyderabadi dishes as a part of their food promotion at the Café on Eid day, and I am looking forward to the treat. For this the hotel has flown in chefs from Park Hyatt Hyderabad to cook authentic delicacies through a menu that will change every day.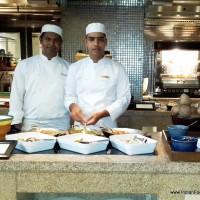 I meet the young chefs Shaukat Ali and Narendra from Hyderabad, who are eager to take us the buffet featuring the day's menu. The tasting starts with maraag shorba, which is a thin goat meat consommé. I have had this in Hyderabad and am anticipating the same rogni taste here. The version here is tasty with a strong, tangy gongura flavor. But this is a low-fat version which for me robs the soup of some of its magic. For kebas there are
shikampuri kebab
which is soft and melting in the mouth, and
murgh banjara kebab
with a robust smoky spicy taste.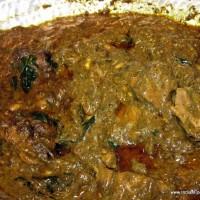 Now on to the main course. The
arbi ka salan
has an exciting Deccani taste. Dum ka paneer, subz abeer and
mirchi ka salan
are all enjoyable.
Nizami dal tadka
is how a yellow dal should be – both mellow and bold at the same time. The murgh korma is a bit too rich for me but the absolute star of the meal is the super delicious
gongura mamsam (mutton)
. It is
the best gongura meat that I have had outside of Hyderabad
. In true Andhra tradition, the dish is cooked to perfection with the perfect balance of taste. I ask the chefs if it is possible to taste haleem, given that it is Eid, and they oblige. The haleem is less thicker in consistency as compared to that from Pista House, which makes it both tasty and easy on the stomach.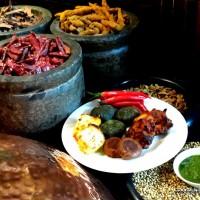 The kacche gosht ki biryani is nice though it is lacking in intensity.  Chef Shaukat Ali says that it is only possible if the biryanis is cooked in the open, and given a dum with smoldering coal being put over the covered degchi. Cooking indoors in the hotel kitchen can pose some challenges. The dessert is another Hyderabadi gem, khubani ka meetha.
This festival is recommended for its amazing, genuine Hyderabadi flavours. Be prepared to be dazzled by the taste of the Nizam kitchen.
Promotion dates: August 7 to 14, 2013
Food: 4.0 | Ambience: 3.5 | Service: 4.0 | Overall: 4.0
Meal for two: Lunch & Dinner Buffet at INR 1,750 plus taxes per person | Alcohol: Yes | Credit Card: Yes | Timings: 12:30 PM to 2:45 PM, 7:30 PM to 11:30 PM
Address: The Café, Hyatt Regency Delhi, Bhikaji Cama Place, Ring Road, New Delhi – 110 066 | Telephone: + 91 11 6677 1306