I always have a keen interest in historical events. I read somewhere history is only as real as presented by the presenter's De facto. This book, Hyderabad: Book 2 The Partition Trilogy By Manreet Sodhi Someshwar is quite different. It's different from other books I read on the consequences that happened in Hyderabad during India's independence and partition. The narration and consequences presented are plain, straight, and clear. Nothing being imposed on the reader. That made it more interesting. It's because the events are presented in a straightforward authentic and unbiased manner. This book Hyderabad: Book 2 of The Partition Trilogy By Manreet Sodhi Someshwar is the second part of the three part series on India's partition.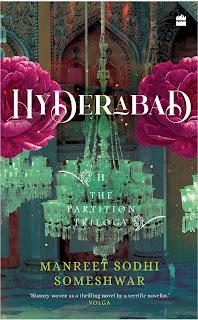 The first part of this Trilogy is on Lahore and the third part is on Kashmir. It's good that I read this book Hyderabad: Book 2 The Partition Trilogy By Manreet Sodhi Someshwar and got to know many facts pertaining to Hyderabad in a better way and that has changed my whole concept on this subject and characters involved in those events. The situation was very cumbersome and complex at that time of partition when a lot many things of high importance were happening or about to happen. It was a situation of chaos and dilemma. Different segments of society in Hyderabad were involved in it in different ways. Nobody was able to think straight at that time. Every incident or decision was either a part of another incident or decision, or was an outcome of political powers emerging out of this partition.
Indian history would have an entirely different story if some decisions were not taken, or taken in a better way. Many incidents were a result of some selfish motives of that time's influential political leaders. While the partition maps were in the process of finalization with no estimation of later consequences or the price being paid for that, the Nizam of Hyderabad was in a kind of dilemma. He was unsure whether agree to become a part of independent India or keep Hyderabad an independent separate state within India. His wish was to stay as a ruler of independent Hyderabad within independent India. But, his dynasty was carrying a curse that he would be the last Nizam of Hyderabad and that would be the end of Nizam dynasty. At the same time a last moment ditching by Jinnah to help seeked by Nizam changed the whole fate of Hyderabad. 
In fact, Nehru and Sardar Patel played their cards very well to woo Nizam in taking a decision to allow Hyderabad to become a part of India. Nothing was in favor of Nizam as communists also went against him. The whole story becomes more interesting and intriguing when you understand the important roles of Uzma, a maid at palace and a confidante of princess Nilofer, Nizam's daughter in law. There's something more intresting with the entry of two more characters in this whole turmoil, a peasant lady Jabili and Daniyal Khan, a journalist. 
The book Hyderabad: Book 2 of The Partition Trilogy By Manreet Sodhi Someshwar presents a lot of insights on Hyderabad about its unfair social practices during that period, and the gravity with which this political turmoil impacted all segments of people of Hyderabad. The strength of this book lies in its very well crafted plot and its perfect sync with its beautifully curated characters. The story and its characters strengthen each other throughout. A good amount of research work has been done by the author to bring out the facts in the form of a fictional story.
This review is powered by Blogchatter Book Review Program.
You can buy this book from Amazon India here.
You can buy this book from Amazon here. 
I'm participating in the #TBRChallenge by Blogchatter