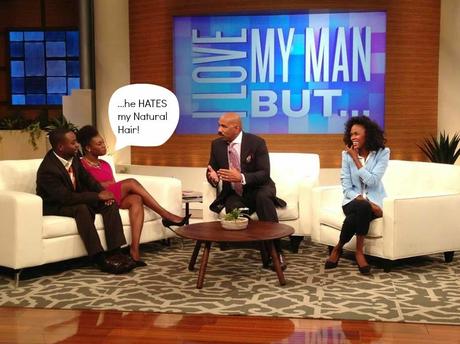 Every woman who makes the decision to wear her natural hair after years of wearing wigs and relaxers probably wants her significant other to be supportive in her decision. Most women can't even fathom the thought of her partner admitting that they are no longer attractive to her new look.
A few weeks ago, a newlywed couple was invited to the Steve Harvey Show where the young wife expressed her husband's disapproval to wear her natural hair after a bad weave experience left her with no other choice. The wife stated that she had been wearing weaves mostly all of her life and her husband had never before seen her without one. Take a look at what he had to say about his wife's new natural look and what the curly-girl guru Nikki Walton (Curly Nikki) had to say about it:

Source
  Do you believe that if the wife had been more comfortable with her decision, her husband would have been more supportive? Do you believe that the husband should have been supportive whether he approved of her new look or not? What are your thoughts?