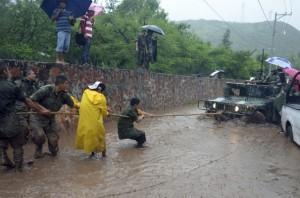 Hurricane season is here, and hit with tremendous force in Mexico this week, wreaking havoc and stranding travelers in and around Acapulco. Hurricane Manuel was the third storm to smash into Mexico in just a few days, causing severe flooding, which led to mudslides. CNN reports that at least 80 people are reported dead, and many more are still missing. Dangerous, you bet – there are even crocodiles roaming the streets. Bridges have been washed out and Acapulco's airport is closed. USA Today's Charisse Jones reports that an estimated 40,000 tourists have been stranded; not exactly the vacation getaway they were hoping for. It's a reminder to always be aware of the weather conditions in your destination before you go. And maybe think twice about making Acapulco your vacation spot – The Economist takes a look at the sad demise of Acapulco, once a high-end resort, now just a struggling, violent city underwater.
Mother Nature obviously can be spectacularly dangerous at times, but natural disasters are not the biggest threats to health around the world. CDC Director Dr. Thomas Frieden gave a speech in which he said there are three main threats to global health – emerging diseases such as SARS and MERS, drug-resistant tuberculosis and biological weapons.
If airline delays set your teeth on edge, send you into a rage and generally wreck your travel, here's some advice: Avoid China. At the LA Times, Barbara Demick looks at the ridiculous air gridlock plaguing China. Consider this – a flight that should take 40 minutes can take as much as 18 hours. I'd rather ride my bike. Perhaps the airline could soothe the hurt of those delays with truly awesome food. CNN's Dean Irvine looks at gourmet airline meals being served up from Hong Kong Airport. The folks at Jaunted are also looking out for your inflight comfort – check out this $110 travel pillow that is sure to help you get some Z's.
Sleeping in a hotel isn't always easy – you're in a strange place, the bed isn't always comfortable and the loud noises in the hallways don't help either. Quiet helps. At CNN, Adam Graham provides us with a list of the seven quietest hotels in the world. Ahh… relaxation.
Staying organized when traveling is not easy. But you can probably learn something from Scott Givens, who tells the Wall Street Journal how he keeps track of everything as he travels approximately 400,000 miles a year. That's not a typo – four-hundred-thousand miles a year.
The disastrous tale of the Costa Concordia may be nearing an end. NBC News has the video of the shipwrecked Italian cruise ship being uprighted by salvage crews this week, 20 months after it ran aground in the Mediterranean.
The New York Times' Stephanie Rosenbloom writes about luxury travel … for your pets.
And finally, for you extreme athletes, Hiufu Wong of CNN points you in the direction of Singapore, an X-Games dream-come-true. You can zipline, swing on a trapeze and – cue the James Bond theme – fly above the water with a jetpack strapped to your back. That's cool.
Photo courtesy of Washington Post.