Stories become an integral part of the lives of all of us, right from our childhood. Not every story needs to have a happy ending. Many stories disappear by raising a question mark in our mind. Some end with a pleasant feeling. Whether the story is small or big, it doesn't matter. It matters how much and how deeply it affects us. A compilation of ten such intriguing and thought provoking stories I recently found in the book 'Humpty Dumpty's 10 Hats' written by Tomichan Matheikal. And the credit for that goes to Blogchatter, where you can download this book for free as of now. Every story in this book is special. Every story has its own flavor. There is a certain kind of sharpness in each of the stories.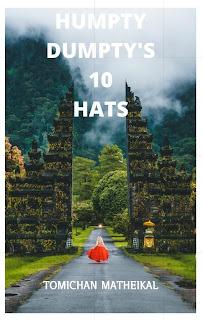 There is a special kind of flow in 'Humpty Dumpty's 10 Hats' written by Tomichan Matheikal which holds the reader very firmly throughout. All the stories have a fresh plot. There is thrill in the stories, there is surprise, there is fear, there is hatred towards the sordid traditions of the society, there is anger, and in many places there is also a frustration. Tomichan Matheikal has a special style of writing, as I said earlier. He had been able to paint these stories on so many colors of emotions and thoughts. Many times it also happens that when a writer binds his style of writing with a particular style, then perhaps his flight of thinking and imagination becomes a little limited. It down not remain, then, so free and unlimited. And this probably happens to every writer, I believe.
Humpty Dumpty's 10 Hats by Tomichan Matheikal is an interesting book. Stories or should I say short stories, all in all, I loved it. Every story is bundled with a different element of entertainment till the end. These are the stories which are capable of removing your boredom 100%, but at the same time inspire to think something new. If this is an interesting journey of ten stories then each story is a beautiful milestone. The first three stories made me realize that ghosts are not always dirty, terrifying, and dangerous. But can also be nice, beautiful, and friendly. While the fourth story introduces us to the political bitterness and restrictions of our country, and around the world, the fifth story reveals a disgusting face of our society and the sheepishness of the people.
Humpty Dumpty's 10 Hats by Tomichan Matheikal is a tasteful and mindful platter of ten stories by a well-versed chef that you all must try.
You can download this book here for free.
I'm participating in the #TBRChallenge by Blogchatter.