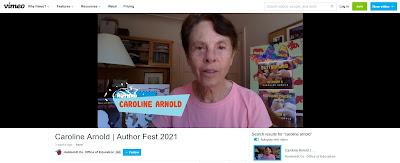 A year from now, in October 2022, I will be participating in the biannual Humboldt County Children's Author Festival. In anticipation of that I have made a video for the Humboldt County Office of Education to help promote enthusiasm and prepare students and teachers for the festival. You can see my video on Vimeo at
https://vimeo.com/602047329
. 
I am CAROLINE ARNOLD, author of Butterflies in Room 6 and 170 other books for children.
I am so excited about the Author Festival coming up in October 2022.
   I always love to come to beautiful Humboldt County.
   I love visiting schools like yours to share my books and learn how you are using them in your classrooms and libraries.
   I love viewing the exhibit of children's book illustrations at the Morris Graves Museum and seeing how other artists like me illustrate their books.
   And I always look forward to meeting old friends and making new ones at the festival.
I love the theme of the 2022 Festival– Take Flight with Books.
   It is perfect for my books about birds and butterflies–true masters of the air.
   Books help us take flight in our imaginations–to faraway places, to other times in history, to the secrets of the natural world–even when we are stuck at home as we have been in this last year.
   When I was ten years old I met a girl who loved to read as much as I did. We went to the library together and checked out stacks of books. In the summer, we would spread out a blanket in the shade of the maple tree in my back yard and read our books together, sharing our favorite parts.
   I didn't know then that I would grow up to be a writer. But I realize now that my love of reading helped me to become a writer. I was learning how other writers made their books exciting and made me want to turn the page. That's my job today.
   Some of you may want to be writers or illustrators when you grow up. My advice is simple:practice, practice, practice!
One way that you can practice your writing is by keeping a diary. I always keep a diary or log when I travel, which helps me remember all the exciting things I did and saw after I get home.
One way you can practice your art is by drawing in a sketch book. I like to go on sketching trips at the park with my granddaughter, who also loves to draw. Last summer during the pandemic it was a perfect outdoor activity when we couldn't meet inside.
   I still love to read and draw and I belong to two book groups–one to discuss adult books and the other for children's books.
   I also belong to a writer's group. We share our stories and offer comments, helping one another to become better writers.
   By October 2022 I will have two new books to share with you-- Planting a Garden in Room 6: From Seeds to Salad, my third book with Mrs. Best and her kindergarteners, and Keeper of the Light: Juliet Fights the Fog, the true story of an intrepid lighthouse keeper in San Francisco Bay at the time of the 1906 earthquake.
   What I missed most during the pandemic were my in person visits to schools and libraries.
   I look forward to joining you in 2022 to Take Flight with Books at another wonderful Humboldt County Children's Author Festival.
   Until then, have fun reading, writing, and drawing!
   Thank you!