Harbour City has collaborated with the Hong Kong Tourism Board and car maker MINI for the month-long event, celebrating Wally's first steps on Asian soil since the elusive adventurer was created by British artist and illustrator Martin Handford in 1987. On the Ocean Terminal Forecourt, Wally will emerge from the classic picture books and into the real world. During a search for his missing shoe, Wally, together with 47 other Wallies from the Land of Wallies, somehow stumbled into reality. The scene is curated with gigantic Wally books at the forecourt, where visitors can sit down, relax and indulge themselves in the colorful world of Wally.
The event will also see priceless original Where's Wally art work go on display for the very first time in addition to activities and memorabilia, and also coincides with the release of Harbour City's marketing campaign, carried out via Twitter's new live video streaming app Periscope. As the first Hong Kong brand to release a campaign of this kind via the new platform, Harbour City can now use a live broadcast of Where's Wally's tour to share Hong Kong sites and Wally sightings in one of Asia, and indeed the world's, most recognizable cities.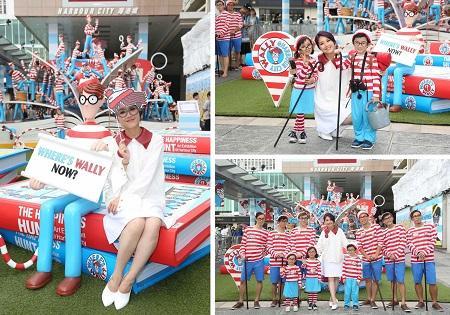 Huge Where's Wally? art exhibition Harbour City Hong Kong
Commenting on the new venture, Karen Tam, Assistant General Manager, Promotions & Marketing, Harbour City Estates Limited said, "Periscope is the next big thing for our campaigns on Twitter. As Hong Kong's largest shopping destination and a leader in social media marketing, we're excited to be the first corporate brand in Hong Kong to engage with our visitors on Periscope. The Where's Wally Happiness Hunt and art exhibition at Harbour City – #whereswallyHK – is our mega event for the summer, and we can't think of a better subject to share with the world live on Periscope."
Huge Where's Wally? art exhibition Harbour City Hong Kong
To commemorate Wally's first ever visit to Asia, the Hong Kong Tourism Board is also rolling out the red carpet, or should that be, the red and white striped carpet? Hong Kong Tourism Board has taken Wally on a tour to the Harbour City, Peak, Repulse Bay and on the Star Ferry, as part of the great globetrotter's exciting Hong Kong expedition. Moreover, Harbour City has invited special guest Ms. Miriam Yeung to attend the press event of Where's Wally? Art Exhibition.
Courtesy of Mini UK, the bodies of seven MINI cars have been specially decorated with the faces of Wally and his friends and the vehicles will be on display for all to see as part of the colourful and imaginative world of Where's Wally.
In addition to the wide ranging selection of activities that make up the Where's Wally? Art Exhibition, a number of other companies are working with charities to organize fund-raising events. To complement their Where's Wally themed menu, Pizza Express is also holding pizza making classes to raise money for Hong Kong Blood Cancer Foundation, while Creative Wally Workshops offer the chance to make your own Wally magical glasses and lost and found compass in aid of the Early Psychosis Foundation.