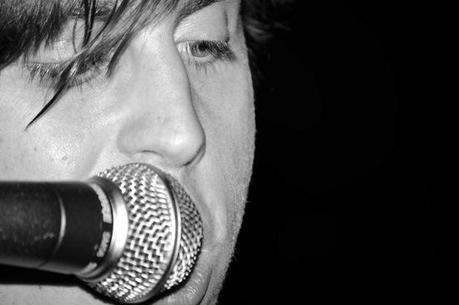 Photo credit: Karp
The number of amazing shows in NYC last week was daunting. I doubt you were able to see every performance you wanted to, even if you're the lucky owner of a Delorean, TARDIS or whatever they call that phone booth from Bill and Ted's Excellent Adventure. I nearly wore myself out.
Amidst the madness, I managed to catch super fun Minneapolis band Howler (@howler_band) at Mercury Lounge on Wednesday night. Their debut album, America Give Up, released on Rough Trade in January, has been occupying some serious time on my Spotify during stressful work hours. I simply fell in love with the band's ability to create enjoyable, rhythmic songs that play well in the background. I knew, though, that seeing the band in a live setting would force me to pay a bit more attention to the nuances and subtleties in their music, rather than taking a passive listening role. In the end, I was surprised at how well the boys were able to translate their unique sound aesthetic directly to the stage.
Rather than creating distinct instrumental lines, Howler permeates the room with an energetic wall of sound through which you can occasionally glimpse influences of 1960s surf rock, 1980s punk vocal abandon, and 1990s alternative snark. I recall brief lightbulb moments I experienced during the night: "Does this sound like Smashing Pumpkins or am I crazy?" or "Jordan Gatesmith sounds a little like Billy Idol right now." For the most part, though, I was just swept away and in tune with the pillowy wash of Howler's songs. They need a bigger show, and they'll get one soon if they continue to deliver on the promise that America Give Up proposes. Gatesmith made a comment in the middle of Howler's set about how he wished that all of us were at either Kraftwerk or Pulp that night. At that point, however, I really didn't mind missing either.
1,2,3 (@123theband) aren't flashy on stage. It's comforting to walk into a room and have the band make you feel as though you're just happening upon a rehearsal session. That's not to say that 1,2,3 aren't polished. On the contrary. Their songs are confident with clear hooks and riffs, and the band plays them sharply. I simply mean that they're approachable in a way that spreads elation throughout the crowd — the perfect lubrication for a night well spent. The set was percussive and relied mainly on guitar lines, but the highlight was Nic Snyder's chameleon vocals. Starting off in a yodel, he switched to an intentionally forced strain, then transitioned into a low-voiced character with cutesy, sliding diphthongs. Eventually he even used them all in the same song. 1,2,3 are pretty easy to catch; I've seen them several times as openers, and I always make it a point to show up early those nights.