"Howdy, And Welcome To Miss Jenny's Good Time Saloon"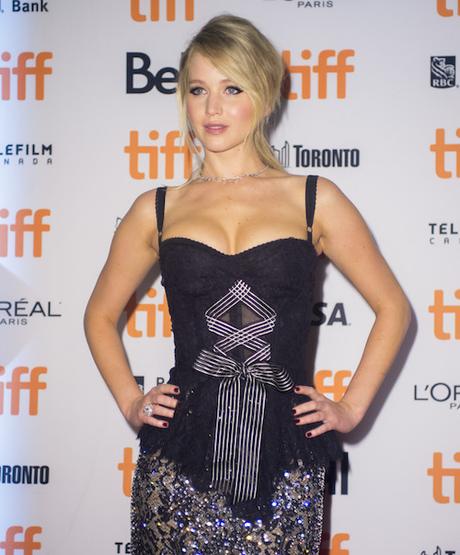 Jennifer Lawrence made her long-awaited return to the Toronto International Film Festival yesterday for the premiere of mother!, a film which will reportedly make you say "What in the fuck?" in either the good way or the bad way. JLaw didn't trip up the red carpet, but she did arrive looking like the madame of a My Fair Lady-inspired cathouse. "You could do more than dance all night, but it's gonna cost you an extra $200, hun. And I don't want to hear about the 'rain' in Spain falling anywhere but the plain, you catch my drift?"
I get about 98% of her Dolce & Gabbana look here (sparkles, ribbons, boobies – all major players in a razzle-dazzle moment). But then my eyes got to the shoes and I was very confuse.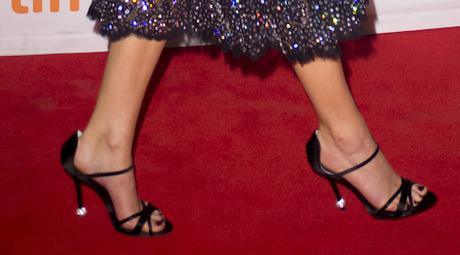 The best I can come up with to explain the heels on those shoes is that they came like that, that Jennifer Lawrence accidentally walked through a pile of charms that fell off a display case from a Pandora store, or that those are some sort of decorative anti-slip heel guards used to protect JLaw while walking along Toronto's many slippery streetcar tracked streets. As someone who has wiped out on said tracks in a dress (and subsequently flashed a whole train full of rush hour riders), I will choose to believe it's the third option.
Jennifer Lawrence also talked more about how ~crazy~ and ~intense~ Darren Aronofsky is and how the filming of mother! was. During a TIFF press conference for mother! (via People), Jennifer said:
"It was an instant yes before I even read anything. He told me his ideas and I thought they were brilliant and unique and challenging. I've been a fan of his for years – I think he's bold and brave, and I think I said brilliant.

But I've been a fan, so once he told me the ideas floating around in his head I said yes. Then I got a script and when I read it I threw it across the room and told him he had severe psychological problems. But it's a masterpiece."
Okay Jennifer, was the script actually bonkers enough to warrant getting thrown across a room? Because if I'm going to put on pants and pay $78 or however much movies cost these days for two hours of alleged pretentious film brilliance, I better get a damn mind warp of a show. Like, are we talking crazier than a chorus of singing and dancing ripped-out hearts circling a spooky Michelle Pfeiffer like an old-timey musical number? Because that's the expectations bar I've set for myself here.
Here's more of JLaw and Javier Bardem at the TIFF premiere of mother! yesterday:
$(function(){
$("#gallery_268152").microfiche({ buttons: false,bullets: false });
$("#thumbcontainer_268152 .prevthumb").click(function() {
$("#gallery_268152").microfiche({ slideByPages: -1 });
});
$("#thumbcontainer_268152 .nextthumb").click(function() {
$("#gallery_268152").microfiche({ slideByPages: 1 });
});
});
Pics: Wenn.com
Source: "Howdy, And Welcome To Miss Jenny's Good Time Saloon"
3 total views, 3 views today