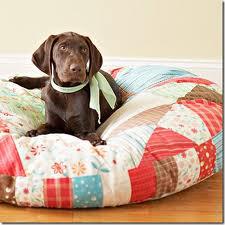 Wicker is widely assumed to mean the woven wood that is used to make chairs and linen baskets. However, wicker is in fact a more broad term, encompassing any furniture that is made of woven material, be it rattan, reed, raffia, willow, cane or even grass.
Wicker has been around for millennia, with some of the oldest examples of it being unearthed in Pompeii, almost perfectly preserved by the volcanic material following the eruption in AD79. Also, more recently, the use of wicker has been seen to have played a part in developing weapons and tools during the Iron Age, as well as influencing the interwoven motifs prevalent in Celtic art.
Today, wicker is just as popular as it has ever been, its attractiveness undimmed with the invention of plastics and the advent of ductile metal. It is now widely used in a whole range of purposes, from storage boxes to garden furniture and dog beds.
It is little surprise that wicker dog beds are a popular choice. Their aesthetic make for an attractive and elegant basket, and one that goes with nearly every other furniture on the market, having the unique capacity to be able to fit in with nearly all other decor it is put into a room with.
Wicker is also very light yet extremely sturdy, meaning that it can be easily transported if needs be, whilst standing up to the rough and tumble that a dog would invariably put it through. However, in being a natural material, wicker is biodegradable and therefore very environmentally friendly.
Most wicker dog baskets come with a separate cushion, blanket or mattress to give the dog something soft to lie on. This makes for much easier cleaning than the all-fabric beds as the sheet can be taken off and washed as normal, and the wicker can be spruced up with a good vacuuming and a wipe down with a damp cloth.
For these reasons, its little surprise that wicker is a popular choice for dog beds, and has lasted for over two millennia.